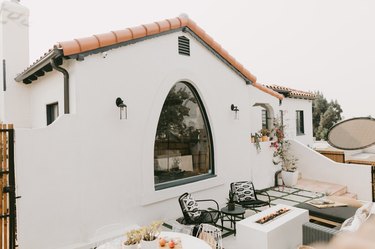 Completing a redesign is always a feat, but to pull off a project from start to finish in 2020? Well that's pretty much a miracle. But that's just what Jaclyn Johnson and designer Ginny Macdonald did. Johnson, the founder of Create & Cultivate, and her husband closed on their 1940s home in Los Angeles's Silver Lake neighborhood on March 13 — just before the city issued a stay-at-home order due to COVID-19. Fortunately, she didn't have to search for a designer. Macdonald had designed Create & Cultivate's clubhouse, so she already understood Johnson's style. "[Ginny] is really great at understanding the vision you want and bringing the pieces together," says Johnson. "Plus she knows the ins and outs of the non-sexy side of interiors, like grout colors, sizes of tile, and what materials work or don't."
Since she'd be spending so much time at home, Johnson understandably wanted to wrap up as quickly as possible. While the home had already been renovated [pre-sale], there was still plenty of work to be done to bring in the couple's style and personalities. "We wanted this space to feel warm and sophisticated but to have elements of fun with the color," says Macdonald. "Jaclyn's style veers towards a modern European aesthetic and the house is California Spanish style so the ideas marry well together." Meetings were conducted over Zoom or socially distanced and masked. Since showroom visits were out of the question, they had to take some leaps of faith and order without seeing items IRL.
Johnson and MacDonald brought in plenty of color, from the pink kitchen and powder room to the deep-blue tiled bath. The rest of the home was kept neutral, with bursts of color added in accessories and art. They also were intentional about sourcing items from women-owned businesses and B-corps, as well as keeping the space functional and cozy.