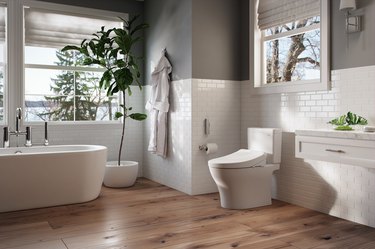 When you picture an at-home sanctuary, minimalist bedrooms, airy sun rooms, and cozy corners probably come to mind before... the bathroom. But why not consider your bathroom your personal oasis? It's the one place where alone time is all but guaranteed, and it's the scene for most of your self-care moments.
As such, it needs to be styled with essentials to match your vision—so we rounded up seven must-haves to upgrade your relaxation space.
First on the list? A TOTO WASHLET, the innovative bidet seat designed for high-quality pampering. With a heated seat, an adjustable stream of aerated water, and a warm air dryer, you'll never feel so refreshed—plus, it attaches to your existing toilet. And what feels more like living in a refined hotel than having your own at-home bidet feature?
Upgraded linens are a must for creating a spa-like atmosphere. Wrap yourself up in one of these plush towels (which also come in extra large "sheet" size) after a bath or steamy shower.
Keep your linens snuggle-ready with this sleek towel warmer so you can treat yourself to that fresh-from-the-dryer feeling after every shower—without having to do laundry.
Continue the clean aesthetic with a few glowy candles in a soothing scent like fig tree or teakwood to get all your senses involved in the unwinding process.
Who says house plants are only for the living room? Turn your bathroom into a mini greenhouse with some humidity-loving plants in macrame hanging planters.
A natural wood bath tray creates a sleek space for you to collect all your self-care essentials. Book, tea, wine? Check, check, and check.
Give your feet the same high-end treatment with a comfy bath mat that feels like a hug every time you step on it. And just like that, your bathroom is now the most relaxing room in your house.