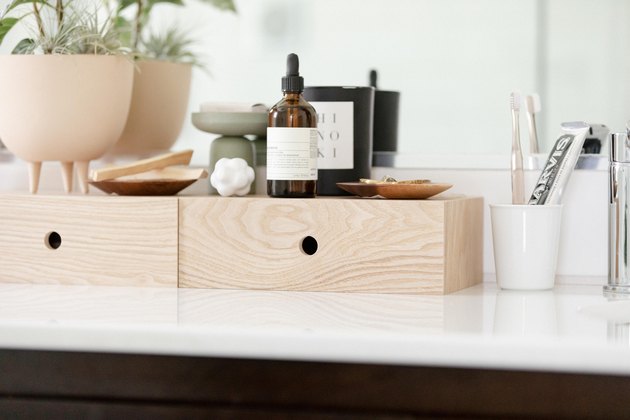 The bathroom: the setting of our standard, 12-step skincare routine (oh, is that just me?). Where we start our weekends with a face mask, get gussied up for date night, and lounge in a relaxing bath with a glass of wine after a long day. Still, the washroom can often feel purely utilitarian, leaving us to forget about the final layer that really makes a space feel finished: decor and accessories.
We're firm believers that making every little chore (like washing your face, brushing your teeth, and taking a shower) a tiny bit more pleasant is the secret to finally becoming a morning person ... or, at least it will make the time spent in the bathroom feel more relaxing and serene, you know, like a day spa. Which is why we've rounded up all the best bathroom decor ideas to transform your sanctuary.
Bathroom Decor Idea #1: Deck Your Walls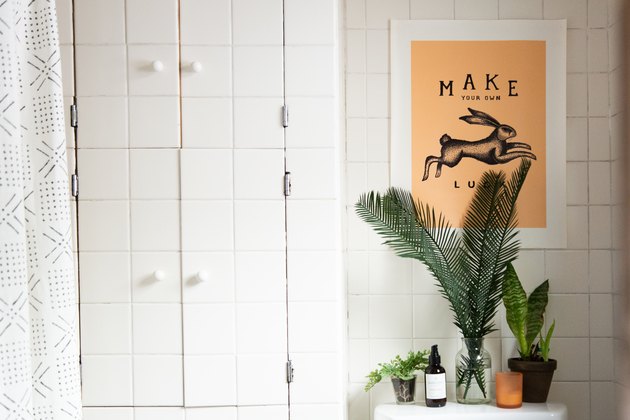 Bathroom Decor Idea #2: Add Plants for Texture and Color
Adding plants to your bathroom instantly injects a dose of color and texture. And bonus: you won't find yourself bogged down with dozens of design questions. Simply choose the type that will thrive in your environment based on sun-to-shade ratio, and enjoy the fruits of your (minimal) labor. Plant yours in a chic seagrass basket to create a casual, California vibe, or perch it on the countertop to soften an industrial-style bathroom. If your counter space is limited, opt for a hanging planter that hooks to the ceiling to draw the eye up — you can enjoy gorgeous bathroom decor and have plenty of space to display all of your makeup and skincare goodies.
Bathroom Decor Idea #3: Dress Up the Necessities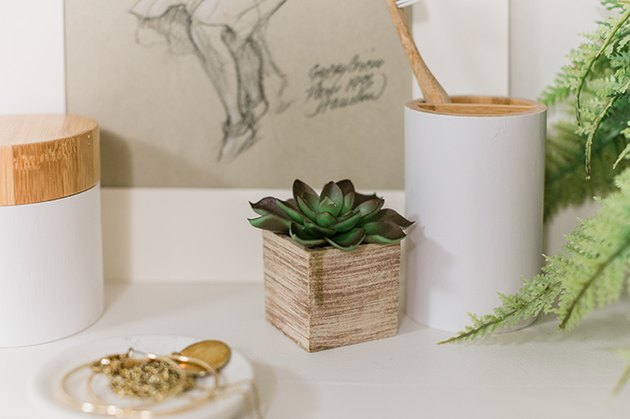 We're here to prove that even the most functional bathroom decor ideas can be dressed up with a just a little extra design sense. Instead of using the same old bath mat you've had since your first grown-up apartment haul from Bed Bath and Beyond, go for a cozy AF rug that lends a sense of comfort and sophistication.
Another accessory that could use an upgrade? That slimy shower curtain. Not to worry! It doesn't have to be an expensive ordeal. Here's a list of killer bathroom shower curtain ideas that will totally revamp your space for under $60. Slowly swapping out other accents, like plain soap dishes and toothbrush holders, with options that fit your vibe, whether rustic or spa-like, will make your bathroom feel more like your personal refuge, not to mention it will blend in seamlessly with the rest of your home, too.
Where to Shop for Bathroom Decor
McGee & Co. has an ideal selection of bathroom accessories, ranging from shower curtain hooks to gorgeous soaps, trays and storage pieces. If you're looking for classic, investment-worthy styling pieces, look no further.
I mean, come on. Was there even a slight possibility that we would leave Target out? It's budget-friendly, always on trend for the season, and easily accessible, so you can transform your bathroom in as little as one afternoon.
Not to get completely Friends — à la "The One with the Apothecary Table" (if you know, you know) — on you, but it's pretty hard to beat Pottery Barn. Its bathroom products are simple, well-made, and timeless, and instantly make you feel like a grown-up.