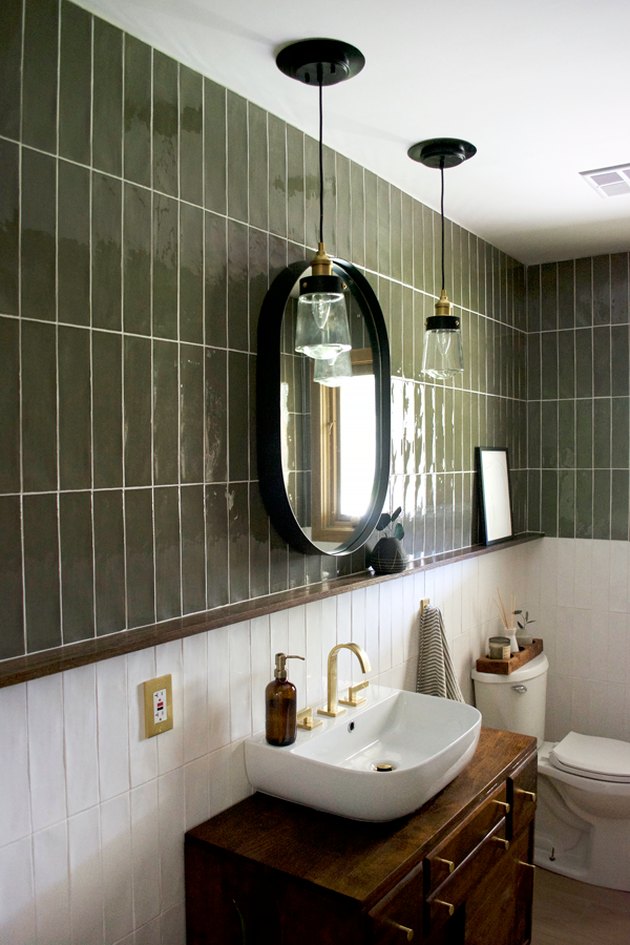 When you're putting together an outfit, pretty, eye-catching jewelry is always the perfect finishing touch. In that same way, we like to think of tile as the jewelry of a bathroom — an element that can easily infuse pattern, texture, and color into your space, truly making it your own.
If you're on the hunt for bathroom tile ideas, you'll be glad to know that nowadays, you have more choices than ever. From simple and straightforward white subway tile on the walls to punchy and vibrant patterned tile on the floor, there are so many opportunities to bring personality into your washroom. But where do you even start? Right here. Use this helpful guide to make your bathroom tile quest a successful one.
Where Should You Use Bathroom Tile?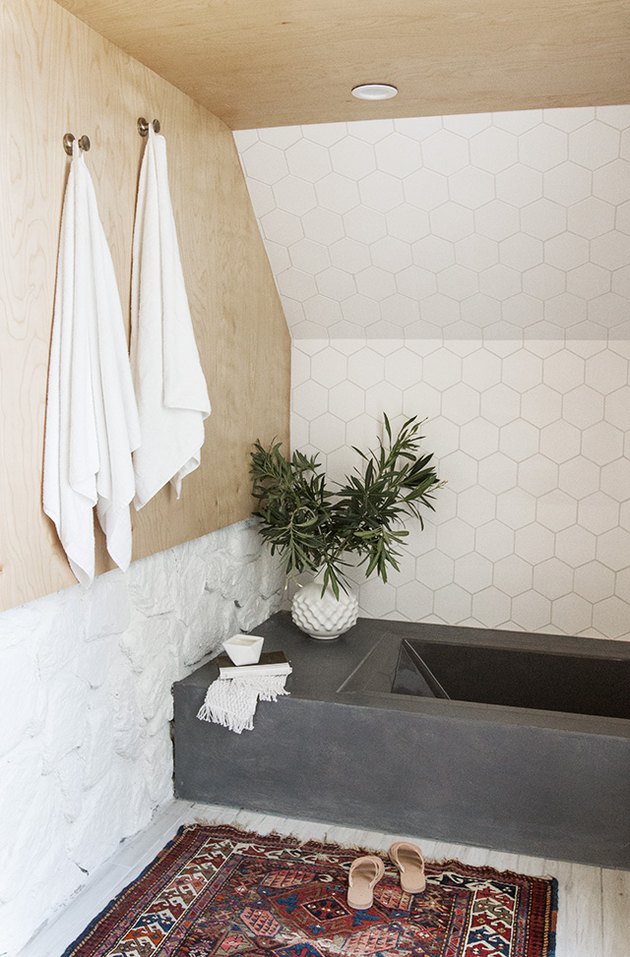 Popular Types of Bathroom Tile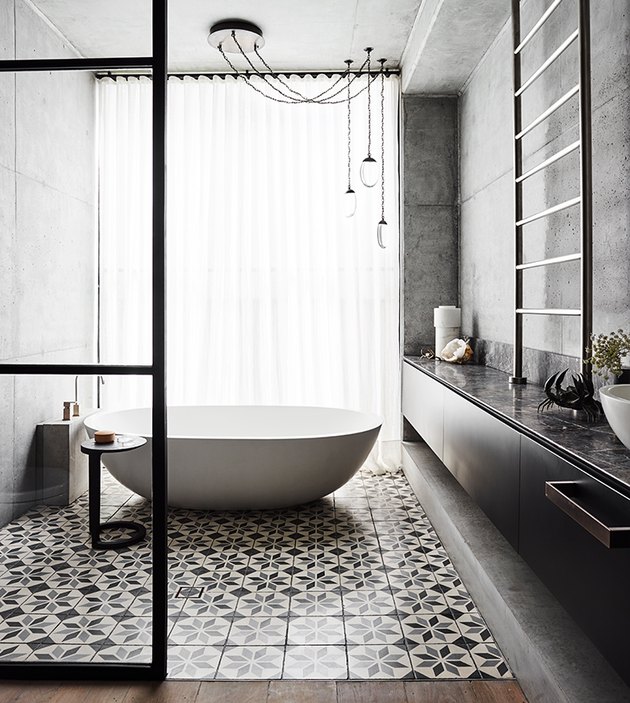 It's always fun to focus on the color or pattern of your bathroom tile, but you'll need to think about the material as well. Some of the top picks include porcelain, ceramic, stone, slate, cement, or glass.
Ceramic, which can be used on the walls or the floor, is always a classic home run that comes in a variety of colors, textures, and shapes. It's also oh-so-easy to keep clean. Cement tile requires a bit more TLC, but what it lacks in effortless cleaning it makes up for in saturated colors and incredible patterns.
Then there's glass tile, which had a moment in the 1980s but is back again thanks to updated silhouettes and sophisticated color palettes. This material cleans up nicely and it's eco-friendly to boot.
Things to Consider Before Installing Bathroom Tile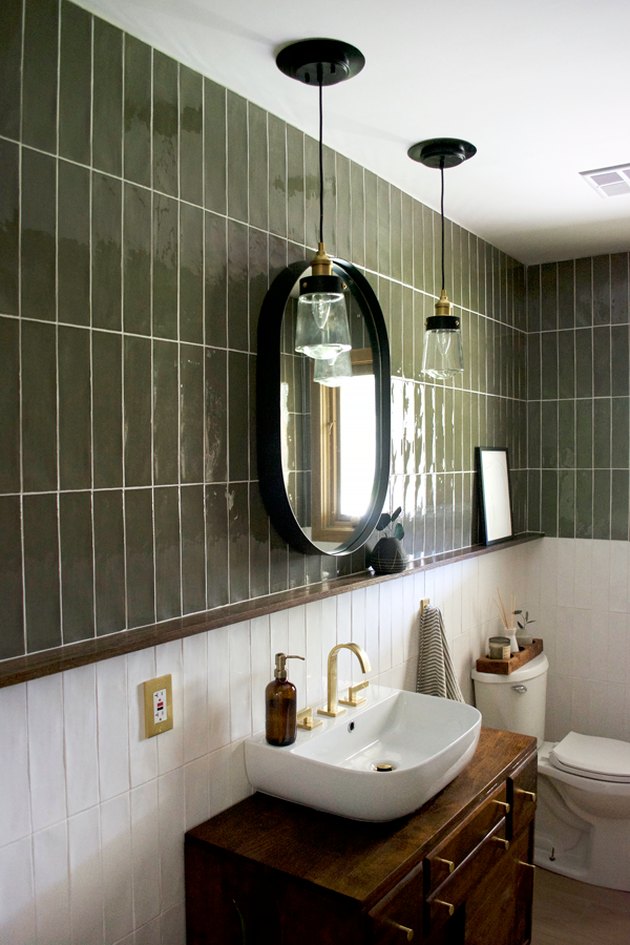 If you have a budget in the back of your mind for your refresh, you'll need to factor in the price tag of your bathroom tile. The average cost to install bathroom tile is $7 to $10 per square foot, and that can easily add up if you're working with a large master bath. Some materials are more expensive than others depending on the difficulty to install. For instance, ceramic tile is usually priced reasonably, while cement tile and glass mosaic tile are more expensive. You'll also need to consider the bottom line if you decide to clad your entire shower or install wall tile from floor-to-ceiling.
As for which material will stand the test of time, ceramic and porcelain are always a good bet. And if your motto is "the less maintenance, the better," you'll want to opt for glass, ceramic, or porcelain varieties which are smooth, nonporous, and easy to wipe down. Bre of Brepurposed won't need to work up a sweat to quickly clean the green and white ceramic tile in her bathroom.
Where to Shop for Stylish Bathroom Tile
When it's time to shop for bathroom tile, you can either go online to make your purchase (and possibly save a few bucks in the process), or you can peruse a traditional brick-and-mortar so you can experience the look and feel of the tile in person. We're partial to unexpected color choices for showers and backsplashes like the dark green, hexagonal tile that Veronica from The Design Hunters used in this luxurious shower.
Shop Wayfair if you're striving to stick to a budget. They have everything from patterned porcelain tile to glass subway tile and more.
Cement Tile Shop is a cult favorite, and rightfully so. They have some of the best handmade encaustic cement tile around. If you're searching for a pattern that is uncommon or weaves in unexpected colors, this is your destination.
When it comes to bathroom tile, you can't really go wrong with Lowe's. Whether you shop online or in the store, you're bound to find a wide variety of bathroom floor tile and wall tile options.