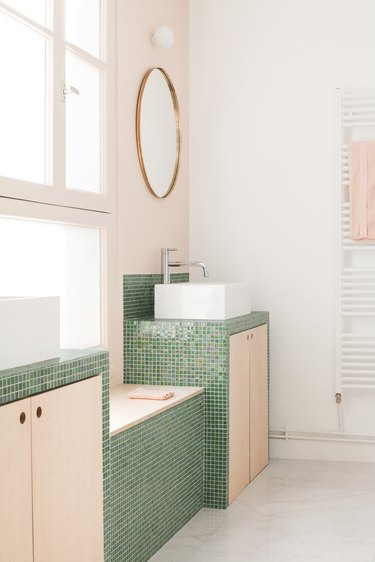 News flash: Tile isn't just for walls and flooring! Live life dangerously, and consider a tile bathroom countertop instead — it's a great way to create a contemporary look on a small budget. From matte ceramics to polished mosaics, there's a vast range of options to choose from AND you can go as little or as large as you want, while adding luxe pattern and texture to your space. But where to even begin? We're so glad you asked. Scroll on to learn everything you need to know about tile bathroom countertops, including a handful of inspiring spaces that will convince you to take the plunge.
Pros of Tile Bathroom Countertops
One of the clear advantages of tile bathroom countertops is the amount of options you have, in terms of cost and appearance. Tile is available in a wide selection of styles, colors, patterns, and textures so there's literally something for everyone, and if you can't find exactly what you are looking for you can have your tile custom made.
Another pro: This underrated countertop material can be very affordable, especially if you opt for a ceramic option, and installation is usually on the inexpensive side, too. You can even install it yourself if you are confident enough in your own DIY skills. Plus, if a tile cracks or breaks during installation, or through wear and tear, it can easily be swapped out with little disruption to the rest of the space.
Cons of Tile Bathroom Countertops
Before you get too excited, there are a few cons to consider. Tile bathroom countertops are prone to chips and scratches and therefore not ideal for high traffic areas (think rambunctious kids fighting for their turn at the sink come bedtime). Tile countertops are also susceptible to stains, so you'll need to be on top of cleaning to avoid any discoloration. And to keep the grout mold- and mildew-free, most experts recommend sealing annually to protect from bacteria.
Cost of Tile Bathroom Countertops
A tile bathroom countertop is a pretty cost-effective choice for most and with so many options available from ceramic to glass to natural stone it comes down to how much you want to spend. Depending on the material you could pay anywhere from $1 per square foot to $20 per square foot, and since you won't need much the expense is very little.
Installation rates will vary depending on the size and surface quality, but don't be afraid to ask around for multiple quotes to ensure the best price. If you are an experienced DIYer and know your way around a wet circular saw, you may wish to do the job yourself to save on costs, but if in doubt, always ask a professional.
1. Stick with the seamless look.
A tile bathroom countertop is the perfect opportunity to be a little more playful with your design, adding a pop of color while you're at it. By bringing blush tile halfway down the wall, wrapping it around the countertop, and extending it down to the floor, Utkan Gunerkan has created a seamless finish in this retro-inspired sanctuary while still maintaining a playful vibe.
2. Embrace your space.
A tile bathroom countertop is ideal for small spaces, as you can see in this tiny refuge designed by Emil Dervish. And we love the use of black grout with the soft pistachio green hue, which results in a crisp and effortlessly cool look that complements the unique architecture of the space.
3. Go all out.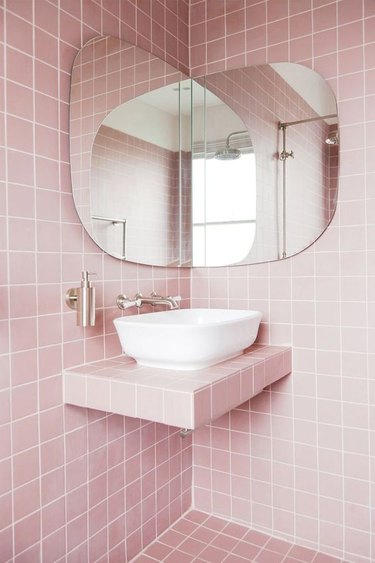 Sometimes you just need to be a little bit extra to make a statement, which means no surface should be left untouched. Using victorian pink quarry tiles from Tile Giant, Russell and Jordan of 2LG Studio created a bathroom that referenced their Victorian home in a contemporary fashion. The matte texture softens the rosy hue and makes the room look fresh as opposed to overly saccharine.
4. Create a work of art.
5. Make it a mosaic.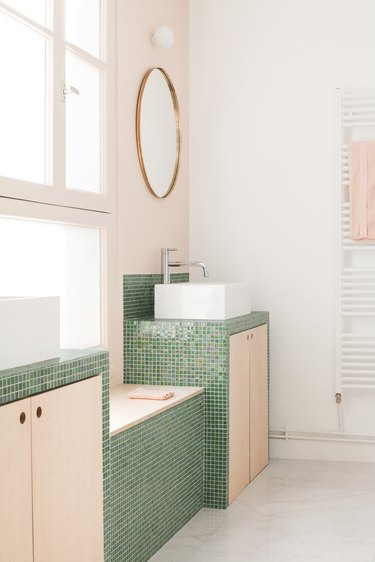 Mosaic tile can hide a number of sins, which, quite frankly, you want in a bathroom. Follow the lead of Heju, and opt for a sea-inspired shade to clad your vanity cabinet. The dominating green mosaic adds something a little different to this peach bathroom, while still giving a nod to the '70s and '80s when this tiny square tile was all the rage.