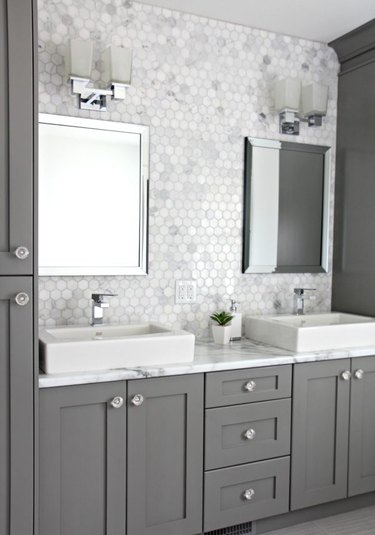 After all, they are just a surface for your toothbrush, blow dryer, and moisturizer, right? Not quite. Truth is, your vanity's surface can make just as much of a statement as any other element in your bathroom. But what material will look good without breaking the bank? Enter: laminate. We're breaking down everything you need to know about one of the most underrated bathroom countertop materials.
What Are Laminate Bathroom Countertops?
We're so glad you asked. Laminate is made when layers of plastic are bonded to a base — such as particleboard or kraft paper — to create a seemingly solid surface. While laminate from the brand Formica was first discovered in 1912, it wasn't until the '50s that it became an in-demand material for bathroom countertops. But by the time the 1970s rolled around, synthetic countertops were no longer en vogue.
However, just because it's not as natural as, say, a slab of marble or granite, that doesn't mean laminate bathroom countertops aren't sturdy. In fact, this material is surprisingly durable. As far as we're concerned, we're pretty convinced laminate is on the brink of making a major comeback in every room of the house. Yes, including the bathroom.
How Much Do They Cost?
Fortunately, laminate bathroom countertops are extremely reasonable. While the grand total will depend on brand, style, and amount of laminate used, the material costs anywhere from $25 to $40-per-square-foot. That's considerably cheaper than ceramic tile, Carrara marble, or even concrete! That being said, enlisting a professional to install your countertops will be an additional fee. But if you want to keep costs down, flex your DIY muscles and install your laminate countertop yourself.
What Are the Benefits of Laminate Bathroom Countertops?
If you ask us, laminate countertops are the gift that keep on giving. In addition to being affordable, durable, and DIY-friendly, they're also pretty low-maintenance. Since laminate countertops are non-porous, all you really need to do to keep them clean is wipe down with some warm water, soap, and a microfiber cloth. It's that easy!
Laminate countertops come in plenty of styles and colors, but if they start to lose their luster, you can always hit the refresh button with a coat of paint.
What Are the Drawbacks of Laminate Bathroom Countertops?
While laminate is a great option, it's not without its flaws. The main drawback is that it's neither heat- or scratch-resistant, so you'll want to lay a towel down before placing any hot hair styling utensils on your countertop. Unlike granite or concrete, laminate bathroom countertops aren't going to last forever. On the bright side, they're relatively easy (and affordable!) to replace, plus they will hold up well if you take good care of them.
But no matter how many perks laminate countertops have, they're always tinged with the reputation of being "cheap" and "unstylish." Fortunately, the rooms below prove laminate countertops can be a far cry from a design faux pas.
How to Incorporate Laminate Countertops:
1. You can't go wrong with the classic look of marble.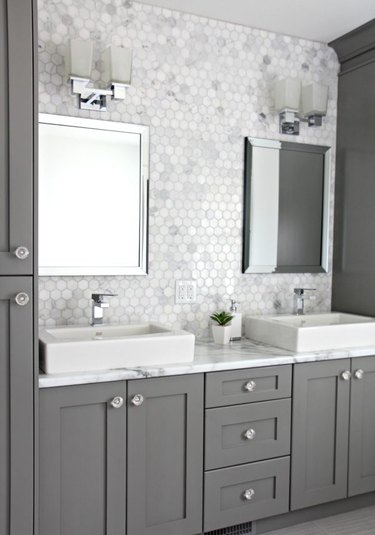 As this bathroom by Kylie M. Interiors proves, laminate countertops can look just as fancy as marble. The major difference, however, is the sticker shock.
2. Keep it simple.
3. Or, go dark instead.