You know the scene in the movie The Holiday when Kate Winslet arrives at Cameron Diaz's multimillion-dollar Hollywood home and runs around like a child who just got their absolute favorite gift from Santa on Christmas morning? That's the exact feeling that we get when we spot a good bathroom vanity. Ample counter space, plenty of storage, and good craftsmanship — it's the ultimate trifecta, and we've found a slew of gorgeous ideas that check all the boxes.
1. Modern Monochromatic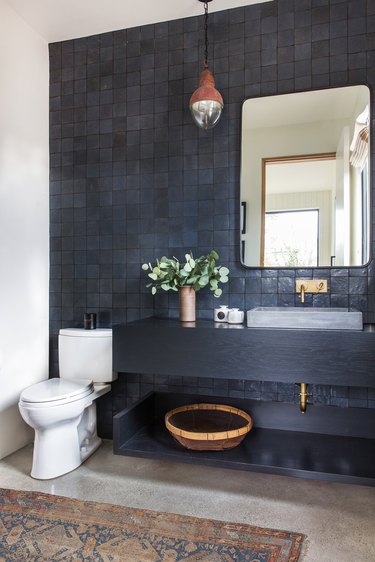 2. Sleek Storage
Recreate this bathroom vanity idea from Shea over at Studio McGee with a vanity that has the appearance of furniture. Here, brass detailing makes the entire space feel ultra luxe while a vintage rug gives the entire room plenty of character.
3. Warm Wood Finish
Opt for a wood vanity in a black-and-white bathroom, like this one designed by Orlando Soria, to provide the perfect level of warmth against the contrasting palette. Modern yet cozy is the name of the game.
4. Streamlined Door Fronts
5. Vintage Charm
6. Colorful Cabinetry
7. Repurposed Furniture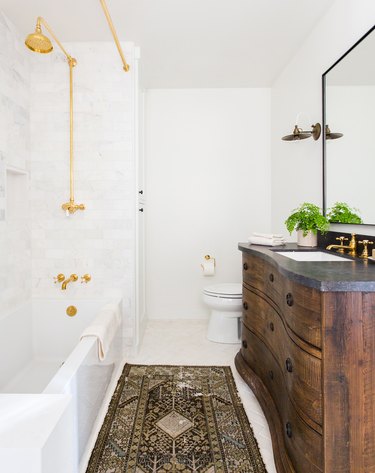 An all-new bathroom is certainly a luxury but can often lack a sense of soul and character. Using an antique dresser for the bathroom vanity, as shown in this space designed by Amber Lewis, makes the room feel more collected and storied while still providing all the new, modern amenities of a renovated space.