Sayonara, subway tile: there's a new tile superstar in town, and it's anything but flat and boring. Textured tile can bring dimension to every room of your house. Whether you're aiming for hyper-modern decor or recreating a classic effect, these tiles play with light, color, and design in new and exciting ways.
1. Give your home rustic appeal.
Textured tile's uneven surface can give the look of rugged imperfection — while still being completely perfect in a rustic setting. Paired with a freestanding stone bathtub and ethereal drapery puddled on the floor, texture makes an ideal accompaniment for this perfectly imperfect idyllic hotel bathroom in the heart of Lisbon.
2. Class up the bar.
This wet bar's round penny tile mosaic imparts an irresistible sensorial experience. Designed by GRT Architects, they paired black glitzy tile with brass fixtures in this gorg midcentury abode for a swanky yet vintage vibe.
3. Add dimension to your kitchen island.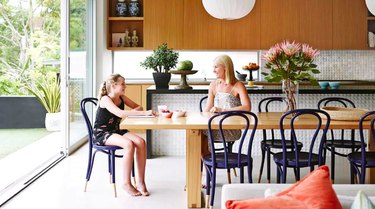 Your backsplash isn't the only area in the kitchen deserving of dramatic tile. Outfit your island with an intriguing and dynamic tile to capture your guests' attention.
4. Contrast with natural materials.
Textured tile can feel outrageously modern. Sometimes too modern, especially if you're shy when it comes to bold design. But next to natural materials such as wood, stone, and outdoor greenery, this hexagon tile is just modern enough.
5. Jazz up your fireplace.
Is your fireplace looking drab? Think multidimensional. This modern San Fran home designed by George Bradley uses an oval tile from Heath Ceramics to give the surround a gorgeous face lift.
6. Highlight an open-air shower.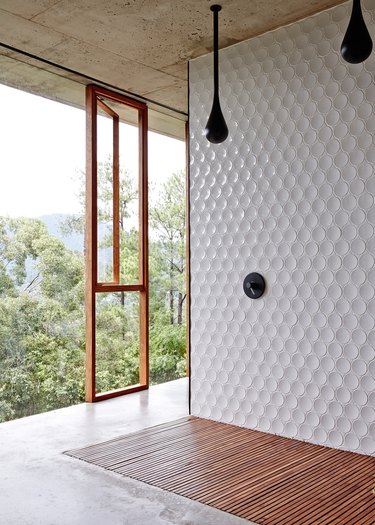 When nature is your backdrop, too many decor details can muck up the view. Take notes from this Australian home that added a single accent wall of round textured tile in an open shower — adding just enough interest without being distracting.
7. Invite depth and color.
If you're looking to add drama and intrigue to your industrial pad, then this metallic textured mosaic tile from Ann Sacks is ideal. These shimmering tiles mimic the look of metal, similarly balancing light and shadows to create a beautifully moody ambience.
8. Choose a geometric pattern.
Picking a textured tile with an interesting, abstract shape is a decor double-whammy. Not only do you create dimension through texture, but also the geometric shape is very fashion forward and pleasing to the eyes.
9. Try a twist on the traditional pillow tile.
Traditional pillow tile might be yesterday's news, but an edgier version might just bring the trend back in favor. Consider a unique twist to the tile classic like this Australian home's swanky accent wall.
10. Take a trip to ancient Greek.
Textured tile's rusticity isn't restricted to early Americana. Travel to a coastal paradise every time you step into the shower by placing this small, stone mosaic tile on the walls to create a classic Grecian escape.
11. Play with pattern.
Glossy textured tile can create enchanting patterns that transport you to a different time and place. Skylab Architecture used this white geometric design to give this minimalist bath a cool futuristic vibe that entices the senses.
12. Take advantage of light.
When textured tile is not properly lit it can seem flat and boring. A tragedy, indeed. Play with down lights, directional lighting, and even candles to highlight your new stacked pebble stone wall's unique shape and surface.
13. Deck out your laundry room.
Think outside the kitchen and bathroom: Textured tile belongs in every room of the house. Take your laundry room up a notch with a pale, sea foam-green textured tile backsplash like Brooke Wagner Design did in this charming beach bungalow.