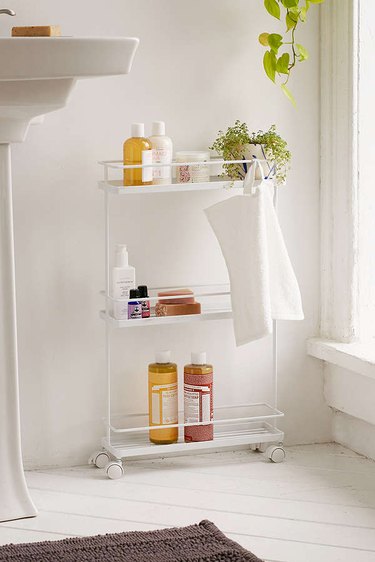 Your bathroom should feel like a luxurious retreat, but it's difficult to relax when you're constantly digging through overstuffed cabinets and drawers. If you're like most of us who don't have a sprawling linen closet for ample storage, don't think that you're stuck with disorganization. Although space may be hard to come by, incorporating things like drawer organizers, over-the-door hooks, and a slim storage cart will give you more efficient options then the slippery sides of your vanity. Here are 12 items that will have your bathroom streamlined in no time, so that you can finally primp in peace.
Bathroom Vanity Canister
Keep your bathroom counter clutter-free by using this canister from Target ($9.99). The convenient divider allows you to store cotton swabs and cotton balls together without having to deal with multiple containers. The translucent design will make it easy to see exactly when you need to re-stock, too.
Hair Tools Holder
This tools organizer we spotted on Amazon ( $12.99 ) will save you from digging through a messy cabinet for your hair brush, blow dryer, and curling iron on a daily basis. The space-saving design hangs inside any cabinet door and will make getting ready in the morning that much easier.
Tower Storage Cart
If your bathroom has a pedestal sink and you're at a loss about where to store your most frequently used soaps and serums, then look no further than this storage cart from Urban Outfitters ( $69 ). The slim three-tiered design will let you store a ton of items without sacrificing precious floor space.
Reclaimed Wood Floating Shelf
Add a few of these chunky reclaimed wood floating shelves from West Elm ( starting at $79 ) to a bare wall, and it'll instantly add storage and style to your small space. Use the shelves to arrange things like extra toilet paper, a scented candle, and spare toiletries for guests.
Wire Metal Basket
These simple wire metal baskets from H&M ( $14.99 ) are great for corralling multiple containers while still allowing you to see exactly what's inside. Plus, the chic gold finish makes it something you'll actually want to put on display.
Acrylic Storage Case
Streamline your beauty routine with this case from Amazon ( $12.99 ). You'll finally know exactly where your mascara is every morning, which will be a nice change of pace for your busy a.m. routine.
Woven Leather Cylinder Basket
Place a few rolled bath towels in this woven leather cylinder basket from Terrain ( $118 ) and your guests will never have to ask for one again. The neutral camel-colored leather will add texture to your decor, and the gold studs will help bring in some glam.
Three-Chamber Shower Dispenser
Your bathroom will thank you for ditching those shampoo bottles and opting for this sleek shower dispenser from Amazon ( $37 ) instead. Fill each chamber with a different product, and your newly organized shower will instantly feel more luxurious.
Expandable Drawer Organizer
It doesn't matter what size drawer you're trying to organize, this expandable organizer from Bed Bath and Beyond ( $19.99 ) is up for the job. Designate a compartment to each one of your most-used items to prevent your drawer from ever turning back into one big mess again.
Desktop Storage Unit
Keep all of your small odds and ends in one place with this pick from Target ( $22.99 ). Use each drawer for something different —like nail polishes in one and face creams in another — so you'll always know exactly where to look.
Over-the-Door Rack
Hang your robes and towels without taking up any wall space with this over-the-door rack from Wayfair ( $23.99 ). The five double hooks will give you plenty of room, and the matte gold finish adds a chic touch.
Expandable Under-Sink Storage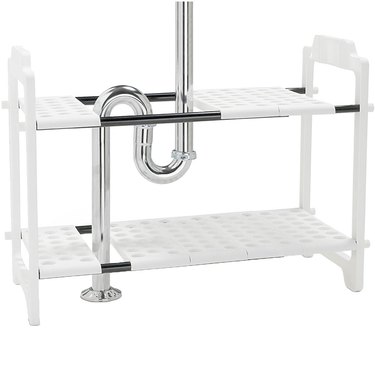 Make the most of your bathroom vanity with this expandable shelf from Organize It ( $29.99 ). Those pesky pipes will no longer be a problem, since this shelf comes with moveable plates that can easily be reconfigured to accommodate your sink's plumbing.