Here at Hunker HQ, it's no secret we're fans of contemporary design but have to admit, we've still got a penchant for all things vintage. No matter how many new and trendy ideas we get introduced to, there is no substitute for the classics. So what better way to enjoy the best of both worlds than by blending the two styles? Think timeless silhouettes and modern materials — it's the perfect way to add a little charm and nostalgia to your pad. To prove our point, here are seven lust-worthy, vintage bathroom design ideas that will leave you wanting more of the good ol' days.
1. Choose classic tile with interesting color pairings.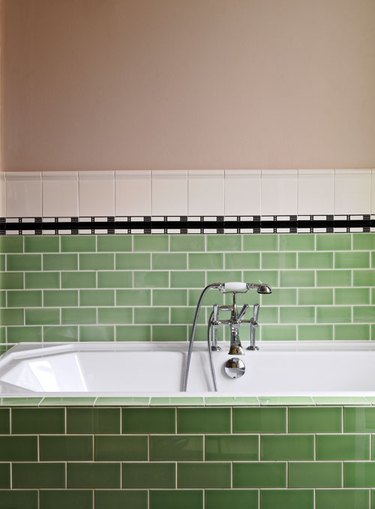 Pink and green might seem like an odd pairing, that is, until you look at this bathroom, of course. The classic tile showcased in contradicting hues is representative of many decades, from the '20s to the '60s, and instantly adds a feeling of nostalgia to any room. This vintage-inspired bathroom by Katrine Martensen-Larsen consists of forest green metro tile paired with a thin row of monochromatic tile, and topped with a layer of dusty pink. The vintage look is further accentuated by silver bath fixtures in classic shapes.
2. Indulge in a freestanding bathtub.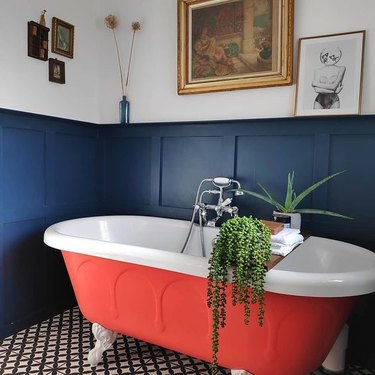 Nothing screams vintage more than a freestanding bathtub, so if you're on the hunt for vintage bathroom design ideas, this is the place to start. Lissi Walker gave her white tub a vibrant makeover, ensuring that it would be the star of the show in her new bathroom. From patterned floor tile to navy blue board and batten wainscoting to vintage-inspired artwork, there is so much to love in this colorful space.
3. Upcycle your vintage.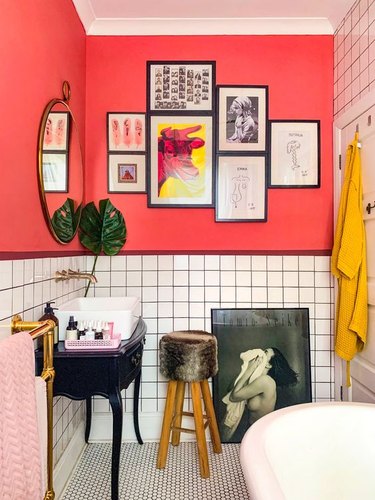 4. Create a feature.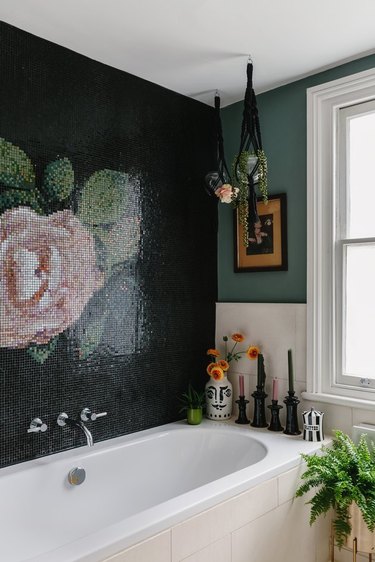 Florals create a classic vintage aesthetic, but that doesn't mean they need to be old and fussy. Zoe Anderson, founder of Shoreditch-based lifestyle store W.A.Green, blew us away with her timeless bathroom. The show-stopping rose mural created with mosaic tile from Bisazza accentuates Zoe's pretty-meets-bold style and provides some pretty unique bathroom inspiration. Plus, we just love those hanging botanicals.
5. Go all-out on vintage lighting.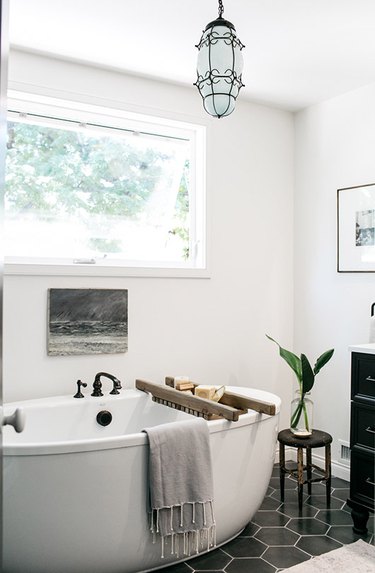 Just because it's a bathroom, doesn't mean that you can't go all-out on lighting. Who said statement fixtures were just for entranceways, eh? This bathroom design belonging to Victoria from SF Girl by Bay features hexagonal tiled floors, a freestanding tub, and loads of natural light. The final touch is a stunning vintage Venetian glass pendant that she discovered on Etsy. Ooh la la!
6. Make a statement.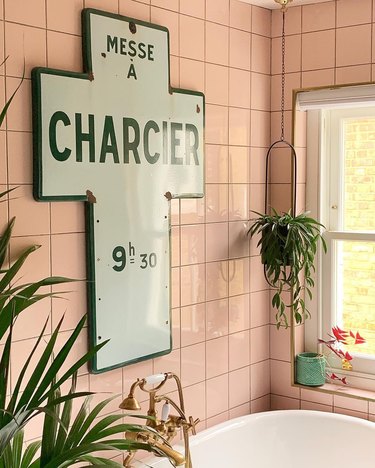 Salvage yards, secondhand stores, and flea markets are great resources when it comes to finding eccentric objects and decor, and they look great when paired with a contemporary backdrop. Make like Carol from Max Made Me Do It and grab a vintage sign for your restroom for maximum vintage impact and an original look that can't be replicated.
7. Give a nod to the design period.
When was the last time you thought about the decade your house was built in? British design influencer Sarah Akwisombe recently designed this bathroom in a 1930s semidetached house and was resolute on giving a few nods to the art deco period. Thanks to a color palette of soft pink and mint green, statement floor tile, fun modern hardware, and vintage light fixtures, her mission was accomplished and in stunning fashion, no less.