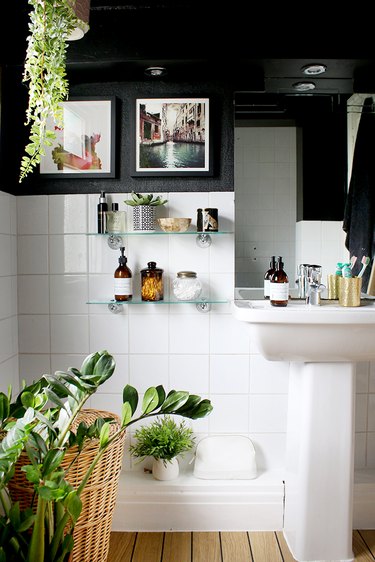 Struggling to come to grips with your bathroom renovation? If you're looking for a timeless space that will outlive trends and fads, a timeless washroom is the perfect choice for you. And speaking of classics, black-and-white makes an ideal pairing, but don't worry, it can be incredibly striking, too. Paired together, the combo will create a graphic, high contrast design that won't need a revamp for years to come. Still stuck? Take inspiration from these black-and-white bathroom ideas.
1. Black Fixtures
Black-and-white bathroom ideas can be a match made in design heaven if you're looking for a dramatic contrast — black absorbs and white reflects. British blogger Olivia of Lust Living united the two hues perfectly in her modern wet room. She opted for white herringbone wall tile, black fixtures, and black marble with white veining to bring her design to life. The finished look is chic, inviting, and will stand the test of time.
2. Statement Tile
Getting clever with your tile can make for a budget-friendly design choice that packs a punch. Chevron, stripes, or hexagonal patterns can create a tailored and high-end look with minimal effort. We're swooning over this dynamic walk-in shower at the Gara Rock hotel, designed by London-based House Nine Interior Design, which combines chevron wall tile with honeycomb floor tile for a visual feast.
3. Black Grout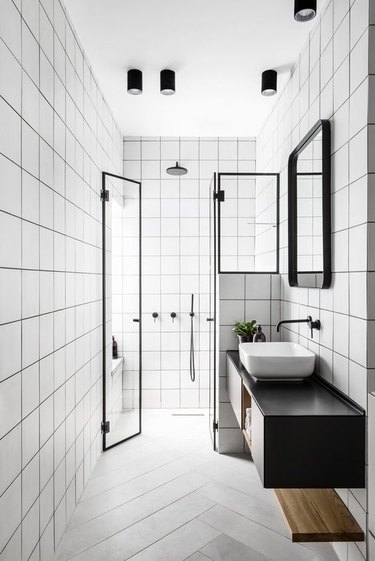 Selecting a darker color for your grout can make all the difference in a bathroom. It will prevent a white wet room from looking washed-out and creates depth. (Plus, it's much easier to clean!) Shir Shtaigman created a grid-like setup in this home renovation by opting to use large square tiles on the walls with black grout. The streamlined black fixtures and floating vanity complete the chic, minimalist look.
4. Don't always choose the obvious!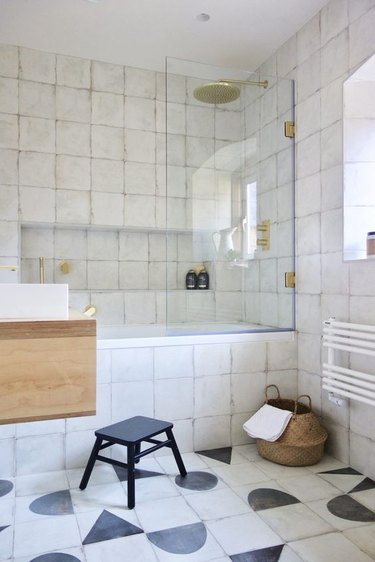 Off-white tile paired with black details can look great, too. The encaustic tile in this family bathroom designed by Karen Knox looks super expensive but is actually porcelain so there's no maintenance required. The "aged" appearance means there is minimum upkeep, and Knox kept the modern feel by adding in brass fixtures and a floating wood vanity.
5. Terrazzo
Yes, terrazzo is certainly having a moment, especially in kitchens and bathrooms. Illustrated perfectly in this walk-in shower designed by the team over at Melbourne-based Breathe Architecture, a set of terrazzo tiles can really make a statement in an otherwise simple black-and-white bathroom idea.
6. Honeycomb Mosaic Tile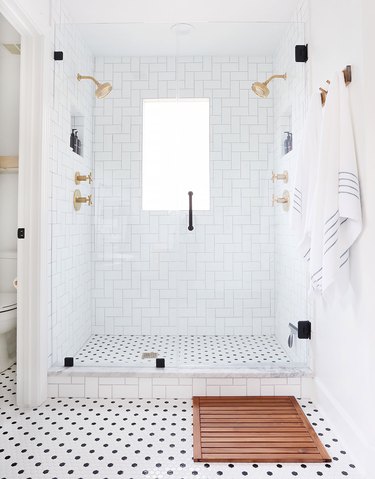 Black-and-white needn't be dramatic and can look light and bright instead. Balancing the black-to-white ratio in favor of the latter will create an airy, open space. Erin of Sunny Circle Studio opted for very simple and classic choices when it came to this black and white bathroom idea, with a few pops of black here and there to add visual interest.
7. Bold Paint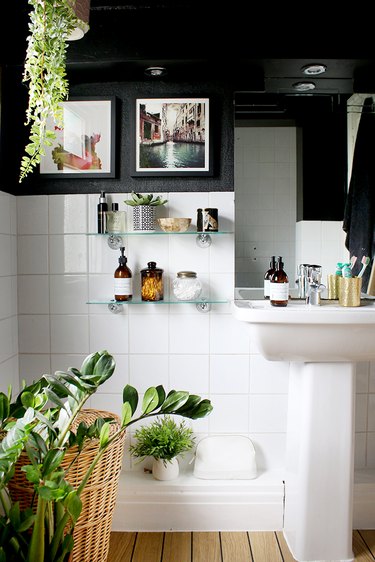 When in doubt, paint it black. No, seriously. The inky hue is the perfect choice when you're working on a budget and want to make an impact. Kimberly of Swoon Worthy used the design trick when she moved into her new home and painted the upper portion of her washroom — including the sloped ceiling — in Downing Street by Valspar. The result: a sophisticated black-and-white bathroom idea that is oh so modern, complemented by pops of greenery and gold detailing.
8. Natural Textures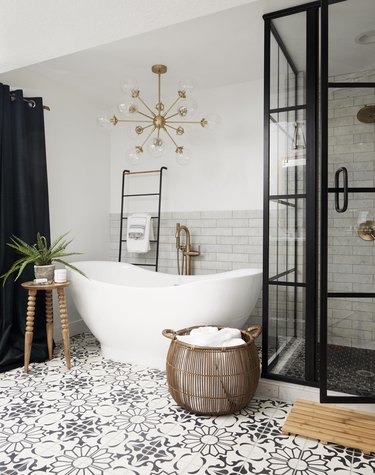 If you're after a softer black-and-white bathroom idea, but still want the color combo, steer toward tile with irregular, curved patterns such as damask or organic floral designs. Cara Loren created this sleek wet room by incorporating said pattern with natural materials and a freestanding bathtub. Looks ready for a soak, right?