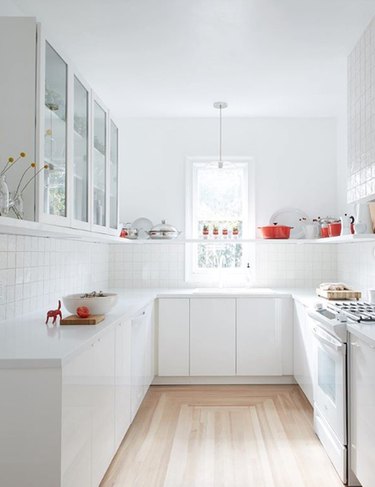 We've seen a resurgence in the use of laminate kitchen countertops and it's no wonder why: it's considered the most affordable countertop option, comes in hundreds of colors, styles, and textures, and is easy to clean. Laminate has been around for decades. It was popular in the '50s and fell out of vogue with the availability of natural and engineered stone. Laminate has evolved a lot over the years in terms of durability and appearance — many products are nearly indistinguishable from marble and wood. Once viewed as a has-been option solely for retro-looking kitchens, current laminate products are challenging this stereotype.
Laminate Countertops Overview
Laminate countertops are made from layers of plastic that are bonded to particleboard or kraft paper to create a solid countertop surface. Considering it's fabricated from paper and plastic, it's surprisingly hardy and can last many years with proper care. Laminate isn't porous like natural stones (soapstone, granite, and limestone, for example, are highly porous and must be professionally sealed annually to protect them against stains and bacteria) so it requires less maintenance. A sponge or washcloth, some soap, and warm water are all that are needed to clean your countertops daily. Laminate can scratch easily, however, so you can't cut directly on it, and it isn't heat-resistant so you can't put anything hot directly on it. There are some state-of-the-art laminates available that offer more durability. Wilsonart and Formica, for example, are two companies with particularly durable laminate offerings.
Formica vs. Laminate
Formica and laminate are not the same thing, although many people use them interchangeably. Formica is actually a brand that's been around for more than 100 years and offers a huge array of laminate products in a wide range of colors and designs. It's built a reputation on high-quality, high-design laminate. They're constantly expanding their product offerings and last year announced a partnership with Leanne Ford, which has us pretty excited since we love her high-contrast, approachable aesthetic. Stay tuned to see the creative ways she employs their products.
Laminate Countertop Costs
Laminate starts at an average of $10-$20/sq. ft. If you're an adept DIYer you can install laminate countertops on your own, which will save you even more money.
Pros of Laminate Countertops
You just can't beat the price of laminate. It's available in an array of patterns, textures, and colors, some of which look remarkably like real stone and wood. It's easy to install and replace when it starts to show wear and tear. Keep clean with mild soap and water. Laminate seams (the part of your countertop where the top and sides join) can be hidden more easily than stone, creating a streamlined appearance.
Cons of Laminate Countertops
Laminate isn't heat- or scratch-resistant, so you need to use a cutting board and can't place anything hot directly on its surface. Laminate won't last forever, but it's relatively easy (and affordable) to replace, and with proper care you can get many years out of it.
Laminate Countertop Style Inspiration
1. Create a monochrome look.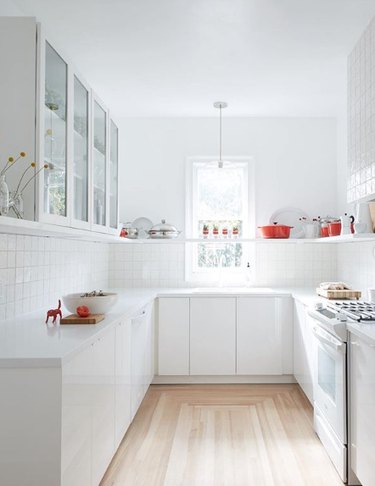 Create an all-white, bright kitchen as seen in Restored by the Fords. Laminate countertops pair with square tiles, glass-front cabinets with a high-gloss finish, and white appliances for a clean and welcoming space. Wood floors add warmth, while orange accents bring a cheery note and keep the space from being too sterile.
Double down on laminate surfaces by combining wood and granite finishes as seen in this kitchen by Wilsonart. A wood-topped island brings a rustic vibe to granite's more elegant appearance. Subway tile backsplash is a timeless choice that complements the shaker-style lower cabinets and glass-front uppers.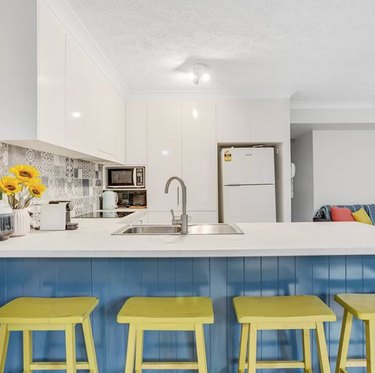 Vero Kitchens selects white laminate countertops in this eclectic kitchen to tone down a patchwork pattern backsplash and colorful stools. Tongue and groove treatment on the peninsula is painted a cornflower blue for a high-contrast look.
4. Say yes to traditional.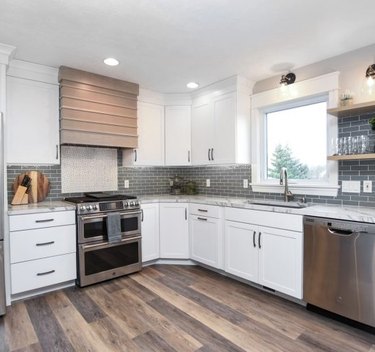 Marble laminate countertops look like the real thing and are a perfect match for gray subway tile and wide-plank wood floors. True Vine Creations installs a unique hood and backsplash behind the stove to personalize the space.
5. A fresh approach to retro.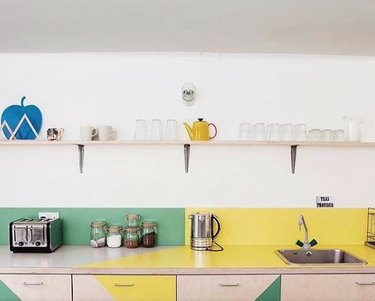 We give two thumbs up to this one-of-a-kind color-blocked kitchen by Sarah Thomas Interiors that manages to be retro and thoroughly modern at the same time. Formica laminates in green and yellow add a graphic quality to the plywood cabinets; a singular open shelf is the perfect perch for diminutive accessories and glassware.