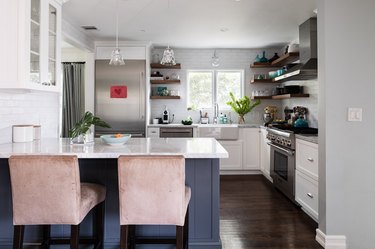 Hunker may earn compensation through affiliate links in this story. Learn more about our affiliate and product review process
here
.
Kitchen countertops can take a big slice of a kitchen remodeling budget. More importantly, they help set the tone for the look and feel of the room as well as contribute to how well the room functions as a work space. That's a lot to ask from one component of a multicomponent design.
Countertop Design Considerations
Fortunately, there are dozens of materials that can be used as kitchen countertops and literally hundreds of colors and styles from which to choose. Before settling on a material or color scheme, consider how the counter will work with the rest of the kitchen.
Do you plan on a drop-in sink, or are you considering an undermount sink? With a drop-in sink, a hole is cut in the counter, and the sink is installed with its rim resting on the countertop. This arrangement works with any material. With an undermount sink, the cut edges of the counter are exposed. That works with a solid-stone slab or a solid-surface material like Corian, but it does not work with laminate that is attached to particleboard because the cut edge of the particleboard will be exposed.
The counter should work with the design of the rest of the room. Stainless steel counters make a design statement, but they would look out of place in a farmhouse-style kitchen. Fortunately, most countertop materials work with any style of kitchen, but it is important to make sure that the counter and backsplash work together.
A distinctive edge treatment can enhance the look of any countertop. Thanks to computer-aided cutting and polishing, most materials, including solid stone, can accommodate the types of edges you might find on wood moldings, including bevel, ogee, bullnose, cove and the like. You can see samples at home centers and countertop fabricators. Complex edge shapes will add to the cost.
Your budget will also come into play when choosing a countertop material. Prices can range from about $10 a square foot for laminate to over $240 per square foot installed for some natural-stone products. There are a lot of price points in between, and there are some DIY options that can cut costs even further.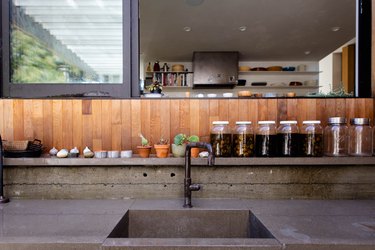 Most contractors will quote prices in square feet, but some contractors and dealers use linear feet. For counters, a linear foot is about 25-inches deep, which is the typical depth of a kitchen countertop. The depth runs from the wall to the front of the counter. The countertop material should overhang the base cabinets slightly. Because they vary in size, countertops for kitchen islands are usually priced by the square foot.
DIY Countertop Options
Some kitchen countertop materials lend themselves to DIY installation, but consider professional installation for complicated jobs that involve a number of cuts.
Laminate countertops come in a variety of colors and textures. Some designs resemble natural stone. They provide good work surfaces that can last for years, and at about $10 to $25 per square foot for the material, they offer an economical option. Professional installation increases the price to $30 to $35 per square foot.
Home centers and some dealers sell precut lengths of laminate countertops. They are convenient, but the color selection is limited. Ordering kitchen countertops that are sized to the dimensions of your kitchen will achieve a more custom look and give you the chance to add a custom edge treatment. Laminate will chip, and scratches usually can't be removed. The material resists stains, and regular cleaning involves nothing more than wiping with soap and water.
Wood and butcher block offer a rustic, very traditional appearance. Costs range from $12 to $40 per square foot depending on the species. A professional will charge about $20 to $60 per square foot for installation. Scuffs and scratches will show, and the material is susceptible to moisture. Frequent sealing with a product approved by the manufacturer resists water penetration.
Countertop tile can be ceramic, porcelain or granite. They are all set in adhesive over a base of plywood and cementboard. Glazed tiles have a shiny appearance and usually don't require sealing. Some grout should be sealed to prevent discoloring. Consult the tile manufacturer for recommendations on removing tough stains. Costs range from $3 to $30 per square foot for the material and $20 to $60 per square foot for professional installation.
Low-Maintenance Countertops
Although there is no such thing as a no-maintenance countertop, some products are more durable than others. They resist stains and generally do not require any more maintenance than normal cleaning. Installation of these counters is best left to professionals. Much of the prep work is done at the fabricator's shop, and a good installation requires making seams in the materials invisible.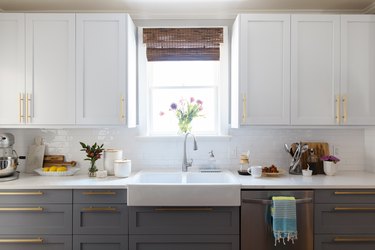 Quartz is fast becoming one of the most popular countertop materials. It is made from natural quartz combined with resins and other materials to form the product. Many people refer to it as engineered stone, and it can be made to resemble more expensive natural stones like granite and marble. Some manufacturers recommend sealing quartz counters. Prices range from $75 to $120 per square foot installed.
Solid surface products were one of the first products designed to bridge the gap between laminate and more expensive granite and marble. It is produced in slabs whose color and design goes all the way through the material, making it a cinch to buff out scratches and other damage. It is nonporous and extremely durable. Fabricators can create sinks made from the material, creating the counter and sink as one integral unit. Costs range from $50 to $110 per square foot.
Stainless steel counters are tough, impervious surfaces that are easy to keep clean and sanitary, which is one of the reasons they are used in restaurant kitchens. The material is strong, but thin stainless steel counters can dent. They contribute to an industrial, professional-looking kitchen. Most counters are smooth and shiny, but matte and textured finishes are available. Wipe up spills with a damp cloth. Use a cleaner formulated for stainless steel for tougher jobs. Expect to pay $70 to $125 per square foot.
Ultracompact counters are made from the same types of materials used in quartz and porcelain counters, but they are formed under intense heat and pressure. The result is a durable, nonporous surface that can withstand extremes in heat and cold. They are one of the few engineered countertops recommended for outdoor kitchens. The product is relatively new, so the availability of experienced fabricators may be limited. Prices range from $70 to $120 per square foot.
Natural Stone Countertops
When people think of high-end countertops, stone products, especially granite and marble, are usually what they envision. Their distinctive appearance and natural-material vibe enhance any design. Some products require special care in how they are cleaned and protected. Most require the application of a sealant to make the stone stain-resistant. The Natural Stone Institute has information on general maintenance and how to remove specific stains.
Granite may be the most wished-for countertop material. It is one of the strongest materials on earth, and it won't scratch or burn. Each piece of granite is unique, and hundreds of colors and patterns are available. Routine cleaning is easy, but sealing is necessary, especially for light-color granite, in order to prevent staining. Granite counters cost $40 to $170 per square foot installed.
Marble provides a sophisticated, elegant look. It is not as strong as granite and is more likely to scratch, but it is extremely durable. It is available in a variety of finishes, but some experts believe that a matte finish hides damage caused by etching of acidic foods and liquids. Bakers love marble because its bacteria-resistant surface keeps dough cool. Marble counters can cost $50 to $240 per square foot.
Quartzite is often confused with quartz, but quartzite is a natural material and not an engineered product like quartz. It has veining similar to that of marble, but the available colors tend to be more muted and subtle. It is heat-resistant and durable. Prices range from $60 to $120 per square foot.
Soapstone offers the distinction of being a natural product that is different from granite or marble. Most soapstone counters are dark, solid colors, but material with slight veining is available. The material is heat-resistant, but it is softer than granite, so it is prone to chips and scratches. Soapstone darkens over time. A soapstone countertop will cost $40 to $100 per square foot.
Concrete may be considered an outlier because it does not come from a quarry like other natural stone, but it is composed of natural materials that have some of the same characteristics as granite or marble when combined. Concrete counters are strong and durable.
As with other stone materials, they must be sealed to resist dirt and stains. The material can be polished to achieve different levels of glossiness. Unlike the others, applied stains can change the color of the material, and fabricators can form the material into a variety of curved and rounded shapes. Concrete counters range from $60 to $125 per square foot.
Recycled Countertop Materials
There is a group of countertop products made from recycled materials.
Paper composite counters are made from recycled paper products and wood fibers that are combined with nonpetroleum-based resins. These durable surfaces are stain- and water-resistant, and they do not harbor bacteria. They are not heatproof, and hot pots can damage the surface. The surfaces are sealed when installed. Light scratches can be buffed out using a nonwoven pad. An occasional application of wax rejuvenates the surface. Prices range from $30 to $90 per square foot.
Recycled glass counters suspend pieces of glass in a binder. The result is a colorful mosaic whose pieces come in different sizes, shapes and colors. When cement is used as a binder, the counter requires periodic sealing. Resin binders do not require sealing; they are nonporous and resistant to staining. Warm water and a neutral-pH cleanser can be used for daily maintenance. Recycled-glass counters cost $50 to $140 per square foot.
Maintain Your Countertops
Manufacturers like to tout the indestructibility of their countertops, and some of them come pretty close to those claims. However, anything can be damaged, so it makes sense to follow a few simple rules to keep the counters looking great.
Use cutting boards. Countertops may be work surfaces, but don't slice and dice directly on them. You will not only scratch the surface and dull your knife but the sound can be truly horrible. Both plastic and wood cutting boards are safe to use.


Use trivets. Many countertop materials can stand up to heat, but why take the risk?


Clean up quickly. Attend to spills and spots as soon as possible.
Where to Shop for Kitchen Countertops