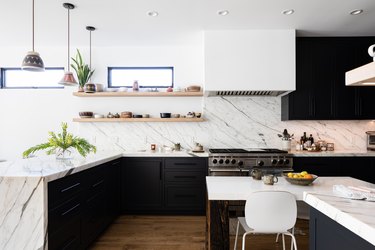 When it comes to kitchen countertops, there are numerous choices to consider. Knowing the main differences between various countertop materials will help make the final choice easier. Narrow down the field by thinking about factors such as the budget, lifestyle needs and visual appeal. It can also be helpful to browse in person to get an up-close look before committing to a particular kind of counter.
Initial Considerations for Choosing Countertops
Although the initial draw to a certain type of counter may be how it looks, there are other factors to think through before settling on one countertop material. First and foremost, the overall cost should be evaluated. There are an enormous range of price points in this area, and they can range from very inexpensive to extremely pricey. Natural stones and select man-made materials can be very costly, while many of the laminate options are priced far lower. There's no rule for how much or how little you should spend; the choice is individual.
Once a budget is set, the next thing to determine is what type of wear and tear you expect in the kitchen area. Selecting a good match here will go a long way toward making sure you pair up with the right kind of countertop material.
Families with children may want something durable, like quartz. People who don't cook often and are looking for high style might go with a more delicate marble. Some counters require regular maintenance, while others only need a simple cleaning after use. Take a little time to learn about the properties of each counter so you know what will work best for your household.
Natural Stone Countertops
Natural stone has long been a popular choice in kitchen countertops, and it offers interesting veining and unique patterns that are one of a kind. Granite is one of the most popular counter materials, and according to the Natural Stone Council, there are many different colors available, ranging from pinks and reds to greens, browns and black. Forged by the earth and revered for its beauty, these counters can go with many different types of kitchen designs.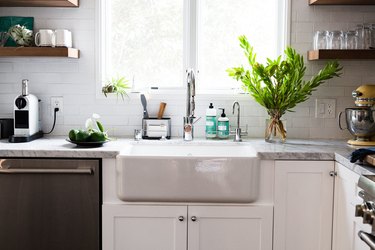 That said, not all natural stones are created equal. They can vary greatly in durability, so it makes sense to check into the hardness rating and porosity of any stone you are considering to make sure it will hold up well in your home. In general, marbles tend to be less durable and more likely to stain, but many granite slabs and other natural stones can chip or stain given the right set of circumstances. It pays to do a little research. Installing natural stone can be challenging, as cutting it requires specialized tools, and it is an extremely heavy material.
Man-Made Quartz Counters
Quartz countertops have seen huge gains in popularity. According to the International Surface Fabricators Association, this composite stone is a blend of 93-percent natural quartz combined with 7-percent bonding resins. This combination means that it is durable like natural stone but more stain-resistant because it isn't porous. Designs come in some of the colors and veining styles that you see in a natural stone such as granite or marble. Made by brands such as Silestone and Cambria, this material commands a high price because of this blend of beauty and stain resistance, and installation follows a similar procedure as natural-stone counters.
Paper Composite Countertops
Paper composite is an interesting kitchen countertop material, as it is comprised of recycled paper and/or cardboard that is resin-soaked and then heat-pressurized. Both stain-resistant and environmentally friendly, it also gets points for being easy to work with and customize. Although not yet widely used, the material is gaining in popularity for all of these reasons, although the surface can still be damaged by scratches or hot pans since it isn't truly heatproof like tile or stainless. The color choices are a bit more limited than some of the other kitchen countertops, but the midrange price point and ease of care work in its favor.
Stainless Steel Countertops
For those who enjoy a more sleek or industrial look, stainless-steel countertops may be something to investigate for the kitchen space. Stainless is a fairly low-maintenance material often used in commercial kitchens because it doesn't absorb germs or smells, is easy to clean, is highly stain-resistant and is impervious to hot pans. Although this makes it a great pick for the kitchen, it is quite expensive compared to many other choices and can be challenging to install, so it may not be for everyone. Also, it does show scratches.
Poured-Concrete Countertops
Concrete counters offer excellent strength, and because they are individually formed for each kitchen area, they are fully customizable in both format and color. In addition to the unique look of this countertop material, it can also be enhanced by embedding decorative tiles or other objects right into the design as it is set. The fact that these counters can be configured to any shape means the process of making them is labor intensive and somewhat expensive. Also, concrete may stain, and it requires periodic maintenance to keep it sealed.
Laminate Countertops
Laminate counters tend to have a more reasonable price point than most other countertop materials. They are composed of a combination of plastic resins, decorative paper and plastic, which is then bonded or mounted to plywood or another backer material. Although they can be damaged by hot pans, these counters are maintenance-free and hygienic because they are nonporous. This countertop material also comes in all the colors of the rainbow, making it an easy match for any design concept. Installation is also pretty simple since the material can easily be cut to fit the space or ordered in the proper size.
Tile Countertop Material
Tile countertops offer a heat-resistant option for the kitchen area. Granite tiles provide a cheaper alternative to granite-slab counters, and both porcelain and ceramic tile come in different patterns and a good selection of colors. Decorative cement tiles are yet another option. The look of tile counters is quite different from other styles, and if you have tile-installation experience, it may even be a possible DIY project. That said, there are a few drawbacks to using tile, such as the possibility of chipping the material and the fact that grout lines are prone to staining.
Solid Surface Counters
Solid surface counters are man-made and are basically a blend of acrylic or polyester resins, stone dust or other fillers and pigment. Unlike natural stone, these counters can always be installed with no seaming. They come in at a midrange cost and are nonporous. As a low-maintenance material that is easy to cut and shape, it is also fairly easy to repair if that is ever needed. According to one of the main name brands, Corian, solid-surface countertops come in a large selection of versatile color choices ranging from off white to gray or black.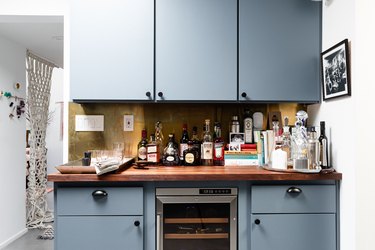 Butcher-Block Countertops
Butcher block is one of the wood countertops that have been around for many years. Homeowners usually gravitate toward the appearance of this counter, but its relative affordability and DIY-friendly nature also help make it a sought-after pick. That said, this is a fairly high-maintenance material. It can ding, burn and stain fairly easily, and it requires a periodic regular oiling to keep it looking good and to keep it performing well over time. However, for those who love the allure of natural wood, this may not be a deterrent. Also, some scratches and minor dings can be repaired with a light sanding.