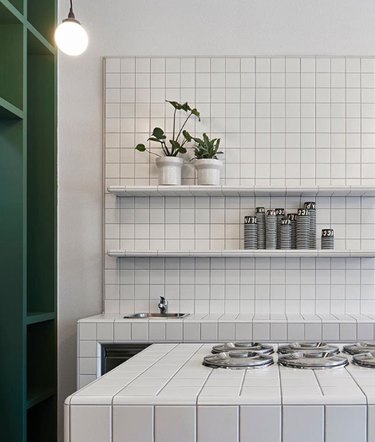 When considering kitchen countertop options, most people immediately think of stone slabs. And while beautiful, their beauty comes at a high price. A tile kitchen countertop might be less conventional, but it's practical, durable, and, most importantly, one of the more affordable countertop options. So, if you're looking for a beautiful countertop without breaking the bank, read on.
What is tile?
Tiles are made from a manufactured, hard-wearing material such as ceramic, stone, metal, baked clay, or even glass. Fired tiles include ceramic and porcelain, and tiles cut from stone include slate, granite, travertine, and marble. Tile size and shape vary depending on the material. For example ceramic and porcelain tile come in a wide variety of shapes and sizes whereas natural stone is usually limited to squares and rectangles. Most tiled kitchen countertops are ceramic and porcelain.
Ceramic tile is made from natural clay that is baked at high temperatures to remove moisture, resulting in a heat-, water-, and stain-resistant material when properly sealed. It reached its peak popularity in the 1970s and then began to fall out of favor with the availability of engineered and natural stone slabs but is slowly returning in part thanks to its affordability and DIY-ability.
There are many reasons to embrace the use of ceramic tile on a kitchen countertop; chief among them is the wide variety of colors, sizes, and shapes available for endless creativity with pattern and color. Ceramic tile costs around $25 per square foot, making it extremely wallet-friendly.
Tile countertop maintenance
Ceramic tile is easy to care for, requiring just mild soap and water for daily cleaning and nonacidic cleaners for a deeper clean. Grout lines can be an entry point for bacteria and germs, so it's necessary to have counters professionally resealed once a year.
Pros of tile countertops
Ceramic tile comes in a seemingly endless variety of colors, sizes, and shapes. It's easy to install and can even be tackled as a DIY project. Tile is affordable and heat-, scratch-, and stain-resistant when properly sealed. It's easy to keep clean on a daily basis with soap, water, and nonacidic cleaners. As opposed to a large stone slab, it's easy to replace tiles if a chip or crack appears. Keep in mind: The smaller the tiles, the more grout lines you will need to keep clean.
Cons of tile countertops
Tile counters do require annual professional maintenance to keep bacteria out of grout, which should be installed as thinly as possible to minimize staining and harboring germs. The nature of tile and grout results in an uneven work surface that isn't ideal for food prep, like rolling out dough, and a cutting board should be used for chopping. Tiles can crack under extreme heat. Tile countertops are a specific taste and don't have universal appeal, so if you're considering selling your home in the near future you may want to consider another material.
Porcelain tile 101
Porcelain tile is a subcategory of ceramic tile composed of clays and minerals — because it's fired at higher temperatures it's incredibly durable, making it heat-, scratch-, and stain-resistant. It's more difficult to install than ceramic, so leave this one to the professionals. Porcelain tile is gaining in popularity as a kitchen countertop option. It comes in virtually any size and color and can even look like natural stone. It's pricier than ceramic tile, starting at $50 per square foot, but less than granite and marble.
Porcelain tiles are easy to care for requiring just mild soap and water or an all-purpose cleaner for stubborn residue, but avoid acidic cleaners. They do need to be sealed every year to keep grout lines stain- and germ-free. If food does stick to grout lines, an old toothbrush can work wonders at removing it.
Granite tile 101
Granite slab countertops bring a sense of luxury to any space, but they are expensive and unrealistic for many kitchen budgets. The good news is this natural stone can be cut into tiles, resulting in a more affordable option while retaining the texture and beauty that make slabs so appealing. Granite is an igneous rock formed under extreme heat, resulting in a material that is highly durable (heat-, stain-, and scratch-resistant when properly sealed). Granite slabs range from $80 to $100 per square foot, while granite tile runs from $50 to $75 per square foot.
Like most natural stone, including marble, limestone, and soapstone, granite is porous and needs to be professionally sealed before installation and annually thereafter. This is particularly important with granite tile in order to keep grout lines bacteria- and stain-free. Granite tile countertops are easy to care for on a daily basis, and mild soap and warm water are enough to keep them clean. A side note on grout lines: they can be emphasized for visual effect or minimized to create more of a slab-like appearance. Although this is purely preferential, remember that grout lines are where bacteria and germs enter and stains occur.
---
Jaclyn Schatzow is a freelance writer living in Santa Monica, CA
View Work