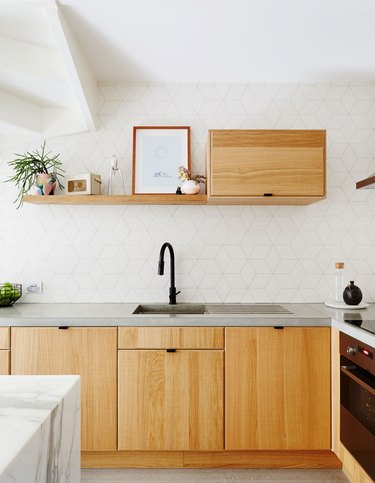 Marble, quartz, wood — these are the countertop materials we are accustomed to seeing in most kitchens. And although these materials are often high quality and aesthetically pleasing, sometimes a homeowner just wants something that's a little different and unexpected.
That's where concrete comes in. The very material that makes up our sidewalks and driveways is now having a moment in kitchens ranging from farmhouse to minimalist in style. It's not only a visually interesting material — it's a practical choice, too, praised for its strength and staying power.
Here are 12 reasons why concrete should be the next choice for your kitchen countertops.
1. Concrete is strong and durable.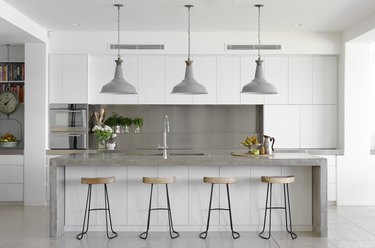 Materials like marble and limestone can develop chips and nicks over time, and wood is incredibly prone to scratches. Although no countertop is immune to wear and tear, concrete tends to hold up better over time when it's sealed. This kitchen, created by designer Justine Hugh-Jones, looks like it can take a licking, plus we love the gray elements that mirror the waterfall countertop.
2. It's completely customizable.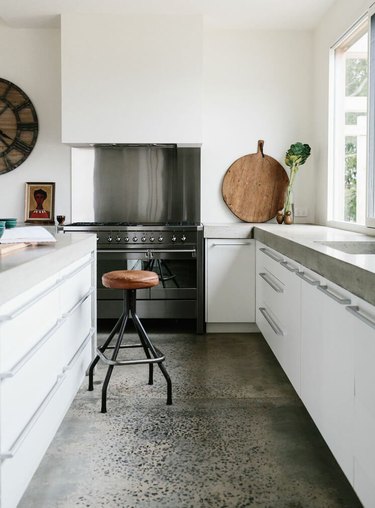 A concrete countertop is poured rather than installed using predetermined pieces, so it can be customized according to your tastes and needs. Make it thick, thin, drop in natural stones or even fossils — there are near endless possibilities. This kitchen belonging to Johnny and Claire Greig showcases a thick concrete countertop that acts as a backdrop for their bohemian finds.
3. When it's sealed, it resists heat, stains, and water.
There are special sealants out there formulated especially for concrete kitchen countertops. Without it, concrete can be prone to taking on stains and flaws. But with a sealant, concrete suddenly becomes resistant to a number of kitchen woes, like heat, stains, and water. Lauren chose a super shiny sealant for her concrete countertops, shared on her blog Bless'er House.
4. It provides a neutral hue if you want to experiment with colors.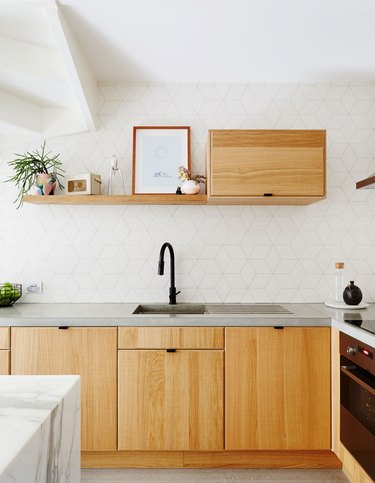 Concrete is naturally neutral, which can give you an opportunity to pick whichever hues you prefer. Illustrator Melissa Avery chose a warm and friendly palette for this space. Her kitchen displays light-wood cabinetry, a patterned tile backsplash, and cheerful decorative objects, which all play well with the concrete kitchen countertops.
5. It will develop a gorgeous patina.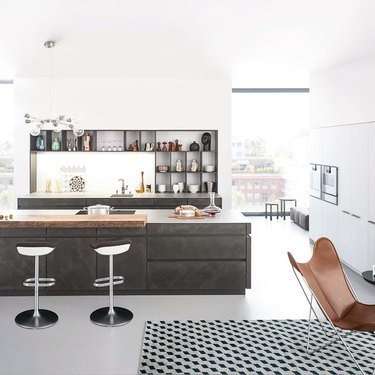 Many homeowners attest to the fact that concrete countertops take on a pretty patina with time and use. These dark-gray countertops created by German kitchen manufacturer Leicht Küchen look as if they'll gain even more personality and charm over the years.
6. The imperfections give it character.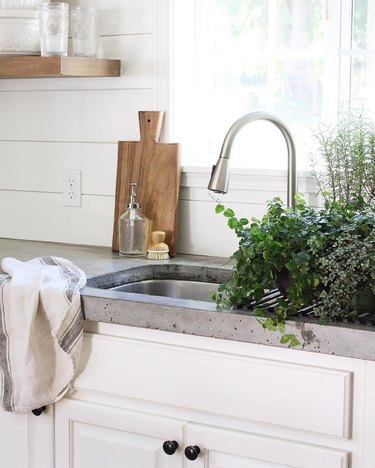 People tend to love it when a concrete counter shows subtle imperfections here and there, and several homeowners request to have small nicks in their countertops from the get-go. The look works very well in a farmhouse kitchen that's already filled with worn, vintage treasures, like this cook space belonging to Rae from Haven Comforts.
7. Concrete works with virtually every decor style.
Concrete serves as a clean slate in most every space, matching up with a dizzying array of decor styles. Rustic? Bohemian? Industrial? Modern? It all works. Here, a midcentury modern kitchen designed by the team at Destination Eichler proves that a concrete countertop is flawless amid retro tile, streamlined cabinetry, and space-age pendant lights.
8. It's a modern, unexpected material.
It's nice when a guest comes into your house and is happily surprised by a design choice you've made. For a kitchen that stands out from the rest, like this one created by Reid Design, choose concrete for your countertops.
9. It will last forever.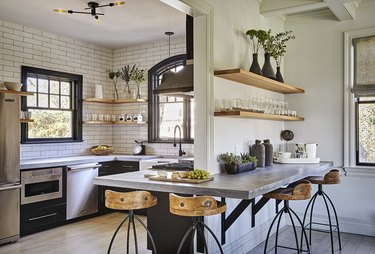 When you seal concrete kitchen countertops and live with them without fear of staining or scratching, you'll know that they're going to last for years to come. Interior design firm Garden Designs dreamed up this kitchen with a wraparound concrete countertop.
10. It's low-maintenance.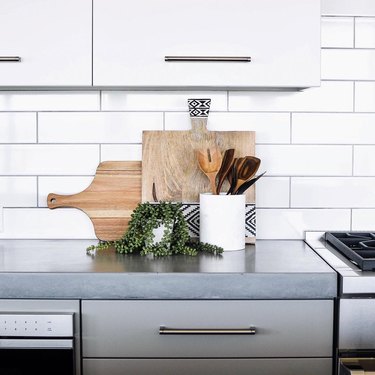 Once your countertops have been sealed, it should take very little effort to keep them clean. Wax them occasionally, but otherwise, all you'll need to do is wipe them down with a pH-neutral cleaner. Even a mild dish soap will do the trick. This will leave more time for cooking and taking Insta-worthy snaps, like Lindsey of Baubles & Backdrops did in her kitchen.
11. Concrete pairs beautifully with other patterns and materials.
12. The price is comparable to other materials.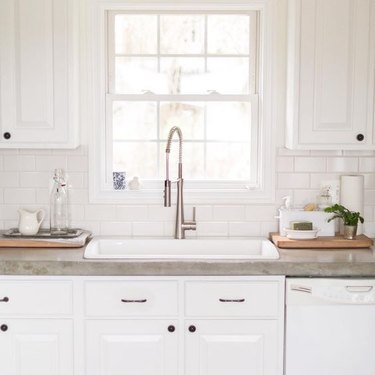 While you won't be saving tons of cash by selecting concrete countertops in your kitchen, you won't be spending a lot more either. According to HomeAdvisor, the price of this industrial material is on par with granite and marble. Concrete comes in at $65 to $135 per square foot, compared to marble at $40 to $100 per square foot or granite at $40 to $60 per square foot.
---
Shelby Deering is a lifestyle writer who contributes to national magazines and websites, including Country Living, Good Housekeeping, Well+Good, and more. When she's not writing, you'll find her shopping flea markets, hiking, and going for walks with her corgi.
View Work