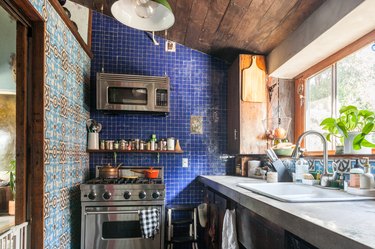 Marble, quartz, wood — these are a few of the countertop materials we are accustomed to seeing in most kitchens. And although they are often high quality and aesthetically pleasing, sometimes a homeowner just wants something that's a little different and unexpected. This is where concrete comes in. The very material that makes up our sidewalks and driveways is now having an interior design moment in culinary spaces of all styles, ranging from modern farmhouse to minimalist. Not only is it a visually interesting option, but it's also a practical choice, too — praised for its strength and staying power.
Ready to weigh the pros and cons? Here are 12 reasons why concrete should be the next choice you make for your kitchen remodel.
12 Reasons to Consider Concrete Kitchen Countertops
1. Concrete is strong and durable.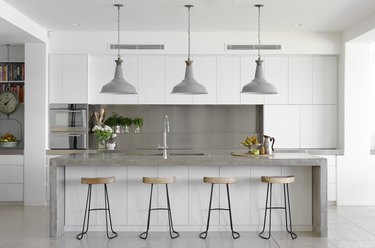 Materials like marble and limestone can develop chips and nicks over time, and wood is incredibly prone to scratches. Although no countertop is immune to wear and tear, concrete surfaces tend to hold up better over time when properly sealed. This kitchen island, created by designer Justine Hugh-Jones, looks like it can take a licking. Plus, we love the gray elements spotted throughout that mirror the waterfall countertop.
2. It's completely customizable.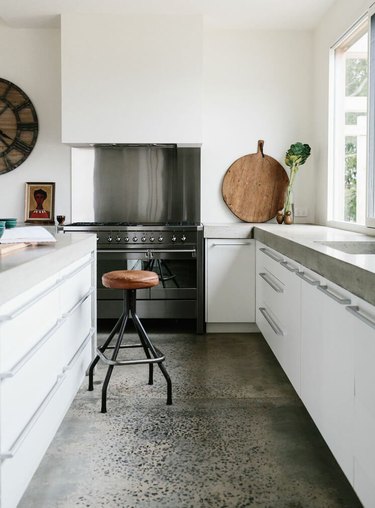 Concrete counters are poured rather than installed using predetermined pieces, so they can be customized according to your tastes and needs. Make it thick, thin, drop-in natural stone, or even fossils — there are near endless possibilities. This white kitchen belonging to Johnny and Claire Greig showcases a thick concrete countertop that acts as a backdrop for their bohemian finds.
3. When it's sealed, concrete can resist heat, stains, and water.
There are special sealants out there formulated especially for concrete kitchen countertops. Without it, concrete can be prone to taking on stains and flaws. But with a sealer, concrete suddenly becomes resistant to a number of kitchen woes. It's heat-resistant, combats water, and you'll avoid staining. This is why it also often works so well in weather-beaten outdoor kitchens. Lauren from Bless'er House went with a high-gloss sealant for her new countertop.
4. It provides a neutral hue if you want to experiment with color elsewhere.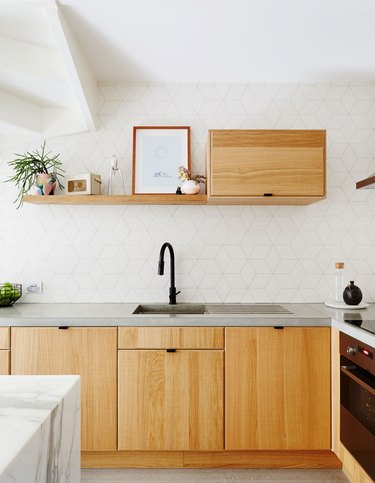 Concrete is naturally neutral, which gives you an opportunity to play with color wherever you please. Illustrator Melissa Avery introduced a warm and friendly palette in her inviting cook space with the help of light-wood cabinetry, a black faucet, patterned tile backsplash, and cheerful decorative objects. Every carefully selected detail plays well with the concrete kitchen countertops.
5. It will develop a gorgeous patina.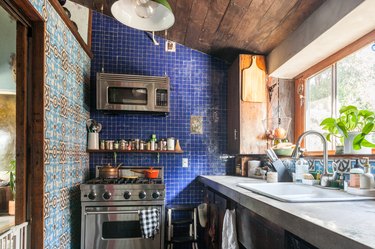 Many homeowners attest to the fact that concrete countertops take on a patina with time and use. Depending on your personal preference and the style of your cook space, this little tidbit might be welcome news. For instance, in this rustic-meets-bohemian kitchen, the ever-changing finish of the cool gray work surface will fit right in — gaining even more personality and charm over the years.
6. The imperfections give it character.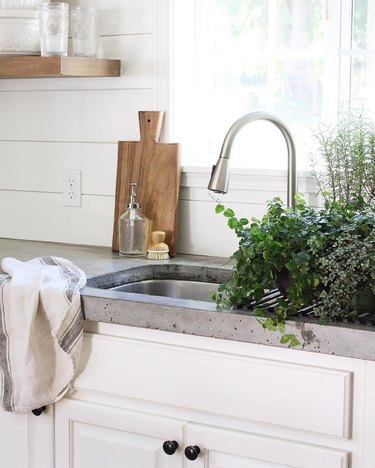 People tend to love it when a concrete counter shows subtle imperfections here and there, and several homeowners request to have small nicks in their countertops from the get-go. The look works very well in farmhouse kitchens that are already filled with worn, vintage treasures, as proven by this cook space belonging to Rae from Haven Comforts.
7. Concrete works with virtually every decor style.
Concrete serves as a clean slate in almost every space, matching up with a dizzying array of decor styles. Rustic? Bohemian? Industrial? Modern? It all works. Here, a midcentury modern kitchen design by the team at Destination Eichler proves that a concrete countertop is flawless amid retro tile, streamlined cabinetry, and space-age pendant lights.
8. It's a modern, unexpected material.
It's nice when guests come into your house and are happily surprised by a design choice that you've made. For a kitchen makeover that stands out from the crowd, like this one by Reid Design, opt for concrete countertops instead of a more traditional option.
Tired of living in fear of staining or scratching your countertops? Well, you can stop worrying: If you seal concrete kitchen countertops, you can rest assured that they're going to last for years to come. So feel free to go all-in, including the island, like the team over at deVOL Kitchens did in this industrial-meets-English country cook space.
10. It's low-maintenance.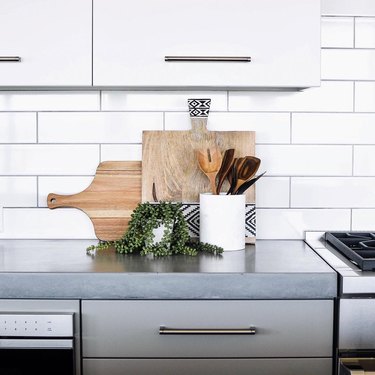 Once your countertops have been sealed, clean-up should take very little effort. Wax them occasionally, but otherwise, all you'll need to do is wipe them down with a pH-neutral cleaner. Even a mild dish soap will do the trick. This will leave more time for cooking and taking Insta-worthy snaps, like this one captured by Lindsey of Baubles & Backdrops in her kitchen remodel.
11. Concrete pairs beautifully with other patterns and materials.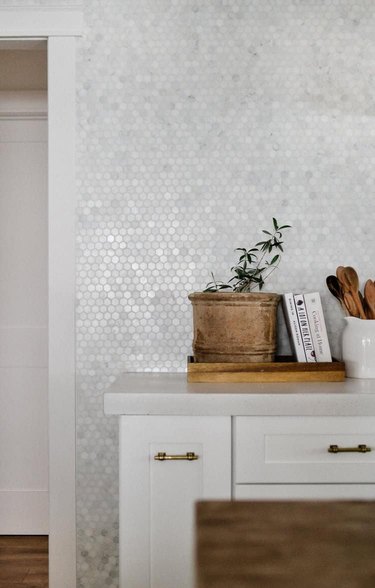 Concrete looks great alongside a myriad of materials and patterns. For example, in this kitchen belonging to Chloe of Boxwood Avenue, concrete kitchen countertops are paired with a hexagon tile backsplash, warm wood accents, and a few decorative pieces and the result is flawless.
12. The price is comparable to other materials.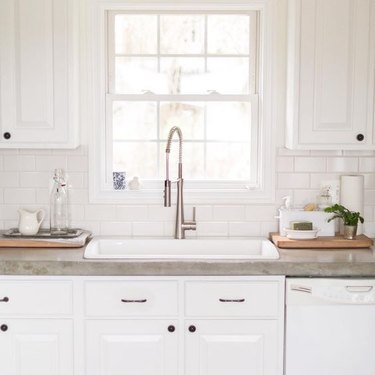 While you won't be saving tons of cash by installing concrete countertops in your kitchen, you won't be spending a lot more either. According to HomeAdvisor, the price of the industrial material spotted in this Found & Co. cook space is on par with granite and marble.
Installation of Concrete Countertops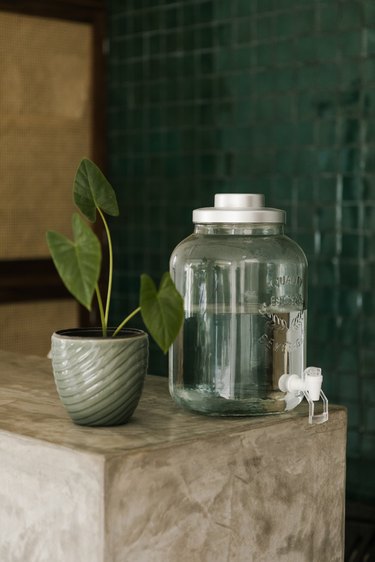 Finished concrete countertops can either be installed by a professional or you can approach it as a do-it-yourself project, something that can be done successfully if you're a DIY veteran.
First, you'll need to create a mold for your concrete countertop. This involves measuring your existing countertops. You'll craft a mold yourself using melamine particleboard, cutting to your countertop dimensions with a saw and screwing the sides together. Don't forget to include a measured-out hole for your sink, of course. The mold will also help you determine how many inches thick you want your new concrete countertop to be.
Once the mold is finished, next, you'll pour the concrete mix. Pros agree that you should plan on around 10 to 15 pounds per square foot. If you desire a certain hue for your concrete countertop, you can add pigment to the mix during this step. When it's reached a good, thick texture, you'll pour it into the mold and pack the concrete with a trowel. When you're finished, cover the concrete with a plastic sheet and allow it to dry for at least one week.
To remove the concrete countertop from the mold, you'll carefully remove the screws you put into your mold. A hammer can additionally help you pry off the sides. When the concrete slabs have been removed, use an orbital sander to smooth them out. Wipe away any dust and grit and be sure to seal it before installing it in your kitchen. Silicone caulk will set your concrete countertop in place.
To learn more, you can always watch some tutorial videos, like this one, to walk you through the process.
Concrete comes in at $65 to $135 per square foot, compared to marble at $40 to $180 per square foot or granite at $40 to $60 per square foot. Also, a sealer will mean the difference between constant maintenance and occasional maintenance. You'll want to aim for a food-grade sealer since you'll presumably be using your countertop for food prep, and when you do clean your countertop, be sure to use a pH-neutral cleaner or a simple dish soap in order to keep it looking its best. And always clean spills as soon as they happen.