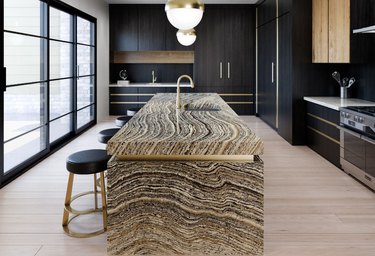 Warning: You might decide to revise your kitchen reno plans once you catch a glimpse of the inspiration we're about to bring you. Sorry, not sorry.
Thick countertops have been an emerging trend over the last year and there's no sign that it's slowing down — literally — we imagine they're quite heavy to move. (See what we did there?) While a regular kitchen countertop might average between 1 to 2 inches, we love to see culinary spaces that feature slabs around 3 to 4 inches thick instead. It adds beautiful weight and heft to a kitchen that just feels oh-so-luxurious, and frankly, we're quite smitten with the look. Join the club, and scroll on to discover seven contemporary kitchens featuring picture-perfect examples of why we're so obsessed with thick kitchen countertops.
1. Make it float.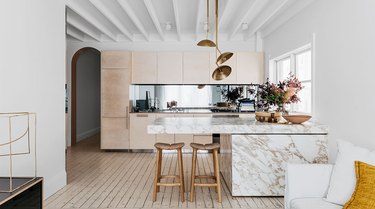 Let's just take a moment to swoon over this kitchen from Decus Interiors that puts all of the focus on the extra-thick Calacatta marble island. And breathe. The humble washed plywood cabinetry brings us back down to earth, resulting in an aspirational yet highly attainable kitchen.
2. Incorporate a backsplash.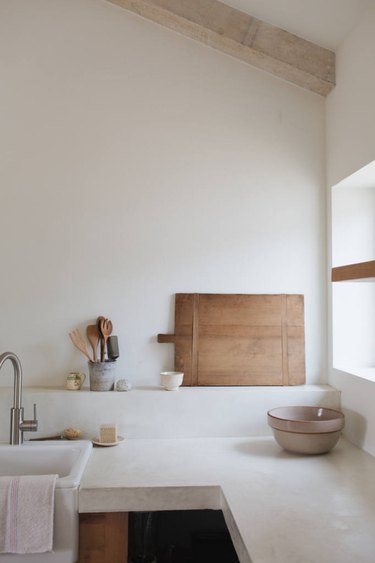 Thick white concrete slabs create a soft and textured look in Kate Zimmerman Turpin's Texas Hill Country property. We adore the way the industrial material has also become an extra-thick backsplash; perfect for resting serving boards, utensils, and other accessories.
3. Go big or go home.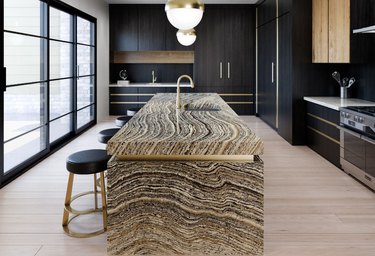 If you're looking to make a statement, Cambria's Clairidge quartz surface is a beautiful option to bring to a darker kitchen. Tan, walnut-brown, cream, black, and gray flow in parallel layers with dark veins that cut across the grain. Add gold fixtures for the ultimate luxury finish.
4. Add butcher block.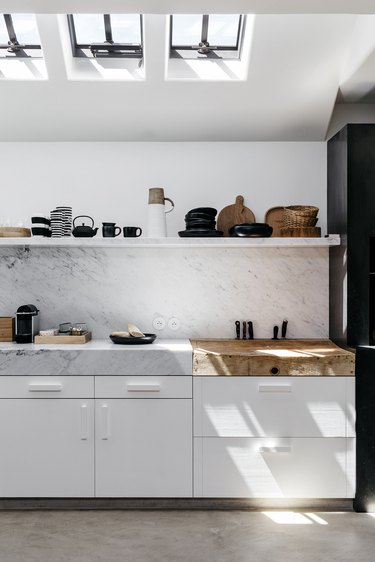 We didn't think it could get much better than the extra-thick marble countertop and tall backsplash seen in this kitchen by Peter Ivens and Bea Mombaers, but the designers added a built-in piece of butcher block at the same thickness. The solid wood adds a rustic touch to this otherwise refined kitchen and offsets the marble and white palette.
5. Polish it up.
Concrete and steel feature prominently in this open layout kitchen by London-based design studio Paper House Project and we're crazy for it. The thick polished countertops cover the entirety of the wood cabinets and extend out into a floating breakfast bar, which matches the concrete flooring seamlessly.
6. Continue the theme throughout.
Don't just settle for thick countertops. Follow the lead of Los Angeles-based architect Jamie Bush who has also incorporated a thick marble island and chunky wood shelving with a matching kitchen soffit above.
7. Incorporate thick and thin.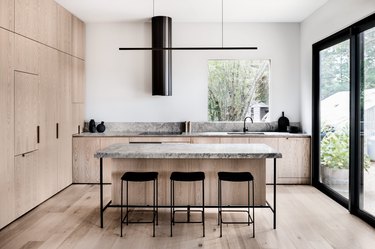 This bright and open kitchen layout designed by Australian-based Studio Esteta, is a perfect example of how to use both thick and thin countertops in the same space. After all, why should you settle for one style when you can enjoy the best of both worlds? And don't even get us started on those integrated appliances. Swoon!