Whether you're building a new home or updating an existing kitchen, you want to choose a countertop that enhances the style of your home and functions well in the kitchen work zones.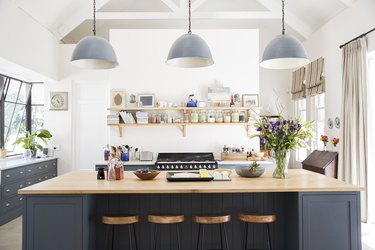 To decide which countertop is right for your kitchen, consider the following factors:
Countertops are a large component of the overall kitchen design. When considering your overall budget, how much can you afford to spend on materials and installation?
Choose a material that not only performs well but also adds color and texture that complements the other dominant kitchen surfaces (cabinets and flooring).
Some countertops require periodic sealing and quick cleanup of spills to prevent stains and etching, while others are less fussy to maintain.

If you plan to live in a home for years or decades, choose durable materials and perhaps splurge on a more expensive material. But if you're likely to move in five years or less, you probably won't recoup the larger investment of a more costly material.

The following guide describes materials, general installation notes, and price ranges. Exact costs will depend on the grade of material (discounted, builder grade, premium, or designer) and the installer's experience level (homeowner, handyman, vendor, or licensed contractor). Once you've reviewed the materials described below, visit a home improvement store or kitchen showroom to see and touch their samples and see examples of installed countertops.
Lamininant countertops are popular because they are easy to clean and come in a wide range of colors, patterns, and textures. In fact, laminates can even mimic the appearance of stone or wood surfaces. They're also affordably priced at $10 to $40 per square foot, installed. The countertop is made from layers of plastic that are bonded to particle board. The non-porous surface resists stains, scratches, heat damage, and impact, which makes it a great choice for a family kitchen. Cleanup is simple with a soapy cloth or sponge.
​Postform laminate countertops​ are prefabricated products that integrate a backsplash with the countertop, creating a seamless surface from the front edge of the countertop to the wall. Home improvement stores offer prefabricated postform laminate countertop sections for do-it-yourself installation.
​Custom laminate countertops​ are generally built to specifications. They do not have an integrated backsplash; rather, the backsplashes formed separately and attached during installation. This allows the homeowner to choose backsplash that is taller than the standard 3-inch height. Custom laminate countertops can be made without seams up to a 60 x 144 -inch area. Custom laminate countertops also allow for a variety of designer edge treatments that can't be achieved with post-form countertops.
Recycled Glass Countertops
Recycled glass countertops are made from post-consumer glass that's combined with a resin. People are drawn to both the beauty of the material and to the eco-friendly use of broken bottles and glass that would otherwise go to a landfill. The bits of colored glass create a unique sparkle and visual texture, depending on the color and size of the glass pieces. This distinctive style is well suited to a modern or contemporary home with an artistic flair, but some colors of glass can also pair well with traditional styling, where the glass can takes on an almost antique quality.
Recycled glass countertops are heat- and stain-resistant, low maintenance, non-porous, and durable. However, the embedded glass can chip or become marred by acidic foods and cleaning products, so it might not be a good choice for an active family. Although the surface is durable, it can crack if not properly installed. Therefore, professionals typically install recycled glass countertops. Plan to spend $60 to $120 per square foot, installed.
Wood countertops are popular for baking and food prep areas and especially for kitchen islands that serve as a dining tabletop. A butcher block is a type of wood countertop that is made from a variety of woods that are glued together to create a pattern, then sanded, and sealed. Years of cutting and preparing food will give the butcher block a softened, worn finish; however, after years of use, you can also sand and oil the wood to renew its finish.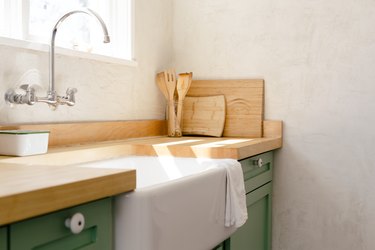 Wood countertops should not be installed near a sink because water can warp the wood and separate the lamination.s Food and liquid can stain wood and hot pans can burn it, although cleaning and sanding may be able to restore the finish. The type of wood used will affect the overall price, so plan to spend between $40 to $200 per square foot, installed. You can install wood countertops yourself, but be sure to make allowances for expansion and contraction caused by seasonal climate changes.
Ceramic tile countertops offer a huge variety of color, shape, and styles, allowing you to customize the look of your kitchen. Ceramic tiles range in size from 1-inch to 12-inch squares (or even larger). Rectangular tiles are also popular. In addition, a tile specialist can design and install a complementary mosaic backsplash above a stovetop or sink. Tile is easy to clean and is very durable, lasting up to 50 years or more. Tile grout requires sealing every few years to prevent staining and bacteria absorption.
Plan to pay $50 to $250 per square foot, installed. Installation is labor-intensive and requires a moderate amount of skill. Experienced homeowners can install tile themselves in order to reduce the overall cost, but professional installation consistently provides the best results.
Stainless Steel Countertops
Stainless steel countertops bestow a modern, professional vibe to a home kitchen. Stainless steel is durable, sanitary, and contrasts beautifully with wood cabinets. Although the surface is strong, it can be scratched or dented. At $100 to $200 per square foot installed, stainless steel is an expensive option, and it's usually installed by a professional. (Although less popular than stainless steel, zinc countertops are worth exploring if you love the look of metal.)
Concrete countertops are one of the newest trends in kitchen countertop, thanks to new concrete formulas that are lighter in weight and which can be stamped and stained to achieve a variety of colors and textures. Besides strength and patina, concrete's advantage is the ability to customize a countertop shape and size as it's fabricated on site.
Though trendy, there are key some disadvantages to concrete. It's prone to chips and scratches, as well as hairline cracks. Because the surface is porous, it's also susceptible to bacteria and stains from common liquids, such as coffee, juice, olive oil, and red wine. Therefore, proper sealing and monthly waxing are necessary to keep the surface clean.
Concrete countertops cost $70 to $140 per square foot, installed. Some people choose to save money by making the countertops themselves, but it requires an understanding of proper reinforcement and mixing, as well as access to a concrete mixer and other specialty tools. The concrete must also cure for 28 days before use.
Solid-Surface Countertops
Solid-surface countertops are made from acrylic or polyester resins combined with natural minerals. The material is easy to maintain, like laminate, but provides greater durability since it's a solid material rather than a surface application. Most solid-surface countertops are patterned to provide the look of granite, stone, or quartz. Custom countertops present a seamless look, especially since sinks can be integrated into the countertop. The product is nonporous, so it resists stains and bacteria, and scratches can be removed with light sanding. Take care with hot pans, because solid-surface material is not heat resistant. Solid surface countertops cost from $45 to $75 per square foot, installed. Installation must be done by certified professionals— homeowners cannot buy and install their own countertops.
Quartz countertops are an engineered product made of about 7 percent resin and pigment, and 93 percent minerals, such as quartz. Although it is not a solid stone, it is extremely durable, nonporous, and resistant to stains, scratches, and chips. Plus, there are many options for color and finish, as well as the option to integrate sinks. Since these countertops are nonporous, they don't require any special maintenance. The only drawback is that quartz countertops are not as heat resistant as granite. Quartz countertops cost $47 to $100 per square foot, installed. Installation is a professional affair—quartz countertops are not DIY-friendly.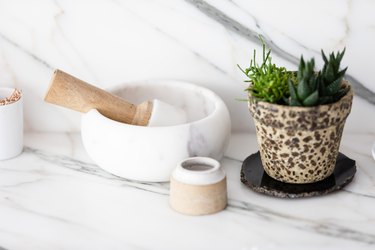 Natural Stone Countertops
Natural stone such as granite, marble, and soapstone is quarried from the earth as blocks, which are then cut into slabs and polished for use as countertops. Each slab will have its own unique color, veining, and speckles, so you, as the buyer, can choose specific slabs of stone for your countertop. This is why no man-made material can compare with the distinctive look offered by natural stone. Nor does anything compare in durability. Routine maintenance wards off stains and etching, and even a chipped edge can be restored by a professional. The drawback of stone is the price: the stone is quarried from around the world, shipped, and then fabricated. Stone also is best installed by a professional due to the weight and specialty tools required to cut and shape it.
Tip
Some companies offer to apply a permanent-bond sealant on granite or marble as part of the fabrication process. Other companies will apply a permanent seal after the countertop is installed. The least expensive option is to purchase a permanent sealer and apply it yourself. There are also less expensive do-it-yourself sealants that provide five to ten years of protection.
The cost of ​granite​ will depend on the grade of stone and the labor costs for installing it. Expect to pay between $40 and $140 per square foot, installed. Professional installation is recommended due to the cost of materials, risk of damage during installation, and the weight of the granite. Installation is typically 20 or 25 percent of the total cost.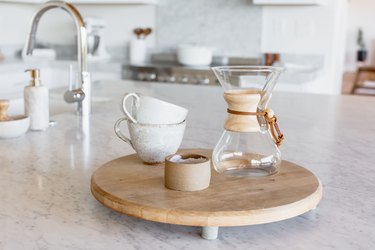 ​Marble​ is a classic choice for premium quality. However, it must be properly cleaned and sealed, especially since it stains and scratches more easily than granite, and because acidic foods and beverages can etch the surface. And marble is an expensive option. Depending on the grade of marble and the experience of the installer, expect to pay $52 to $200 per square foot, installed. As with granite, professional installation is recommended due to the expense of materials and risk of damage.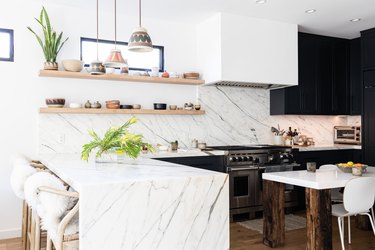 ​Soapstone​ is usually more affordable than marble; however, it's easier to scratch, nick, and gouge, and some stains don't come out. Soapstone naturally resists bacteria and staining because it is nonporous. Most soapstone is a shade of gray with veining, so color options are limited. Soapstone typically costs $50 to $100 per square foot, installed.