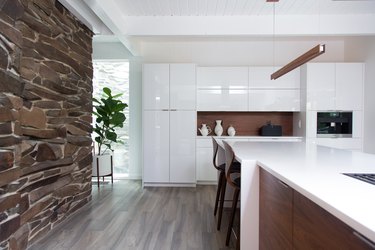 Thinking about using engineered stone in your kitchen renovation? Or perhaps you're looking for a low-maintenance, organic alternative instead? Natural stone — like granite, marble, or quartzite — makes for beautiful, durable, heat-proof, and scratch-resistant countertops but it's not without problems. Quarried and formed into slabs that are later refined and polished to countertop dimensions, high-end natural stone is porous and subject to flaws and variations in integrity. So in this guide, we're covering everything homeowners need to know about engineered stone, from its applications to where to source it and the wide range of colors. First up, let's answer the big question: What is engineered stone?
What is engineered stone?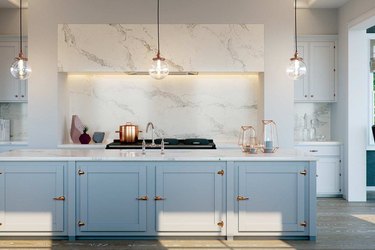 As its name suggests, engineered stone is designed to overcome some of the natural counterpart's shortcomings. Many popular brands of the engineered variety combine a large proportion (93% by weight, 66% by volume) of crushed stone and quartz crystals with a binder of polyester resin. This makeup results in a surface that is essentially as hard as stone but less prone to chips and cracks.
Although it's the most common, quartz isn't the only natural rock that's used in engineered stone. Granite and marble can also be found fthein various formulas. When crushed marble is combined with resin, it's generally called cultured marble. But it's softer than quartz and easier to scratch. Consequently, it requires special care. Read our cultured marble versus quartz guide for more info.
What can engineered stone be used for?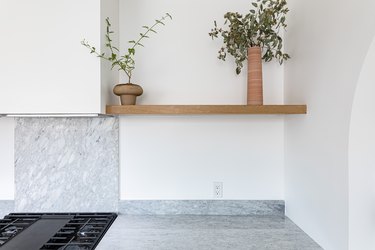 While it can certainly work for kitchen countertops, engineered stone is also used to manufacture tile for backsplashes and flooring. Sometimes referred to as agglomerated stone tile, the two most common types combine polyester sealant with either crushed granite or crushed marble. There are differences, though. Marble is softer than granite, and the resulting tile tends to show wear more quickly. On the other hand, when it is worn, marble-based tile is easier to refinish than the granite-bearing option. Both types of agglomerated stone require special care. Because the polyester resin binder is susceptible to degradation from ultraviolet light, it is not considered suitable for exterior use.
A newer form of engineered stone tile combines the toughness and durability of ceramic with the softness and warmth of vinyl. Composed of roughly 30% vinyl and 70% ceramic and produced as individual tiles, it comes in a variety of shapes, colors, and designs. In a departure from traditional vinyl, it's grouted like traditional stone. Popular brands include Armstrong Alterna and Congoleum Duroceramic.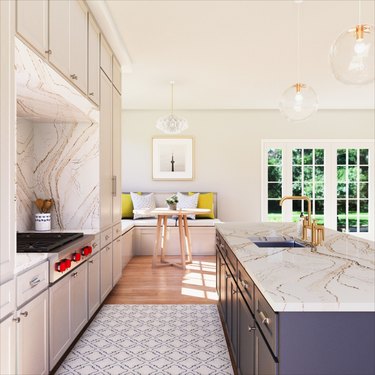 By design, this option can overcome some of the disadvantages of its natural stone counterpart. Where the former — usually granite or marble — is porous and must be regularly resealed to prevent staining and mold growth, engineered stone is non-porous and doesn't require special care. The natural material has unpredictable color and pattern variations and structural flaws that can accompany organic surfaces. However, the fabricated version is generally more uniform and consistent in structure.
Engineered stone countertops are essentially maintenance-free. The surface won't stain or absorb liquids, making it impervious to mold, mildew, and bacteria, as well. Pro tip: Although this faux stone is resistant to scratches, a cutting board is nevertheless recommended for food prep.
Given the advantages of engineered stone, you might wonder why anyone would choose to go natural. The answer often depends on aesthetics and personal taste. In fact, some people prefer the irregularities of real stone. To some, they create character the faux version lacks.
Additionally, there are a few things to consider in terms of functionality. While engineered stone countertops are considered heat resistant, the resin component is, still, plastic. That means engineered stone is not as resistant to heat as natural granite or marble. There's also an issue of discoloration, which can happen over time if the material is exposed to high temperatures.
How much does engineered stone cost?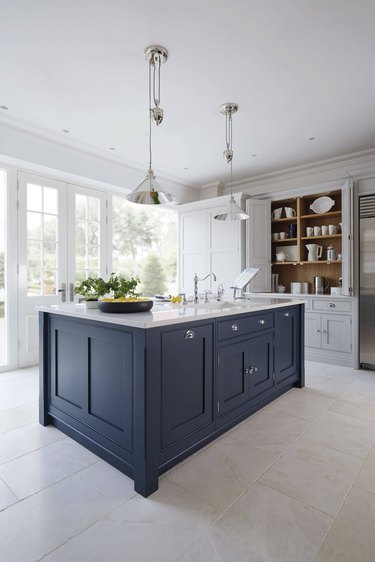 As with most countertop options, the cost of your engineered stone surface can really depend on a number of factors. We can tell you, though, that it certainly isn't the most expensive option. It's a cheaper option than its counterpart but still marries beauty and functionality in the final product.
Things to take into account when it comes to cost include the grade of the stone, the country of manufacture, and the cost of labor in the local economy. Costs even vary from region to region within the United States. If you're looking for a comprehensive guide, check out our article on the specifics.
What are the alternatives to engineered stone?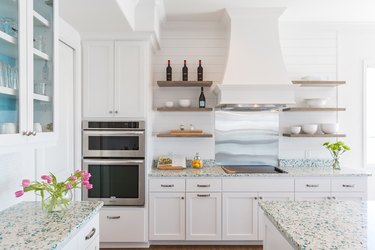 Any discussion of engineered stone would be incomplete without recognizing the other countertop materials that, one way or the other, emulate stone. So before making a final decision, try checking out the kitchen countertop options below.
Solid-Surface Countertops
Unlike engineered stone, solid-surface countertops are composed primarily of very hard, very durable acrylic. Colorants and particulates in the mixture often resemble stone, but these counters are also offered in varying bright, sometimes translucent colors. Like engineered quartz, this material is non-porous and easy to maintain. It's more susceptible to scratching and knife cuts than quartz, but because the color is consistent throughout, damage to the surface can often be sanded and buffed out. These counters are more vulnerable to heat than quartz or stone, so care must be taken to protect against pans and cooking appliances. When properly cared for, solid-surface countertops should be good for 12 to 20 years or more.
Solid-surface technology has also been employed to produce sinks and backsplashes that exactly match the countertops for a seamless integration. Plus, they are available from a number of manufacturers.
Although the idea of concrete countertops may sound utilitarian, the material can be starkly beautiful, even elegant. It can also be embedded with stone, glass, shells, or other materials to give it depth and interest. Moreover, you can add pigment to achieve nearly any color you wish.
Like natural stone, concrete countertops must be properly sealed at the beginning and resealed every one to three years. Without this step, the porosity makes it prone to staining. Concrete is, of course, very tough and stands up well to hard use. It won't scratch and is eminently heat resistant.
Unlike engineered stone countertops, concrete is custom cast to fit your specific layout — either in a shop on special casting tables and cured under controlled conditions or formed on-site where it can be precisely fitted from the outset. Despite the relatively low cost of the component materials, because concrete countertops are not mass-produced, they are labor and skill intensive. They also tend to be as costly as natural or engineered stone.
Recycled glass is relatively new as a countertop material. Made from crushed glass combined with resin, the manufacturing process is similar to that of engineered stone. The finished surface is tough and non-porous, resistant to staining and heat, and easy to maintain. Because they incorporate recycled material, glass countertops are environmentally friendly. And the look is incredibly contemporary.
Where to Buy Engineered Stone
Popular brands of engineered stone include Silestone, Cambria, Caesarstone, Technistone, and Icestone. All use similar manufacturing technology. However, while this material is made in countries around the world, Italy, Spain, and Israel are often the biggest producers. Cambria is the only brand of engineered stone countertops produced in the United States. Because so much is imported, the availability of particular brands may vary regionally.