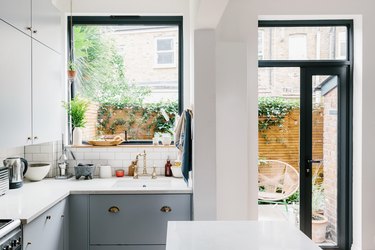 Adding a stone countertop to your kitchen can be one of the most attractive and important upgrades made to the home. For many homeowners, composite stone countertops, also known as engineered stone countertops, are being used in place of natural stone for a number of reasons, from longevity to the ease of maintenance and upkeep. If you're thinking of adding composite stone countertops to your kitchen, you'll want to familiarize yourself with what it is, how much it costs and the pros and cons that come with them.
What Are Composite Stone Countertops?
Composite stone is a man-made material created with crushed stone, polymer resin and pigment that is designed to resemble natural stone. Due to the high percentage of quartz used in the formation of most composite stone, some people refer to these countertops simply as "quartz" countertops. In addition to quartz, some engineered stone countertops are made with crushed granite, marble and other natural stones.
Composite stone was first created in the 1960s in Italy and was known as Bretonstone, or Breton. Common brands of quartz-based composite-stone countertop include Caeserstone, Legacy, Silestone, Okite, Technistone and Avanza. For engineered stone made from other materials, Granite Transformations and Trend Transformations offers counters made with crushed granite and glass, respectively. For marble-based composite countertops, Verona Marble Company offers varieties like Agglosimplex and Marghestone.
Engineered Stone Pros and Cons
People love adding composite-stone countertops to their kitchens because they are highly durable and because they are offered in a wide array of styles, finishes and colors. Unlike natural stone materials, engineered stone is not a porous material, meaning it won't need to be sealed. Engineered stone countertops are also very easy to clean and maintain, and it does not stain nearly as easily as stone, which makes for a practical addition in kitchens. People also appreciate this building material because it's more environmentally friendly than solid stone and is often comprised of recycled materials.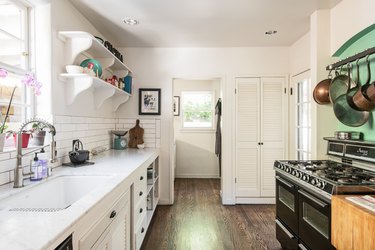 As for the downsides, the price tag can certainly become a negative aspect for some homeowners, as composite stone countertops are more expensive to purchase than natural stone varieties. When installing engineered stone countertops, there is a possibility that seams may be visible, and if they are exposed to natural light for an extended period, the pigment color can fade over time.
While composite stone countertops are more heat resistant than, say, laminate surfaces, they are not heatproof like natural stone, so additional protection like a bamboo or silicone pad may help protect against burning or warping. Finally, engineered stone is safe for the consumer, but the Centers for Disease Control and Prevention warn that those who work in quartz-fabrication facilities are at risk of lung scarring, or silicosis, due to overexposure of silica.
Cost by Kitchen Countertop Type
Like any material, the cost of your composite stone countertops will depend on the exact types of materials used, the size of your countertop space and the price of labor added to install your countertops, which will vary by contractor. Generally, the cost of composite stone falls between $40 and $100 per square foot for the materials alone, according to HomeAdvisor.
The price of composite stone will vary depending on the type of stone used to make your slab. Quartz countertops are the most expensive, costing around $125 per square foot with installation, while granite countertops can cost as little as $50 with installation included. Additional details will also affect the price of your composite stone piece, like fabrication and adding edge treatments.
The process of installing your composite stone countertop will add to the cost of your project. The most obvious cost will come with the size of the space you wish to have renovated, as installation prices are commonly set by square footage. Any additional work needed to get your composite stone countertops in place safely and securely will also bump up your cost.
Leveling your cabinets by raising or lowering them to fit your countertops, adding supports to the structure to which your countertop is attached and fabricating the size and shape of your countertop to your kitchen will all affect the final price of your project.