A natural stone countertop offers beauty and durability that stand the test of time. Unlike the average laminate or faux-stone countertops sold at home-improvement stores, natural stone countertops can be a bit more challenging to find, to prepare and to install. It's best to contact a fabricator early in the slab-shopping process to ensure realistic expectations about cost, installation and any work that may need to be done to your kitchen's base cabinets to support the weight of the stone.
Choosing a Fabricator
When it comes to natural stone countertops, it's a good idea to find a suitable fabricator for the job, perhaps even before you've selected the stone. An experienced fabricator knows the best stone warehouses or stoneyards, and some fabricators may even offer their own selection of stone slabs at a competitive price.
As with hiring any type of contractor, seek out those with good references and reviews. Sites such as Angie's List come in handy for finding fabricators in your area. Once you've pulled up a list of fabricators, check the comments and reviews left by previous customers. Visit the websites of as many local fabricators as possible to view their portfolios and professional affiliations and to ensure that they're licensed, bonded and insured. If any of your friends and neighbors have had stone countertops installed, ask them who did the work and whether the work turned out as expected.
Once you've narrowed down your list to a handful of potential candidates, contact each one and ask questions, such as what happens if either the slab or part of your kitchen is damaged during the installation process. A good contractor should ensure that they'll take care of any damage they cause, and this should be offered in writing.
Ask the fabricator whether he already has an inventory of stone countertops or if he recommends a particular stoneyard or warehouse for the type of stone you seek. Arrange for the top two or three fabricators to stop by and offer estimates based on the measurements of your base cabinets and the amount of work required to cut and install the stone.
Shopping for Stone Slabs
A stone-supply yard that sells slabs is your best bet for finding a vast array of potential countertop materials. Some of these serve as wholesalers, selling to the fabricator rather than to homeowners, although homeowners are often allowed to visit to pick out the ideal slab. Contact the supply yard or your fabricator before planning a visit.
While sizes vary for stone countertop slabs, they're usually 9- to 10-feet long and 5- to 6-feet wide, so a long countertop area may require more than one slab. Using more than one slab also means they'll be easier to manipulate and install as well. Be sure to inspect the slabs yourself to ensure that they're free from flaws and that they offer the appearance you seek.
Stone durability also varies from one variety to the next, much like types of wood. Marble, slate and onyx look pretty but aren't ideal for an actively used kitchen since they are easy to scratch or otherwise damage. Granite is much harder and is durable enough to withstand use and abuse in a kitchen environment. Quartzite, often a burgundy color, also withstands scratches and acidic substances much better than marble. Ask the stone-supply representative which options she has in stock that are best for a kitchen, as the supply may vary by location.
Edge and Finish Considerations
Once you've chosen a variety of stone, you'll also have to pick the type of edge and type of finish. An eased edge is squared and may chip over time, while a bullnose is rounded from top to bottom, making it more durable. An ogee edge looks a bit like a cutaway of a fancy parasol, squared on top and curved toward the bottom. This may also be prone to breakage or chipping on top. Other options may be available as well; ask your fabricator about options and costs, as the fabricator is usually the person who shapes the edge.
Finish options vary a bit depending on the type of stone you select. Overall, a polished surface is the smoothest, most shiny and least porous, while a honed finish is also smooth, with either a satin or matte sheen. A flamed finish, created with actual fire, creates a texture that's quite rough, so it isn't ideal for a countertop since it will be harder to clean effectively. A leathered finish, used mainly on granite, gives the stone a somewhat soft, worn feel. Your fabricator may offer other options as well; ask which are best for your needs and expectations in the kitchen.
Saving Money on Stone
Cutting a stone slab to your specifications could cost a lot of money. One way to save is to purchase a prefabricated countertop, sold as a solid 96-inch slab. This option is ideal if your base cabinets are about the same length. Since every sink and faucet layout is different, you'll still need a fabricator to cut the sink and faucet holes in their proper locations. In some cases, the fabricator or local stone-supply or countertop warehouse may have some "scratch-and-dent" or old-stock slabs marked for clearance.
A visit to a reuse center such as a Habitat for Humanity ReStore location may yield a suitable stone countertop as well, although there are no guarantees that any are available at a given time. Check ReStore's website for locations near you. The downside to purchasing from this type of shop is that they usually don't offer delivery, so you'll have to make your own arrangements or ask a fabricator to haul the countertop and cart it into your home.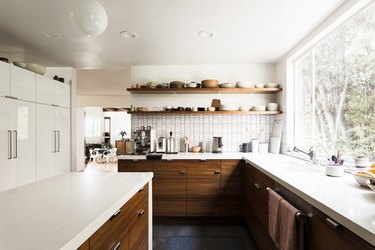 A used kitchen countertop may already have sink and faucet holes cut, so you'll have to use a sink of the same size to avoid paying for modifications. On the upside, a walk through the ReStore shop may also net you a sink, fixtures and plumbing supplies to go along with that countertop.
The Installation Process
Stone slabs are incredibly heavy since they're made of solid stone. A granite slab weighs 13 to 30 pounds per square foot depending on the slab thickness, according to Marble & Granite Supply of Illinois. Your base cabinets must be able to handle this weight to prevent buckling and potential cracking of the slab.
The area around the kitchen sink especially needs support since much of the stone is cut out, leaving only a thin strip in the front and back of the sink. Full sink basins add a lot of extra weight for the countertop to support, so your fabricator may have to add a layer of plywood atop the cabinets to help prevent slab breakage.
Make sure there's a clear path from your doorway to the kitchen on installation day. Clear loose items such as throw rugs from the pathway and remove any objects that may be inadvertently knocked off tables or counters since the slab is so heavy and difficult to maneuver. Keep pets and small children out of the work area.
The fabricator will do a dry assembly of the countertop slab (or slabs) to make sure everything fits as expected before permanent installation. In many cases, shims are necessary to level the countertop slabs. A seam-filling material is often used as the slabs are being positioned and before adhesive is applied. A stone sealer may be applied after the countertop slabs are in place, though some fabricators do this before installation.