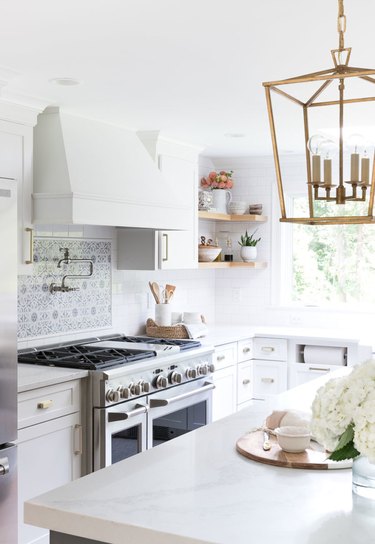 There is something timeless about white countertops. These beauties look crisp and clean — no matter how you decorate your space. And if you're aiming for the popular all-white look, you can't deny the allure of a lush white work surface. But selecting the best material for your kitchen can be a challenge. There are so many options to choose from — quartz, marble, laminate, and more — all of which look great in shades of white. So how do you choose?
To pick the right material, consider your personal preferences and budget first. Which material's price tag works best for you? How much maintenance are you willing to do? Do you mind the look of patina and wear and tear, or would you prefer it always look pristine? Some choices may require significantly more upkeep — and if you skip the required sealing, you may wind up with an off-white countertop instead. Each material comes with pros and cons, but no matter which white countertop you select, you're kitchen is sure to look sleek and polished once they're installed. Read on for more info to help you make the best choice for you.
Marble
Marble is a classic white countertop material — especially with gray veining. Pair with bronze hardware and open wooden shelving for an ultramodern feel, or against uber-chic pastel cabinetry for a soft, subtle look. Good looks aside, keeping all its beauty pristine requires a little extra work: the stone can be easily stained and chipped. Still, some homeowners adore the natural patina. Love the look? Expect to spend between $50 and $150 per square foot.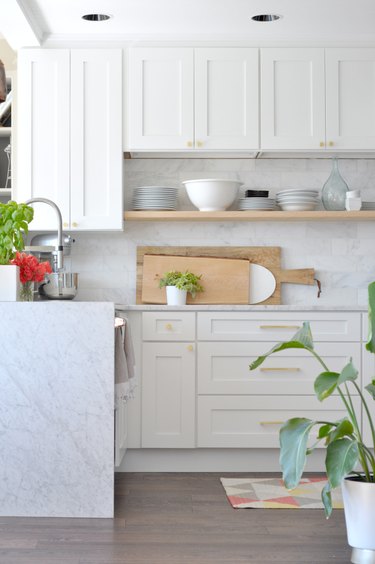 Quartz
Quartz mimics the trendy, upscale look of white marble at a fraction of the price. Consumer Reports named quartz the best-of-the-best because these sturdy countertops can sustain the worst your kitchen has to offer (say goodbye to unwanted stains and burn marks). But these beauties are still on the pricier end of the spectrum: You'll pay between $40 and $100 per square foot, according to Consumer Reports.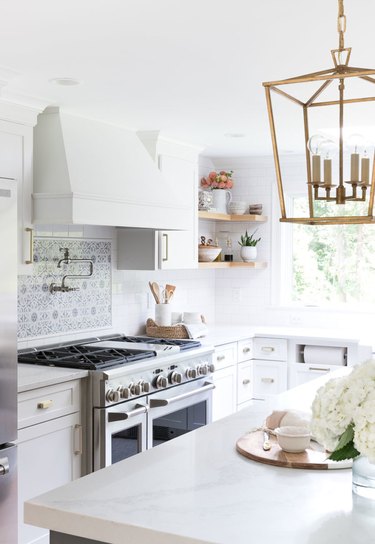 Quartzite
No, quartz and quartzite are not the same thing — quartz is engineered while quartzite is all-natural. The material shines in all-white kitchens, and its gray veins integrate beautifully with deep-blue shades. It has the look and heft of marble plus all of the pros of quartz. (Although, yes, you'll be sacrificing a bit on price.) Like quartz, it's resistant to stains and scratching, but it will also need regular sealing. You'll spend between $50 and $120 per square foot, according to Countertop Investigator.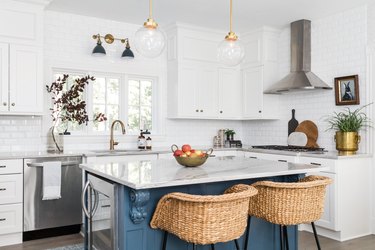 Solid Surface
Lack the cash to splurge on stone or quartz? Solid-surface white countertops can be surprisingly beautiful substitutes. This material is hard to stain and damage, although heat may cause distortion. Make sure you look at the options you're considering in person at a showroom, since this material can sometimes have a faux, plastic-y look. You'll have to decide if the savings would be worth the trade-off. The cost ranges between $45 and $75 per square foot, which makes it easier to be bold: try a waterfall edge or a faux-marble wall.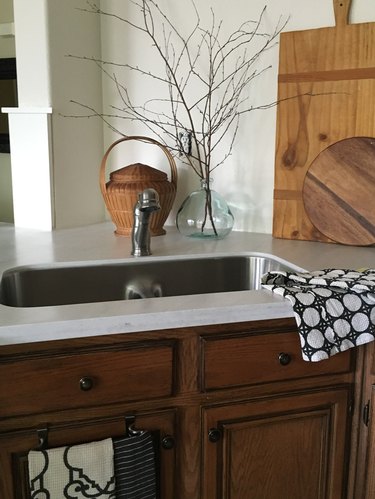 Laminate
Laminate? Really? You might be asking. But prepare to be amazed. Laminate can actually look incredible, especially in all-white applications or when paired with soft hues. The uniform surface gives a sleek, refined look — and no, you probably won't fool someone into thinking that it's not laminate, but who cares? Today's options are significantly more refined and way less expensive, costing between $40 and $65 per square foot.