It's official, we have the blues — at least when it comes to countertops. While you might initially shy away from such a daring and bold decision, once you commit to the striking cool hue, you'll never want to go back. From light blue to dark navy to cobalt, here are 11 different countertop materials to help you live your best indigo-tinted life.
1. Belgian Blue Limestone Countertop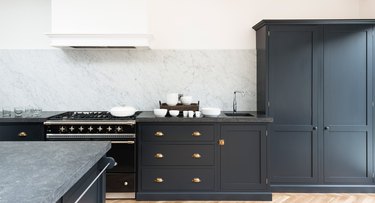 Umm, hello gorgeous! You just can't go wrong with the timeless, matte blue-black shade of Belgian blue limestone. In addition to being beautiful, this natural material is also heat resistant. The downside: Limestone is a sedimentary rock so it's prone to nicks and stains — which means, you need to be prepared to love the look of the wear and tear that occurs over time.
2. Blue Soapstone Countertop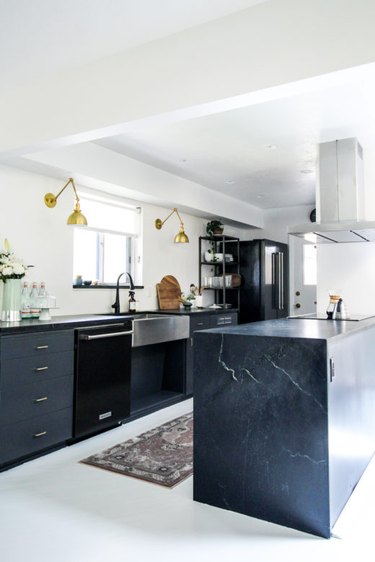 Soapstone, like limestone, is totally heat resistant, making it a smart choice for kitchen countertops. Plus, soapstone doesn't stain or need to be treated or sealed since it's a non-porous rock. The downside, however, is that since it's a softer stone it's prone to scratches and light wear and tear (which can usually be buffed out with sandpaper).
3. Basalt Countertop
Basalt, a volcanic rock, is a trendy kitchen countertop material. It's pretty much the total package — gorgeous, resists heat, lasts a lifetime, and even comes in a ton of fun colors — and the price tag definitely reflects that. In addition, you need to be extra careful when you bring out the olive oil because it will stain this precious stone.
4. Blue Louise Quartzite Countertop
There's no denying it — Blue Louise quartzite is totally eye-catching and makes a bold statement as a kitchen counter. It's just about as durable as granite, but a bit more porous so it's a tad more likely to get stained.
5. Blue Marble Countertop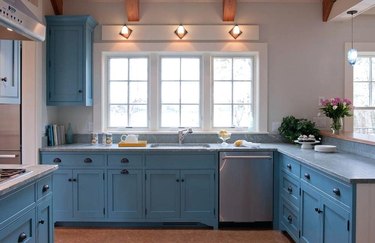 Marble countertops are classic, and when chosen in a blue hue, they can really make your kitchen pop! Marble has a naturally cool temperature, which makes it a great countertop when making pastries. However, this natural beauty is a bit porous and soft, so countertops are prone to small scratches.
6. Blue Ceramic Tile Countertop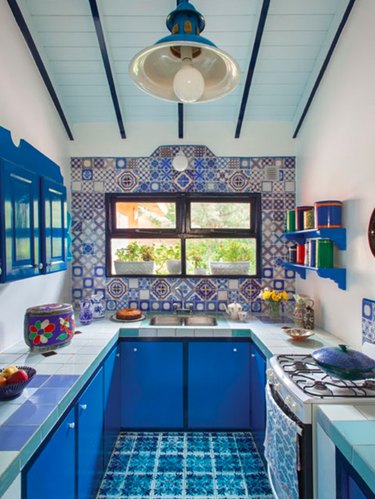 Ceramic tile countertops are one of the most low-cost options around, if budget is a priority. Plus, you can pick just about any color or pattern and install them yourself rather easily. While tile countertops have all the heat-resistance and durability benefits of granite, the grout lines between each tile creates a slightly textured surface.
7. Labradorite Granite Countertop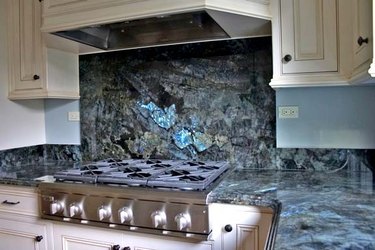 Labradorite granite is a gorgeous, multi-tonal stone with blue swirls that captures and reflects the light beautifully. Like other types of granite, it is a fantastic choice for kitchens because it's ultra-durable and will last for decades. The downside is that, due to it's nearly indestructible nature it can be a little bit pricey.
8. Blue Bahia Granite Countertop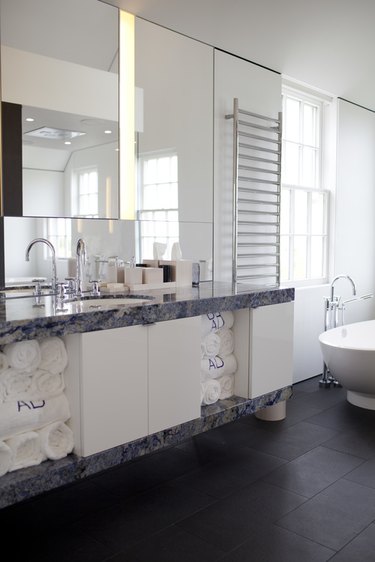 9. Solid Glass Countertop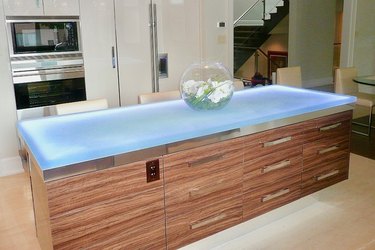 Glass countertops are a more modern option. They're a great investment because they're incredibly heat-resistant, low-maintenance, and can stand up to years and years of wear and tear. However, installation costs can be a bit higher than other types of countertops and they generally must be custom-made.
10. Recycled Glass Terrazzo Countertop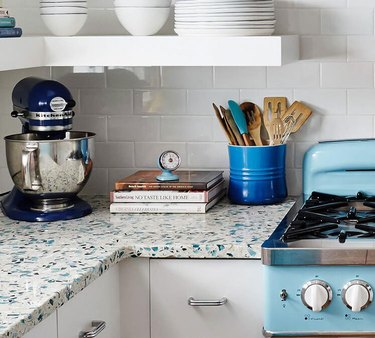 11. Recycled Plastic Countertops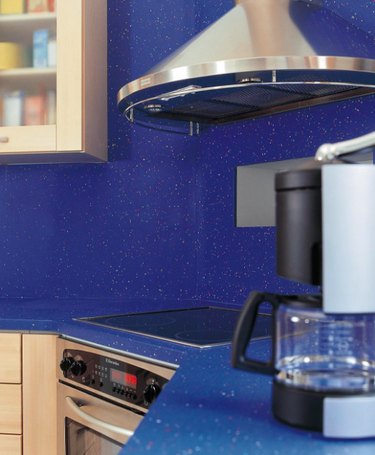 Or, if you're craving a bolder blue, opt for a retro-looking countertop made from recycled plastic. Durat, a Finnish company, can tint custom counters any shade of blue you like.
---
Maryn Liles, a former NYC magazine editor now living in sweet home Alabama, is obsessed with all things home decor. She believes people's spaces should reflect their personalities — which is why you can find lots of hand-painted furniture, sentimental wall art and playful decor accents around her place.
View Work