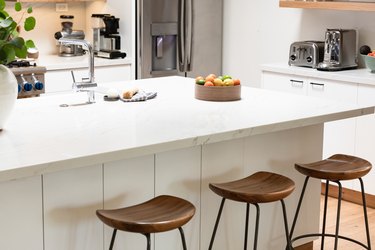 If you're in the midst of a kitchen remodel or contemplating one in the near future, then you know how quickly a well-intentioned budget can spin out of control. There are your unmovable costs (if you need a new refrigerator, say) along with those purely aesthetic ones like a gorgeous backsplash and luxe countertops. If you're looking to keep costs down, don't tempt (and depress) yourself by looking at slabs of imported marble. No need to despair because there are plenty of budget-friendly countertops that will enhance your kitchen.
Before you choose your countertop, it's a good idea do a little self-discovery. Are you neat? How do you feel about imperfections developing? (Will it drive you crazy if your countertops scratch or stain over time?) Are you up for professionally maintaining or sealing your countertops every year? Or do you prefer something that is heat-, scratch-, and stain-resistant? Read on to discover four budget-friendly and great-looking countertop options.
Idea #1: Laminate countertops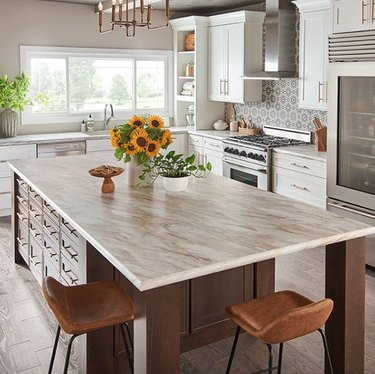 Everything old is new, again. Laminate countertops have been around for decades. It was big back in the '50s and fell out of vogue, but it's back and better than ever, and for good reason: laminate is the most affordable countertop option, comes in hundreds of colors and styles, and is easy to clean. And today's laminate has come a long way in terms of appearance and durability.
​What are laminate countertops?​
Laminate countertops are made from layers of plastic that is bonded to particleboard or kraft paper to create a solid countertop surface. Considering they're fabricated from plastic, they're surprisingly hardy and can last many years with proper care. Laminate can scratch easily so you can't cut directly on it and it isn't heat-resistant. There are some state-of-the-art laminates available that offer more durability. Wilsonart, for example, has a scuff- and scratch-resistant technology that enhances the strength of its laminate products.
​Pros of laminate countertops:​
You just can't beat the price of laminate at an average cost of $10 to $20 per square foot. It's available in an array of patterns, textures, and colors, some of which look remarkably like real stone. It's easy to install and replace when it starts to show wear and tear. Keep clean with mild soap and water.
​Cons of laminate countertops:​
Laminate isn't heat- or scratch-resistant so you need to use a cutting board and can't place anything hot directly on its surface. Laminate won't last forever, but it's relatively easy to replace and with proper care you can get many years out of it.
Don't believe your eyes. This marble look-a-like is actually by Wilsonart, and it looks perfect in this traditional kitchen paired with a decorative backsplash, high-end appliances, and leather stools. An oversize island is the ideal workstation and gathering spot.
Idea #2: Wood countertops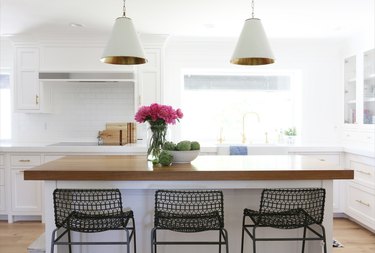 Wood countertops are trending because they're beautiful and a great alternative to stone, especially if you're looking to create a warm or rustic space. They're also a surprisingly budget-friendly option. We particularly love the look of wood and stone countertops used together. Many "hard" types of wood can be used as countertops, including maple, cherry, zebra, and oak. The price depends on the wood selected and generally starts around $30 per square foot, making them an economical option.
​What's the difference between wood and butcher block?​
Wood countertops and butcher block are often used interchangeably, but they actually differ in finish and final usage. True butcher-block counters involve taking pieces of wood and bonding them together to form a slab and are available in three grain types: ​face grain​ or ​"plank grain"​ in which wood planks are bonded together with the wide surface positioned upright. This is the least durable and considered more decorative. With ​end grain,​ the ends of boards are fused together creating a checkerboard pattern. This is considered true butcher block and the most durable. Finally, with ​edge grain,​ the lines of wood run parallel to each other. Butcher-block counters are oiled for protection but not sealed with plastic as some wood counters are. As the name suggests, butcher-block counters can be cut on directly whereas regular wood counters are not food safe and are hard on knives so cutting boards are a must.
​Pros of wood countertops:​
Butcher block is a beautiful and relatively durable surface, excellent for meal prep. Its maintenance needs are pretty straight-forward: They require regular oiling at least every six months to keep them properly sealed and bacteria-free, depending on the type of wood and how often it is used as a cutting surface. It can be sanded to remove light scratches, which is a boon for people who want to keep their countertops looking unblemished. They can be cleaned regularly with natural cleaners like mild soap and vinegar.
​Cons of wood countertops:​
If you're looking for a set and forget countertop, wood may not be for you as it does require some upkeep. Due to the nature of wood, it's not a great option around sinks because, you know, wood + water = rot. Wood is relatively soft and can show knife marks and needs to be oiled at least every six months to keep it protected from water and bacteria, both of which can be absorbed. Install oiled but unsealed wood if you want to use the countertops for food prep.
Idea #3: Ceramic tile countertops
Ceramic tile on countertops, you say? Yup! Most of us are familiar with the use of ceramic tiles as a backsplash, but did you know they can also be a budget-friendly countertop alternative? Ceramic tile is made from natural clay that is baked at high temperatures to remove moisture, resulting in a heat-, water-, and stain-resistant material when properly sealed. Ceramic tile costs around $25 per square foot, making it extremely wallet-friendly. If you've got the background, or are a quick learner, tile can be installed by a confident DIYer without much effort, resulting in further savings.
There are many reasons to embrace the use of ceramic tile on a countertop; chief among them is the wide variety of colors, sizes, and shapes available for endless creativity with pattern and color. Keep in mind: The smaller the tile, the more grout lines you will need to keep clean using nonacidic cleaners and soap. They should be professionally sealed every year to keep grout lines free of bacteria.
​Pros of ceramic tile countertops:​
Ceramic tile comes in a seemingly endless variety of colors, sizes, and shapes. It's easy to install and can even be tackled as a DIY project. Tile is affordable and heat-, scratch-, and stain- resistant when properly sealed. It's easy to keep clean on a daily basis with soap, water, and nonacidic cleaner. As opposed to a large stone slab, it's easy to replace tile if it chips or cracks.
​Cons of​ ​ceramic tile countertops:​
Tile does require annual professional maintenance to keep bacteria out of grout, which should be installed as thinly as possible to minimize staining and harboring germs. The nature of tile results in an uneven work surface that isn't ideal for food prep, like rolling out dough, and a cutting board should be used for chopping. Tile can crack under extreme heat. Tile countertops are a specific taste and don't have universal appeal, so if you're considering selling your home in the near future you may want to consider another material.
Idea #4: Composite quartz countertops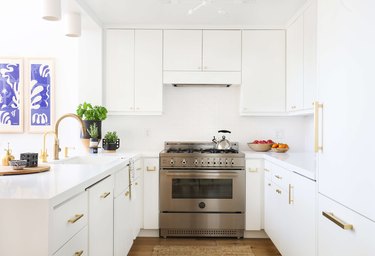 The priciest in our budget-friendly countertop roundup, composite quartz is a hard, nonporous surface made of quartz and resins and ideal for kitchens and bathrooms and any other high-traffic room where spills might occur. It's a timeless option that works in almost any kitchen style. Composite quartz comes in a wide range of neutral colors, from pure white to black, some looking virtually interchangeable with natural stone. Commonly known by the brand names Caesarstone and Silestone, these engineered or man-made stone slabs are incredibly durable. This is our choice if you love the look of natural stone like marble, granite, and soapstone, but can't be bothered with cleaning up spills immediately or where the cutting board is stored. Starting at $65 per square foot, it's definitely not a bargain but still more affordable than most natural stone.
​Pros of c​​omposite quartz countertops:​
Composite quartz is stain- and scratch-resistant meaning it does not need to be professionally sealed, ever, and is naturally resistant to bacteria. It offers a consistency in color that many homeowners love. It won't chip or crack thanks to those resins. Composite quartz requires virtually no maintenance (hurrah), but use a trivet for anything hot. They can be cleaned daily using soap and warm water, while nonabrasive cleaners can be used on stubborn spills.
​Cons of composite quartz countertops:​
Price is probably the biggest negative for quartz countertops. Otherwise, some people find them a bit "flat" since they lack the movement of natural stone. Countertops come in precut sizes so seams can be visible once installed. It is not heat-resistant.