There's nothing quite like a gorgeous countertop to punctuate a great kitchen design. And while we will always be drawn to the beauty marble countertops offer, there's reason to give your attention to less ubiquitous but equally beautiful limestone countertops.
What exactly is limestone, you ask?
Limestone is sedimentary rock comprised predominantly of skeletal deposits of marine organisms found in warm, clear, shallow waters in and around the Caribbean Sea, Indian Ocean, and Persian Gulf. Like other types of natural stone (as opposed to hardier, engineered stone like brands Caesarstone or Silestone), limestone is softer and more porous, requiring regular maintenance and upkeep to preserve its beauty.
Limestone is a beautiful option for floors and counters and is available in many neutral shades ranging from pale white to charcoal gray. One quality that distinguishes limestone from other materials is the subtle, yet visible, inclusion of fossils in some varieties, which give the stone a unique textural quality.
Where can limestone be used?
Limestone has been used in buildings and structures for centuries (you've heard of the Great Pyramids of Giza, right?), so its durability is undisputed. However, it's softer and more porous than marble and granite so it's important to consider where you should install it to avoid high-splash zones (behind a stove and in a bar area for example), and you'll need to be prepared to wipe up spills as soon as they happen to avoid permanent stains. If you love the look of limestone and are diligent with your maintenance, then we say: go for it.
How to Care for Limestone
Limestone is a very porous and chemically sensitive stone. Like all natural stones — soapstone, marble, and granite to name a few — proper care is necessary to keep your limestone counters looking beautiful and clean. Before installation, make sure your counters are professionally sealed and then continue to have them sealed once or twice a year. That's right, at least once a year. Because limestone is highly porous (driving that point home here) it absorbs spills quickly and must be cleaned with natural stone cleaners, or a specific limestone cleaning solution (nothing acidic).
Due to its soft property, to prevent scratches you need to use a cutting board when chopping and a microfiber cloth to wipe up spills (immediately). Also, it isn't heat resistant so you can't transfer dishes directly from the oven or stove to the counter. Dark colors show scratches more than lighter colors; however lighter colors stain more easily. If it sounds like limestone countertops take more than just a bit of thought and diligence to maintain, you're correct. However, if you're the type of person that takes pride in keeping your work surfaces clean as you go and has the time and money to keep up with their appearance, then limestone countertops might be right for you.
Pros of Limestone Countertops
Limestone is a beautiful and timeless option for a variety of interior design styles, including traditional, contemporary, and Mediterranean. It's a relatively abundant material and therefore more affordable than other popular stones like marble and granite. For example, limestone slabs generally range from $10 to $70 per square foot, whereas a marble slab starts at around $40 and can be well over $100 per square foot. With proper care and maintenance, limestone countertops can provide years of enjoyment.
Cons of Limestone Countertops
Limestone countertops are a high-maintenance material and require regular upkeep and ongoing commitment to preserve their beauty. They are soft, making them prone to scratches and highly porous making them susceptible to staining. They aren't heat resistant.
Limestone Countertop Inspiration
Limestone countertops paired with elongated subway tile bring a welcome spin to the more common marble/subway tile combination. The Refined Group enhanced the ceiling of this traditional kitchen with exposed wood beams while open shelves and plenty of wood accent pieces add warmth and a rustic touch. All those windows don't hurt either!
Limestone countertops in a natural color add interest to white walls while toning down vibrant blue lower cabinets. The visible fossils add movement to the stone slab behind the stove. Chris Chapman keeps the overall design streamlined and practical.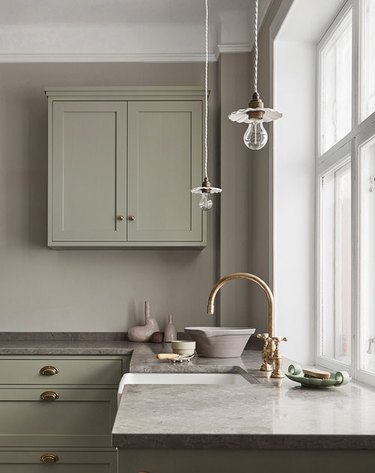 ---
Jaclyn Schatzow is a freelance writer living in Santa Monica, CA
View Work