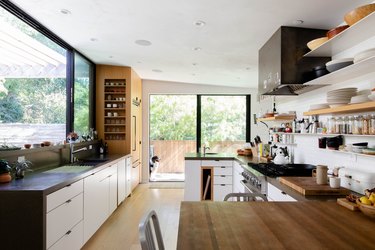 Hunker may earn compensation through affiliate links in this story. Learn more about our affiliate and product review process
here
.
Whether you're planning to sell your home and want to boost the resale value or you just want a new kitchen that's more attractive and functional, a kitchen remodel is a great opportunity to improve the livability of your space. This home improvement project can be major, costing you many tens of thousands of dollars to fully renovate the entire room, or it can be reasonably minor, costing a few thousand dollars to reface cabinets and install new stainless-steel appliances. No matter how involved the project, the basic steps are the same.
Get Inspired and Take Notes
You might know that your current kitchen is ugly, outdated or just not functioning the way you want it to function, but you can't make any changes until you know how you'd like things to improve. Start by writing down what you know needs to be changed — even if you don't yet know how you'd like to change it.
Then, look at magazines, Pinterest, home design websites and more to see what kind of features you would want in a dream kitchen, even if they aren't entirely practical for your home or budget. Think about all aspects of a kitchen, including the layout, backsplash, countertops, cabinetry, appliances, sink, paint, light fixtures, etc.
While fantasizing about what you would ideally want to add in your kitchen remodel, be sure to consider what you absolutely must change. Ask what isn't working currently, what needs to be added, what needs to be removed and what the sticky points are, like a sink that's too far from your stove. If you're remodeling the kitchen prior to selling, consider what changes will be the most likely to increase your home's overall value. Create a goal list defining which items must be covered by the budget and which items you can take or leave depending on your available funds.
Create a Budget
It should go without saying that remodeling can be pricey, especially if you're renovating the whole room, tearing down walls or expanding into another room. You can also easily end up running into unexpected costs, whether you're doing the work as a DIY project or working with professionals. This is why it is so important to create a budget.
Kitchen remodel budgets can vary greatly, with inexpensive renovations coming in as low as $4,000 and high-end, major kitchen remodeling projects sometimes exceeding $75,000. The average cost of remodeling a kitchen is $24,173, which comes out to about $150 per square foot. Generally speaking, most people should expect their kitchen remodeling budget to be between 5 and 15 percent of the home's total value, which is around the maximum expense you should be willing to invest in order to get the best return on investment for your efforts.
Once you know what you can afford for your renovation, spend a lot of time researching the cost of your must-have changes and your top optional improvements. Err on the high side of your estimated costs so you have some wiggle room and leave yourself a cushion of 20 percent of your budget to cover any unexpected expenses.
If you're considering going the DIY route, look up how to do each project first to decide if it really is something you're up to doing and to limit the financial surprises — like not realizing you need to add electrical circuits or move drain lines. Remember that you'll probably want to hire an electrician for most electrical work, and while basic plumbing work is simple enough, if you need to move or add a new water line or do any work with gas lines, you'll also likely need a plumber.
When it comes to professionals, you may want to hire a professional kitchen designer and/or a general contractor. A kitchen designer will help you come up with a floor plan and may charge between $100 and $200 an hour. This should come out to around 4 percent of your overall budget, but it can go as high as 10 percent if you work closely with an on-site certified professional.
Contractors coordinate the creation and implementation of your remodeling plans and can cost between $3,500 to $6,000, generally coming out to between 15 to 25 percent of the total cost of the project. Most kitchen remodeling projects take about nine months to finish, with six months of planning and three months of contract work. If you want to move the project along quicker, expect to pay more accordingly.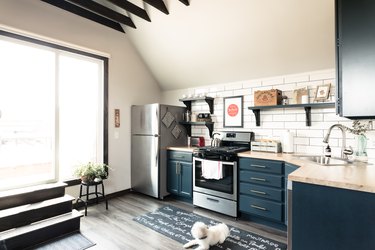 One money-saving tip: New kitchen cabinets are one of the biggest expenses of renovation budgets, so if you're trying to save a little money and you're content with the location and size of your cabinets, consider refacing the existing cabinets. This can give you a whole new look without breaking your budget.
If you've decided to DIY your own floor plans rather than working with a professional kitchen designer, start by designing a "work triangle." This is a theoretical triangle connecting the stove, sink and refrigerator, which are the three main work spaces in the kitchen. For efficiency while cooking, each leg of the triangle should be within 4 to 9 feet long, and the sum of all sides should be less than 26 feet. Also, the legs should not be intersected by a kitchen island for more than 12 inches, and no major traffic areas should go through the triangle. Once you've figured out how to lay out these key components, you'll need to focus on work zones.
Build out the refrigerator area into a Food Storage zone, where the majority of your non-perishables will be stored, usually in a pantry. Extend your sink area to a Cleaning zone where your cleaning products, trash cans and dishwasher will be located. Plan a Food Prep zone to be located somewhere near the center of the triangle where you can easily move from the sink, range and Food Storage zone. Use this zone to store cutting boards, knives and small appliances like stand mixers and food processors. On another side of the triangle, plan a Cooking zone, which will not only contain your stove but also your pots and pans and small appliances like a microwave and/or toaster oven.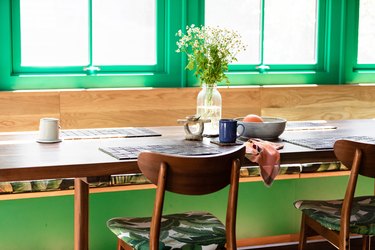 Many modern kitchens are used for activities other than cooking, so think about all the ways you currently use your kitchen. You may want to include other zones such as:
Dining: Even if you have a formal dining area, you may wish to have a space in which you can eat informal snacks or meals, whether it be a dining nook in the corner or a kitchen island fitted with bar-area seating.

Entertaining: These zones are particularly popular for those with open-plan kitchens, but even if you have a traditional kitchen, you may wish to have a bar space, a conversation zone with lounge chairs, a wine cabinet or a small television. This may or may not have many of the same elements as a dining zone.

Working/communicating: In today's world of tablets and smartphones, it's increasingly common for people to bring their work with them everywhere and for families to communicate visually rather than orally. A working/communicating zone can include nothing more than a charging station with a note pad for family messages, or it can feature a full business setup with a drop-down computer desk and a printer.
Hire Professionals and Get Permits
If you're going to work with a contractor, now's the time to hire one. You'll need to decide whether to hire a general contractor (or kitchen remodeler) or a number of subcontractors. A general contractor is typically the best option if you don't plan on doing any DIY work because the contractor can handle all aspects of the process, including working on the plans, hiring subcontractors, providing materials, overseeing the workers and even reviewing schedules and budgets. When working with a general contractor, spend plenty of time interviewing because communication is key to ensuring you get what you want. If you find a general contractor who does good work but walks all over you, hunt for someone else.
If you feel confident overseeing the whole process and/or if you want to do some of the labor yourself, you may want to hire a handful of subcontractors as necessary. In addition to electricians and plumbers, there are specialists who handle only one aspect of the remodel process, such as carpentry, drywalling, tiling, hardwood flooring, etc.
Whether you plan to work with a general contractor or a subcontractor, look for someone with a license to work in your area, good referrals and a portfolio of quality work. Some contractors will obtain necessary permits for you, but others will expect you to do this yourself, so be sure to talk with the contractor to find out whether or not this will be your responsibility. If you're going the mostly DIY route, you'll need to get a permit yourself. Most cities require that you obtain a permit for major kitchen remodeling projects, and costs can vary quite dramatically depending on location.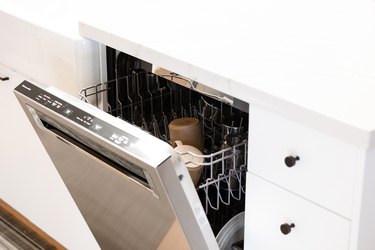 If you are making only minor changes, be sure to contact the city before beginning work to find out whether you will need a permit, as the rules can vary from one city to the next. For example, the city of Scottsdale, Arizona, does not require a permit for replacing or repairing drywall, cabinets and countertops, but the city of Laguna Hills, California, requires a permit for nearly everything, including replacing the dishwasher or repairing drywall.
The Demolition Process
If you've hired a contractor, your work is mostly done once you've scheduled a start date and obtained the necessary permits. If you're doing the work yourself, though, the hard work has only just begun. Before you start building, you'll need to demolish what's already there first. If your house was constructed before 1980, make sure to have any suspect materials (particularly flooring, ceiling finishes and insulation) tested for asbestos. If they test positive, the Environmental Protection Agency says you should hire a trained and accredited asbestos professional for demolition, as you cannot safely remove these yourself.
The Kitchen Remodel Process
After the demolition is over, your renovation work needs to be completed in the right order, though you can obviously skip any steps related to work you aren't undertaking.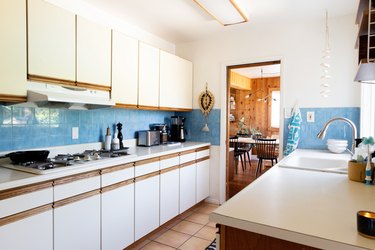 Update plumbing: Start here if you plan to move the sink or any appliances that use water or gas.

Hire an electrician: If you need to upgrade your wiring, add outlets, hardwire any new lighting fixtures or install a range, garbage disposal, dishwasher, fan, etc. it's best to call a professional to complete these parts of the project. Most older kitchens need at least two new electrical circuits to satisfy modern code requirements.

Hang new drywall: Once your plumbing and electrical needs are handled, close the walls back up by installing new drywall.

Paint: The best time to paint is before adding cabinets and appliances, which can get in the way. While you might be tempted to pick something in style right now, unless you're planning to sell soon, it's probably best to choose something you want to live with for the long term, or your right-now look may seem dated in a matter of years.

Lay flooring: The specific process for floor installation will vary greatly based on whether you use laminate, ceramic tiles, linoleum, solid hardwood or another material. Keep in mind that flooring should be water- and stain-resistant and that some kitchen flooring must be sealed for stain-resistance.

Install cabinetry: If you're not 100-percent confident with your DIY skills, you might want to work with a professional cabinet maker, carpenter or handyman for this stage since improperly secured cabinets can be dangerous and unlevel cabinets can be an eyesore.

Put on countertops: It's often best to wait to take measurements and order countertops until after the cabinets are installed to make sure you get the perfect fit. Some materials (like laminate) are better for DIY installation than materials like granite or quartz.

Decorate the backsplash: Again, unless you're planning to sell soon, choose something you like, not something trendy. Also keep in mind that white grout can get stained easily.
Install the sink: Be particularly careful when applying caulk so it doesn't end up all over your new counter.
Bring in appliances: Whether you are using old or new appliances, wait to bring these in until the other work is almost done.
Remodeling your kitchen can feel like an enormous project, but by paying attention to the proper steps, budgeting enough money and preparing yourself for setbacks, you will soon be enjoying dinner in a brand new space.
Where to Shop for a Kitchen Remodel