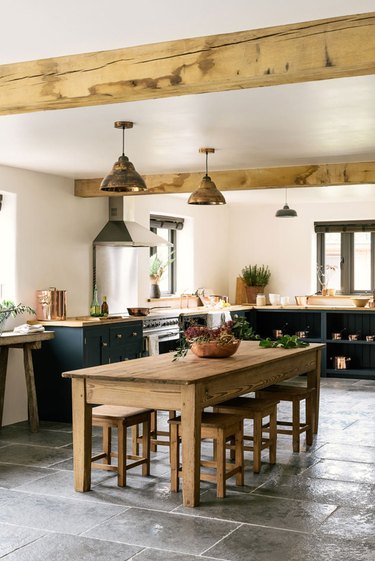 If you're aiming for "luxurious rustic" in your cook space remodel — and no, those words aren't an oxymoron — there's no better kitchen flooring choice than limestone. This particular stone gives your space a natural feel without the expense of marble or granite. It's also undeniably gorgeous, especially when paired with wood cabinetry in a bright, airy room. No, limestone isn't the most popular flooring out there today, but we're betting that's going to change soon. From pros and cons to inspo to shopping ... here's what you need to know about this unique stone.
Pros of Limestone Kitchen Flooring
Every limestone tile is unique, so if you're searching for one-of-a-kind kitchen flooring, limestone provides that in spades. Enjoy subtle color and texture differences throughout your kitchen.
It's also a very versatile stone. No matter your decor preference, limestone offers the right size and color tile to suit your space. Pairing large and smaller sizes in a mosaic-like pattern is particularly appealing, and underscores the material's natural appeal.
Cons of Limestone Kitchen Flooring
While limestone floors are undeniably stunning, there are some downsides to this natural option. First: While cheaper than other types of stone, limestone is definitely pricier than some manmade alternatives, like ceramic, porcelain, or even vinyl. If budget is your primary concern, limestone kitchen flooring may not be your best bet.
Expect to spend more time on maintenance, too. Natural stone is porous, and limestone particularly is less durable, so you'll need to reseal every three to five years. It's also easier to damage, so take care when cooking or vacuuming, otherwise you may scrape your gorgeous floors.
DIYers should also beware. Unless you're exceptionally skilled with laying tile, limestone is not a do-it-yourself job. Hire a pro and make sure to factor that cost into your budget.
How do you clean and maintain limestone kitchen flooring?
The first step in keeping your limestone kitchen flooring clean is regular sealing. This ensures that stains don't stick and the beautiful color you selected stays just as fantastic over time. But even if your floor is sealed, make sure to mop up any spills immediately — and don't use too much water.
You'll want to work sweeping or vacuuming your kitchen into your daily routine. Because limestone floors aren't as durable as manmade tile or other stone, a single piece of dirt dragged across the floor — say, by your 6-year-old's shoe — can scratch the surface.
Ideally, you'll use a limestone cleaner to keep your space pristine. These special cleaners, like this option from Amazon, are formulated so they don't harm your precious stone flooring. Want a deep clean? Rent a steamer to restore your limestone kitchen flooring to new.
Limestone Kitchen Flooring Inspiration
Want to know what limestone flooring might look like in your kitchen? Look to these four beautiful spaces for inspiration.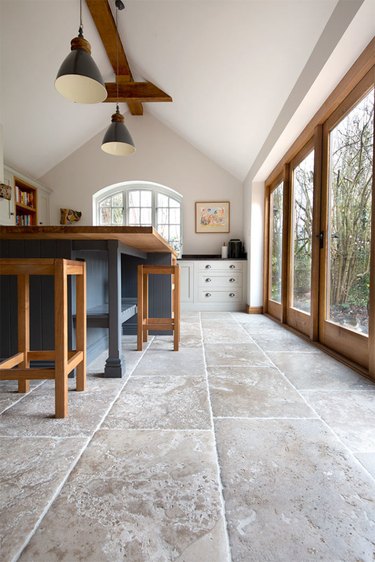 Limestone kitchen flooring pairs beautifully with natural wood accents. In this light kitchen, a warm wood countertop complements a blue island illuminated by a pair of pendants that echo the look. The exposed ceiling beams draw the eye up and add to the rustic appeal.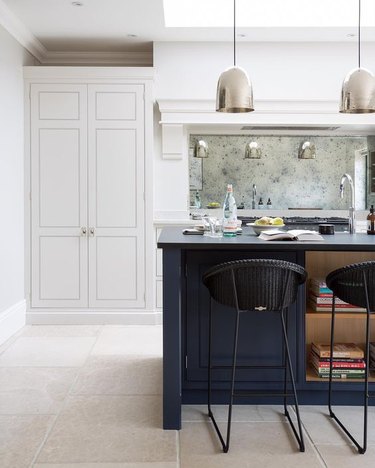 This bright kitchen feels oh-so-modern with a navy island and polished bell-shaped pendants. The white cabinetry opens up the space, and the antique mirror backsplash lightens it even further. Light limestone flooring completes the look.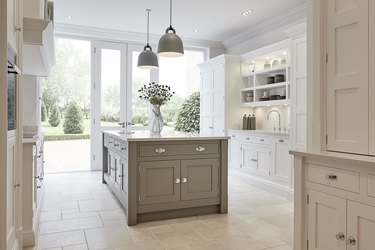 Light limestone kitchen flooring is the perfect accompaniment for a cook space with traditional accents and white cabinets. The muted color scheme adds a hint of luxe — like you might be dining in a French château.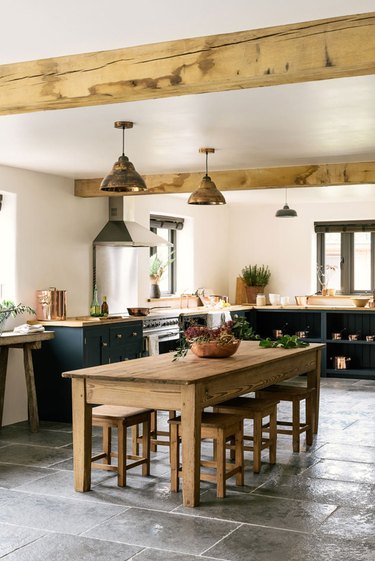 Cottage style almost requires limestone kitchen flooring. This precious space is perfectly arranged, full of texture and reminders of the outdoors — like the wood countertops, rustic dining table, and hints of greenery throughout.
Where to Buy Limestone Kitchen Flooring:
Most home improvement or flooring retailers will offer a wide variety of limestone tile. Here are a few options to choose from.
This retailer sells limestone tile in a wide range of colors, sizes, and shapes. Prices start at $1.99 per piece and go up to about $12.99 per piece.
Sort of a no-brainer, but Home Depot specializes in rustic-effect limestone tile, like this greige option that costs $15.60 per square foot.
Lowe's, another big name in home improvement, offers limestone tile in a variety of unique patterns and shapes as well.