Want to bring a warm and cozy vibe into your home? There's no better way to do so than by adding some wood kitchen cabinets to your space. Not only does the material introduce a slice of the great outdoors, but it's also timeless and elegant.
Problem is, having real wood cabinets is easier said than done. In addition to choosing the right species and stain for your space, you need to know how to protect and clean the wood, too. Plus, there's no denying that they can be costly.
To help, we're sharing seven well-appointed wood kitchen cabinet tips, including everything you need to know about them. From the pros and cons, to maintenance, to a cost-effective alternative, you'll be a bona fide expert before you know it.
The Pros of Wood Kitchen Cabinets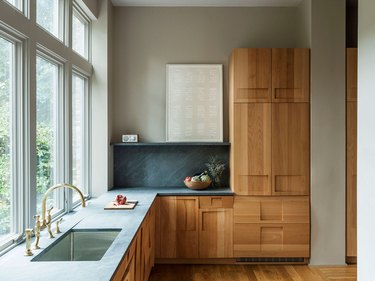 What's not to love about nature's finest material? Not only is wood ultra-durable, but you can also easily paint or restain it to create an entirely different look. Plus, you can mix and match different cuts and grains to give your kitchen one-of-a-kind appeal. The gradient look in this Boerum Hill home by Workstead teeters nicely between trendy and timeless.
The Cons of Wood Kitchen Cabinets
Of course, wood kitchen cabinets have their share of pitfalls. The natural material has a reputation of being expensive, plus cabinetry requires a long time to create and install. And since wood can expand and contract as the humidity in your cook space fluctuates, your cabinets might warp over time.
Live in a notoriously humid environment, but still want to bring the look into your space? Manufacture a few cabinets using real wood and craft the rest using a low-maintenance material, such as laminate.
How to Finish Wood Kitchen Cabinets
Ready to seal the deal with wood kitchen cabinets? Coat your built-ins with a protective finish like Emily Henderson did. She used a few coats of water-based matte polyurethane on these beechwood units to protect them from damage and secure their rustic, showstopping appearance.
How to Choose a Finish for Your Wood Kitchen Cabinets
Trying to decide between a matte and gloss finish for your wood cabinets? Well, the answer depends on the look you're trying to achieve. While a high-gloss finish will pack on the drama, a matte style á la this kitchen designed by Shea from Studio McGee allows the natural beauty of the wood to shine through.
How to Clean Wood Kitchen Cabinets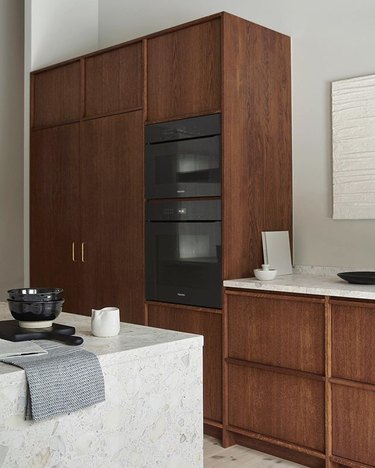 Every type of wood has its own, nuanced cleaning instructions, but it's important to keep your cabinets clean and in tip-top condition, like this dark oak style from Nordiska Kok. Generally, liquid cleaners and formulas with a high pH level run the risk of damaging the material. When in doubt, stick with natural ingredients like water and vinegar.
How to Keep Wood Kitchen Cabinets From Warping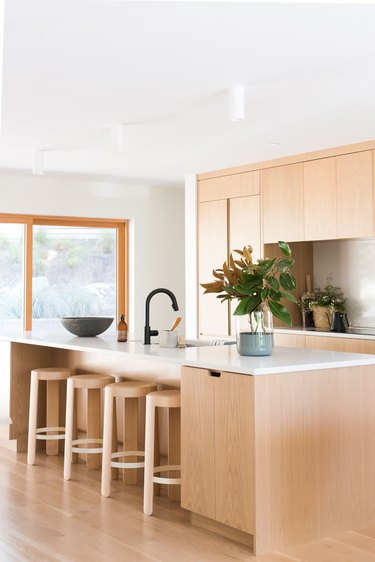 While wood kitchen cabinets can warp, there are some things you can do to keep them looking their best. First, keep your built-ins dry by wiping up spills when they happen. Another tip? Place wet towels and steam-producing gadgets like a tea kettle or slow cooker far away from your cabinets. That way, they can stay looking brand-new — just like this sleek kitchen from Shea over at Studio McGee.
Cost-Effective Wood Kitchen Cabinets
Admittedly, wood kitchen cabinets can be expensive. Want to achieve the look without blowing your entire budget? Take a cue from Kristina Lynne and clad your IKEA system with wood veneers. These panels will create a huge impact without the sticker shock. That's a win-win in our book.