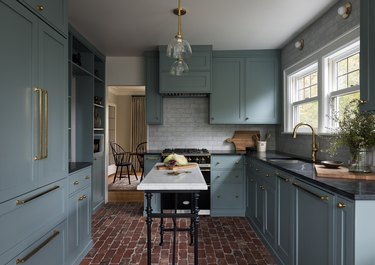 There aren't very many quick fixes in the remodeling world, but there's one kitchen update that we assure you can be completed in a weekend: Painting your cabinets. Sure, your home or rental may have come equipped with those builder-grade wood built-ins, which are nice and all, but why not make your space stand out from the rest? Painting your cabinets is a way to do just that — and it's not too late to try out this year's trending kitchen cabinet color ideas.
Colorful cabinets are the kitchen trend du jour that we've seen everywhere lately, and we've noticed that there are some hues that have become oh-so-popular. Just scroll through your Instagram feed and you're pretty much guaranteed to see cabinets in rich blue, moody green, or, the reigning on-trend color, crisp white. That said, you don't want to commit to a shade that's cooling off.
For intel on the hues that aren't going anywhere anytime soon, we asked four interior designers to share their favorite cabinet paint color for 2019 — and how to get the look.
1. Soft Gray-Green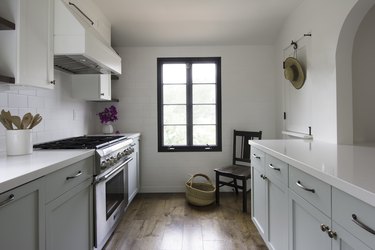 "For homeowners that are looking to dip a toe into the color pool, I would recommend Mizzle by Farrow & Ball," says Los Angeles-based designer Amy Sklar. "It is a magical gray-green that color shifts depending on the light in the room. It's a true chameleon."
This particular paint color works beautifully in both modern and traditional kitchens. "Whatever paint color you choose for your cabinets, try to use paints that are saturated with pigment — those will give you the most special finish," Sklar offers. "It's the saturation of pigment that allows paints to color shift."
2. Deep Navy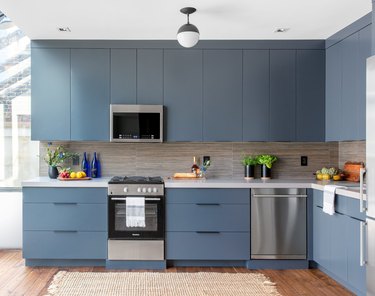 New York City-based designer Becky Shea carries out designs with an organic, artisan feel, so it's no wonder that the tones she's currently into seem tied to nature. "I'm really into navy and deep mossy greens right now," she shares.
Shea explains that navy is "making major strides in 2019," which inspired her to use Benjamin Moore's Westcott Navy in this kitchen. "Navy is a dark neutral that works so well with lighter and darker shades," offers the designer. "From gray to black, you can incorporate a mix of woods like walnuts and oaks for a rich effect and still have a simplified, clean, and timeless finished product."
3. Off-White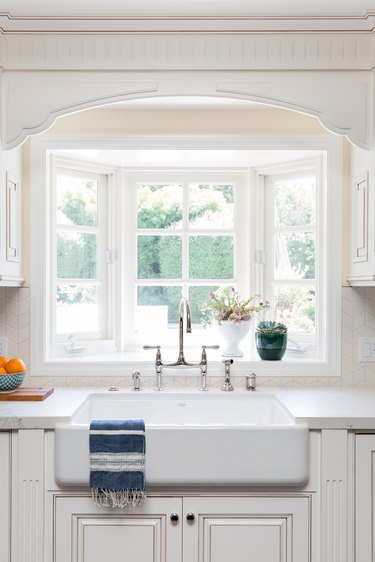 Jennifer Wallenstein of L.A.-based September Workshop gravitated toward white for this kitchen, but this particular shade, Wimborne White by Farrow & Ball, has a distinctive patina that bumps up its visual interest. She finds that this year, many of her clients are still requesting the neutral hue for their cabinetry.
"White kitchens are timeless," she says. "Sure, they may have a new moment every couple of years, and we are no doubt seeing a lot of bold colors in kitchens right now, but a lot of our clients are focused on sustainability and asking for spaces they'll love for years to come."
Although she admires the trend-proof quality of white (and adds that Farrow & Ball has a particularly gorgeous selection of white paints), the color she's dreaming of using one day on a client's cabinets might be a little unexpected — dark fuchsia. If fuchsia cabinets become a trend in 2020, we would so be on board.
4. Rich Blue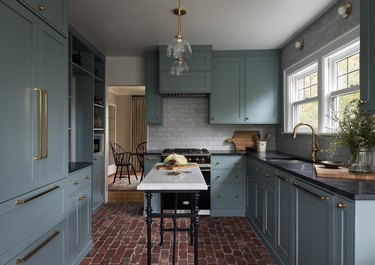 Being based in Seattle, it seems perfectly natural that Heidi Caillier designed a kitchen that seems to directly mirror the misty atmosphere of the Pacific Northwest. "I am loving using unexpected rich tones for kitchen cabinets," she says. For this kitchen, Caillier turned to Farrow & Ball's Oval Room Blue, which she calls "a timeless color that is great for a kitchen."
Caillier adds that this year, she's seeing a trend toward more richly layered spaces rather than the stark white kitchens she's seen over the past few years. "Oval Room Blue is subtle enough that it plays nicely with other kitchen materials and is classic enough that it won't go out of style," she says.
When it comes to kitchen cabinet color ideas, choose something you love, advises the designer. "You spend so much time in your kitchen. You should make it a space you love, not just that you feel safe about." The next color that Caillier would like to try for kitchen cabinets is Farrow & Ball's Brassica, a surprising lavender hue. "I just have to find a daring-enough client!"
---
Shelby Deering is a lifestyle writer who contributes to national magazines and websites, including Country Living, Good Housekeeping, Well+Good, and more. When she's not writing, you'll find her shopping flea markets, hiking, and going for walks with her corgi.
View Work