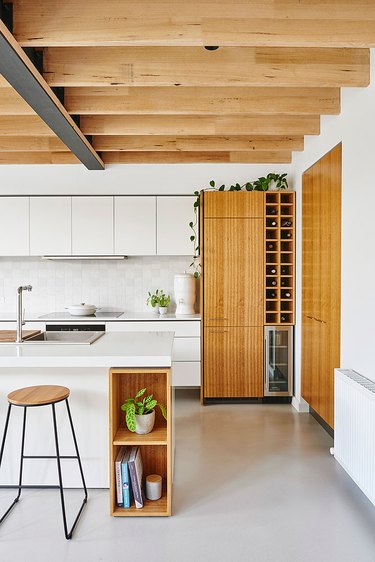 We're betting that concrete doesn't exactly spring to mind when considering flooring materials for your kitchen redux. But, tbh, it really should. The industrial material has been gaining some steam in recent years because homeowners have realized that it's relatively inexpensive, easy to maintain, and looks gorgeous in a wide variety of kitchens. And to help make our case, we've gathered 14 examples of stunning concrete kitchen floors to sway you.
1. Concrete floors are cost-effective.
Compared to tile or wood, concrete is a surprisingly economical choice for kitchen flooring. Typically priced around $3 to $6 per square foot, it's no wonder architecture firm Paper House Project went the concrete route in this industrial-inspired open kitchen.
2. It looks amazing in modern cook spaces.
Since modern kitchens already emphasize clean lines and sleek decor, it seems only natural that the look should be mirrored on the floor as well, and concrete fits the bill. Interior designer Justine Hugh-Jones put down concrete flooring in this kitchen amid stylish velvet dining chairs and avant-garde light fixtures.
3. There are tons of ways to stain concrete floors.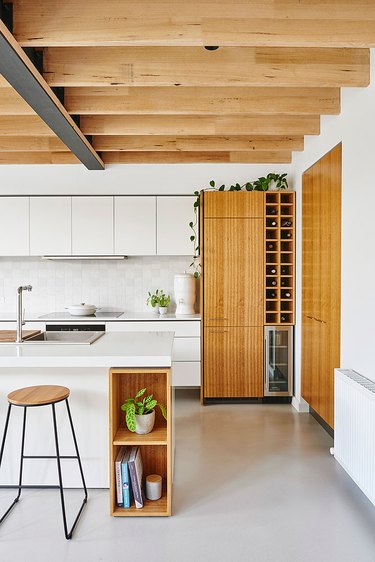 You'd never guess this home was over 100 years old thanks to Altereco Design's creative ingenuity. They treated this kitchen's concrete floor in an even gray stain that resulted in a dreamy finish.
4. Concrete is easy to care for.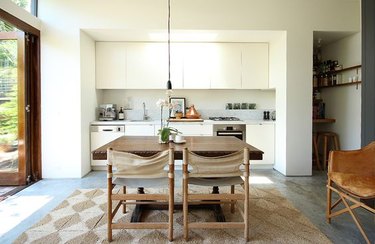 You'll be shocked at how simple it is to maintain your polished concrete floors. Just mop them regularly with a little soap and water, and then wax every few months. In this home designed by Pipkorn Kilpatrick, the concrete kitchen floor flows from the single-wall kitchen throughout the rest of the house, so it's important that it always look its best.
5. They work with any decor style.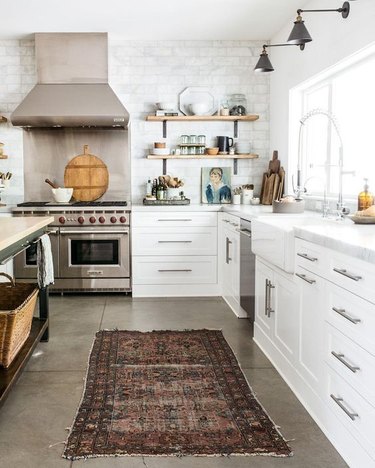 6. Concrete acts as a neutral.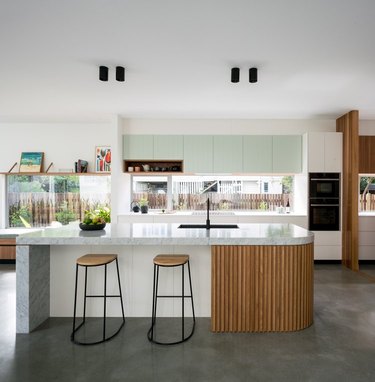 This kitchen, designed by Kelder Architects, is fresh and fun complete with mod design accents, sea-foam green cabinetry, and cheerful artwork — all of which are punctuated by concrete kitchen floors.
7. It's rustic, yet industrial.
Concrete effortlessly lends itself to rustic-meets-industrial spaces, like this custom kitchen designed by deVOL in London. The concrete floors, exposed HVAC ductwork, and black-framed windows are the perfect backdrop to red brick walls, navy blue cabinets, and brass fixtures.
8. Concrete floors blend seamlessly.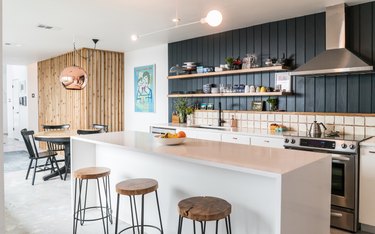 The design team over at Moontower created this eclectic kitchen, which features vertical shiplap walls and open wood shelving, to complement cool gray concrete floors.
9. You can shine floors up when you seal them.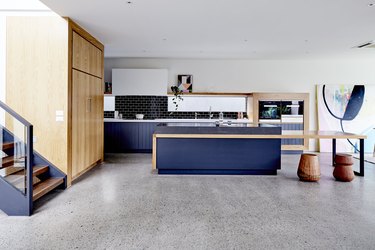 It's a very good idea to seal your concrete floors (it'll help prevent stains, nicks, and scratches). And bonus: You can choose a sealant that has a high-gloss finish like this open blue kitchen designed by Archer Interiors.
10. They're super-strong.
Concrete is known to be durable and to last — why else would they use it in factories and other industrial spaces? This concrete kitchen floor in a charming cottage dreamed up by the team over at ALL & NXTHING looks tough enough to handle most anything, without missing one stylish beat.
11. Concrete tile looks cool, too.
While pouring a concrete floor is fairly easy, you can add even more visual interest by choosing concrete tile instead. It looks particularly on-trend in this kitchen belonging to blogger Simone Østergaard.
12. It can make a space feel surprisingly light and airy.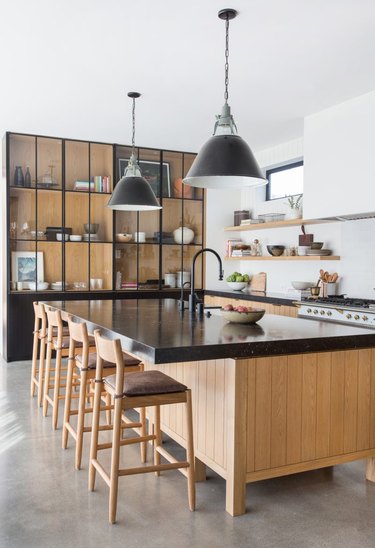 When your concrete floor is on the lighter side like in this black and white kitchen designed by Amber Lewis, it immediately helps brighten up the space.
13. Imperfections enhance the look.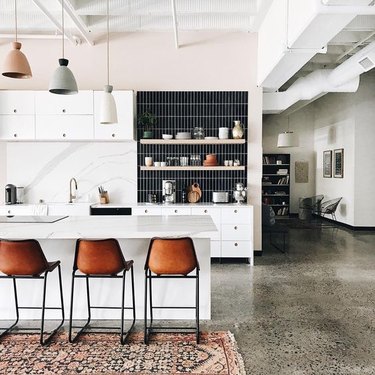 You've applied your sealant, but nothing is perfect, and a few nicks, cracks, and discolorations are to be expected in a raw material. And that's okay! Imperfections will give your concrete floors character, like the ones in this studio kitchen, belonging to Kate Arends from Wit & Delight, that are perfectly imperfect.
14. Concrete pairs flawlessly with a variety of materials.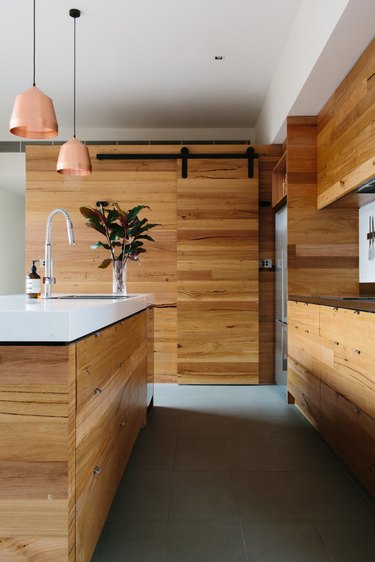 From recycled timber to copper, all of the materials in this kitchen designed by Altereco play nicely with the rich concrete floor tile.