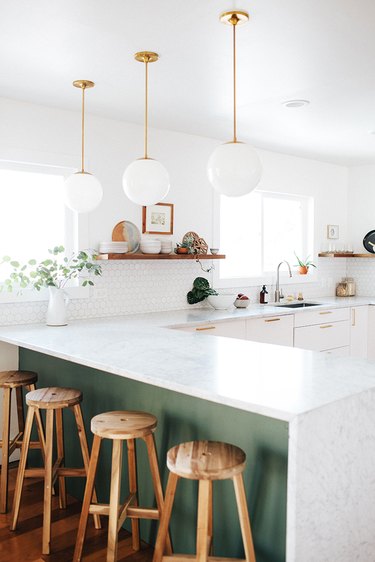 The midcentury modern trend has been going strong for the past several years, and there's no indication its popularity will decrease anytime soon. Integrating vintage elements into your kitchen redesign is an excellent way to ensure its longevity — as long as you don't veer too far toward retro. Utilize wood finish cabinetry, fun pops of color, and interesting patterns to create a kitchen that still feels contemporary. Here are 11 beautifully modern ways to infuse some midcentury-inspired charm into your cookspace.
1. Install a geometric tile backsplash.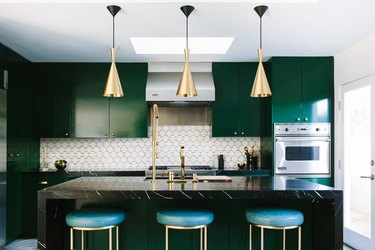 Midcentury design is known for its fabulous patterns — but that doesn't mean you need to wallpaper the entire kitchen. Follow L.A.-based interior designer Caitlin McCarthy's lead and install a geometric pattern tile backsplash, instead.
2. Play up pops of color ...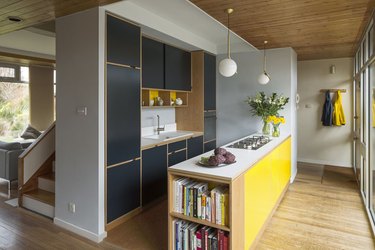 You may not be ready for a Smeg-style pastel-pink fridge — and you're certainly not painting your walls lime-green — but there's no reason why you can't integrate bold bits of color into your design. Uncommon Projects knows a thing or two about this, as seen by these midcentury-inspired cabinets they created to brighten up this small kitchen.
3. ... Or go totally bold.
But perhaps you should paint an entire wall lime green — or at least cover your wall in these gorgeous blue subway tiles. Located in the stylish New York neighborhood of Nolita, design firm Jesse Parris-Lamb went for it and created this eye-catching cobalt kitchen that totally works, especially when paired with brass hardware and midcentury-inspired pendants.
4. Let pastels steal the show.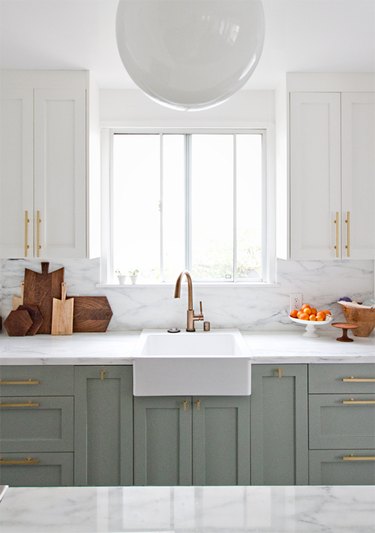 Midcentury homeowners know how to turn pastel shades into showstoppers. For instance, the pale green hue of the lower cabinets in this kitchen designed by Sarah Sherman Samuel, feels downright dreamy.
5. It's all about the accessories.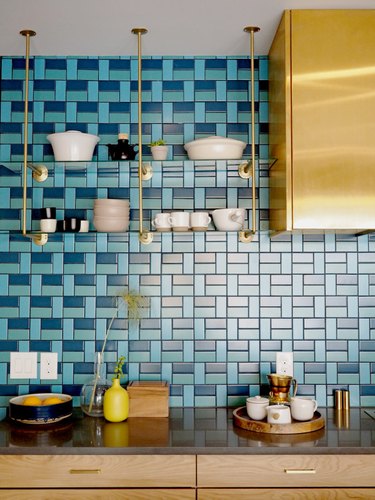 If your kitchen is already decked out with patterned tile and fun pops of color, you don't need to go overboard with retro accessories. Opt for modern and timeless pieces that are more subtle, like the assortment of ceramic dishware designer Megan Hudacky selected to line the sleek wall-mounted shelving unit in this midcentury kitchen.
6. Invest in the right lighting.
7. Don't be afraid of a little quirk.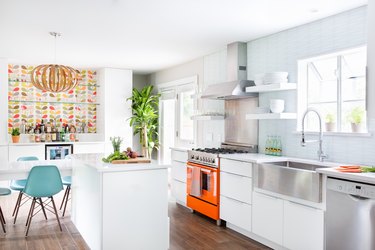 A bright orange stove might feel like an odd choice, but in this kitchen designed by Becca Stephens it's the perfect touch. Paired with a pale blue tile backsplash and a colorful retro print wallpaper on the back wall of the bar, this cheerful shade gives the kitchen playful personality.
8. Patterned flooring is your friend.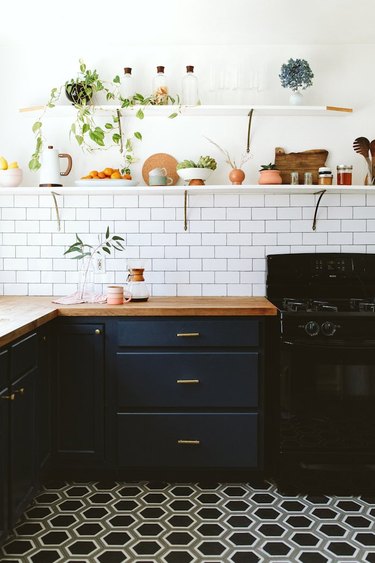 The dramatic dark blue cabinets in photographer Paige Jones' Portland, Oregon kitchen play perfectly with the hexagonal-shaped tile on the floor. And to keep the space from feeling too dark and heavy, the walls are painted white with a white subway tile backsplash.
9. Emphasize natural wood grain.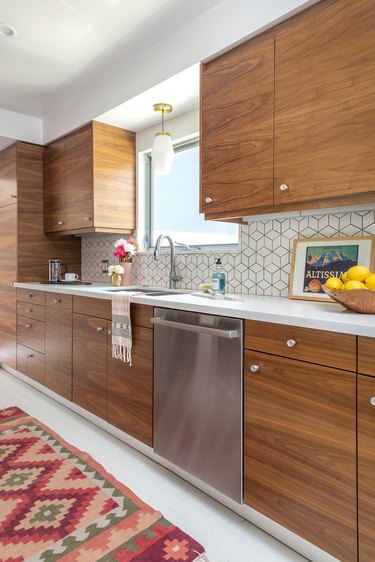 In case you didn't know, not all species of wood are the same, and Annette from A Vintage Splendor's kitchen cabinets are the perfect example. As you can see her walnut cabinet door fronts from Semihandmade are quite distinct thanks to their natural horizontal wood grain.
10. Embrace your home's uniqueness.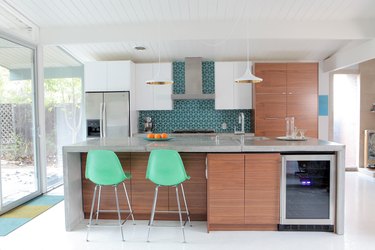 If your home is lucky enough to have bones like this authentic Eichler home, count yourself lucky. Designer Karen Nepacena added contemporary accents throughout to make this midcentury kitchen feel new, while uncovering and highlighting many of its original roots, which had been covered up over time.
11. Take advantage of your island.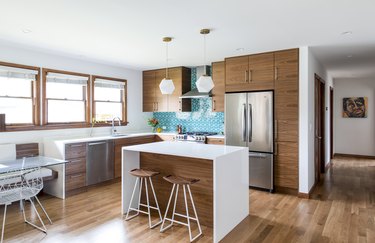 Don't leave your kitchen island out of the fun. Take notes from this space designed by Risa Boyer and hang a couple of geometric pendants to light your workspace and add a few midcentury-inspired barstools, too.