When it comes to Scandinavian design, bedrooms and living rooms often get the lion's share of attention on Scandi-loving home decor blogs (and Pinterest, of course!). But we urge you to consider another area where the principles of clean lines, a soothing color palette, and an appreciation of nature can also apply: the dining room. Here are 12 ways to transform your dinette into the Scandinavian respite you've been craving.
1. Wood, wood, and more wood.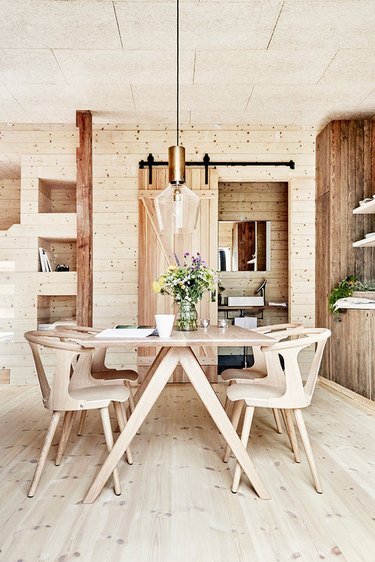 Wooden table, wooden chairs, wooden floor — we're sensing a theme here. That's because natural materials are the hallmark of Scandinavian design and give a rustic feel that is still polished à la this dining room at the Lindeborgs Eco Retreat.
2. Keep the color palette simple.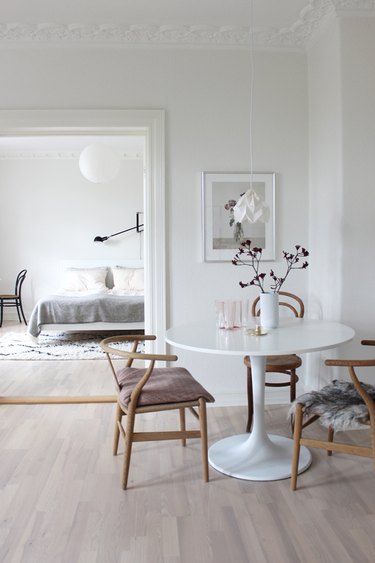 In a world with so many paint colors and wallpapers, bare white walls might sound like sacrilege. We prefer to view it as a subtle choice. While white is a traditional clean look on the walls of Scandinavian homes, you may also find grays and light blues.
3. Add pops of color with Eames chairs.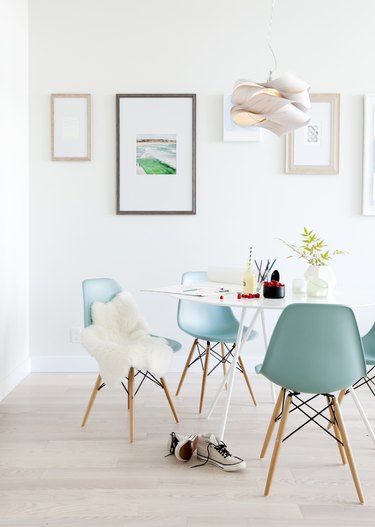 4. Sheepskin rugs aren't just for floors.
Draping a sheepskin rug over your dining room chairs is about more than just comfort. This cozy decor trick also adds warm texture to your Scandi-inspired space. Both One Kings Lane ( $35 ) and Ikea ( $14.99 ) have affordable faux fur options that will do the trick.
5. Make a wish on Wishbone chairs.
This dining room filled with Hans Wegner's handcrafted wooden Wishbone chairs is a dream come true! Plus the sculptural beauty embraces Scandinavian design's focus on natural materials so you can't go wrong.
6. Place a statement piece in the center of the room.
Vases of fresh flowers are an essential element of Scandi design. Take that idea a step further by displaying fruits and vegetables in a glass bowl at the center of your dining table. This Ultime Thule serving platter ( $88.15 ) from Iittala is understated yet elegant.
7. Add industrial elements.
Sleek black metal chairs or ceiling lamps, or a repurposed metal table, are all ways to add industrial elements to your rustic Scandi dining space.
8. Plants and fresh flowers enliven a room — literally.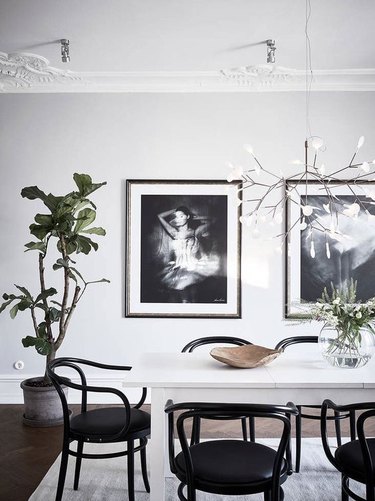 Potted plants and vases of fresh flowers are another way to bring the outdoors inside.
9. Utilize all of your space.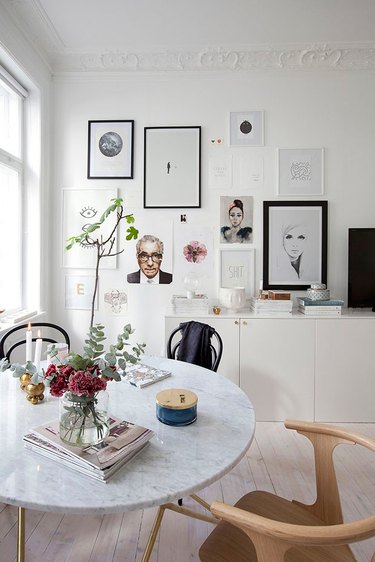 A dining area with white walls doesn't need to feel cramped. Rely on ceiling lights, artwork, windows, mirrors, and fireplaces to give a space depth and texture, too.
10. Forgo chairs for benches.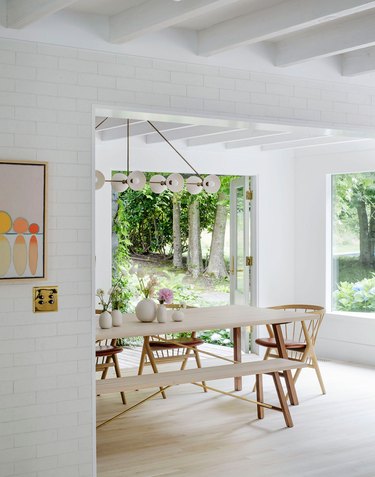 Feeding — and seating — a crowd will be faster and easier with benches lining the dining room table. Or, mix and match like Jessica Helgerson did in this Amagansett house.