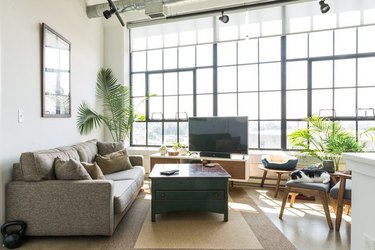 Industrial style isn't just for those lucky enough to inhabit an upscale loft in a century-old warehouse within a major metropolitan city (though, it does help). Whether your space is adorned with exposed pipes and cinematic cement beams or originated as a Victorian terrace house set in southeast London, it's possible to execute industrial style no matter your project or budget via decor and some key deconstructed design elements that maximize utility.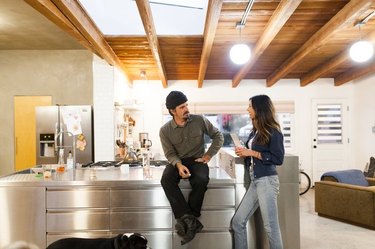 True industrial style stems from industrial design. One definition of industrial design (ID) comes from the World Design Organization as "a strategic problem-solving process that drives innovation, builds business success, and leads to a better quality of life through innovative products, systems, services, and experiences." Industrial designers must implement their design knowledge and training to create and develop concepts that optimize the function, value, and aesthetics of products, environments, systems, and services. This must all be for the benefit of the user, industry, and society — which is no small task.
Don't hide it, flaunt it.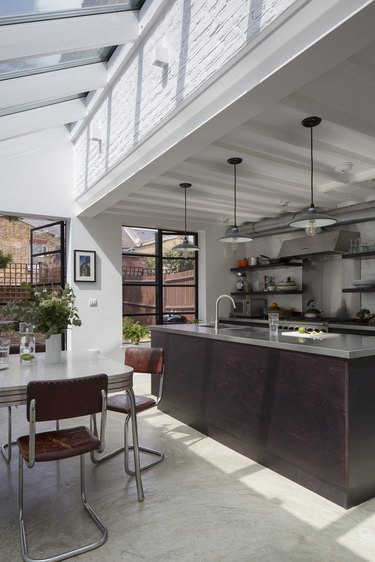 This is the true essence of industrial style and was considered revelatory when designers left materials that are traditionally hidden — like brick, cinderblock, and ductwork — bare. The natural state of materials creates a rich textural, unfussy, and yet functional, environment. We're talking stainless steel counters and concrete floors that require very little maintenance while at the same time providing durability, beauty, and comfort.
Embrace open concept living.
In industrial-style living, one large open room with high ceilings and few walls comes pretty standard. Often, furniture is used to define room boundaries, like bookcases, tables and benches.
Remember, contrast is key.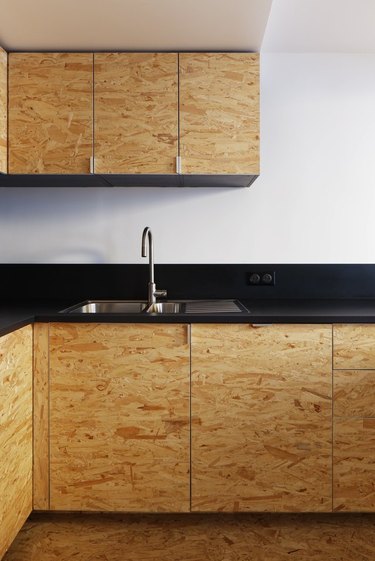 You might notice when looking at examples of industrial design that black and white are used strategically to create depth and help draw the eye toward certain finishes. The same goes for polished and raw surfaces, like metal fixtures and natural wood elements.
Make the ceiling a focal point.
The ceiling is the standout feature of modern industrial style where exposed beams, exposed ductwork, and pipes shine, adding visual interest and dimension, while in other styles these elements might be considered eyesores to be covered in drywall. Exposing engineering elements also helps to showcase an older building's history while cutting the cost of finishes considerably.
Install industrial flooring.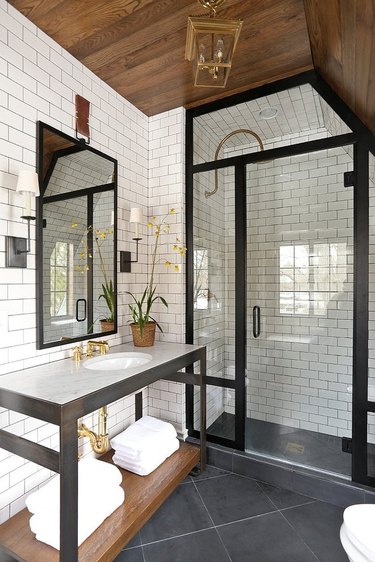 If you weren't lucky enough to uncover gorgeous raw concrete or pristine original hardwood flooring under that brown '80s carpeting, you'll have to consider other options that fit the industrial look. Consider sourcing wood with imperfections that might be cheaper and more in-line with distressed industrial style, or a matte stone like slate.
Go for the look of original lighting.
It's all about pendants, wall sconces, and track lighting when going for an industrial look. Anything that looks original, like it was installed in the house decades ago is what we're trying to achieve. Matte black or raw metal finishes tend to work particularly well.
Add warmth for balance.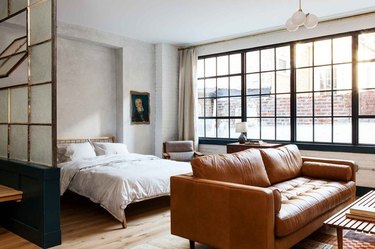 All that exposed wood and metal could start to look a bit cold and needs balance with some strategic decor. Opt for vintage elements, like wooden tables and chairs, for a more rustic industrial look, plus a leather couch in a neutral color like caramel or rich brown. Floor cushions and large area rugs to add color will also add warmth, contrasting with any built-in industrial elements. And you can really never go wrong with plants — the bigger the better if you've got high loft-like ceilings.