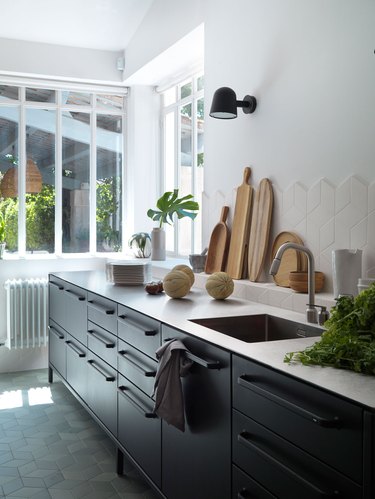 Sorry marble and quartz, but there's a new player in the countertop game that's garnering some serious attention. Stainless steel, while comparable in price to other materials — it runs about $80 to $225 per square foot according to Countertop Guides — has a low maintenance cost and it's one of those materials that has more uses than we have fingers. In the kitchen arena, its benefits include being ultra-durable, immune to heat, and pretty much indestructible. Basically, it's a material that suits legit cooks and at-home chefs alike. But perhaps you need a bit more evidence as to the design prowess of stainless steel kitchen countertops? You're in luck. Here are nine culinary spaces that will not only convince you, but they'll inspire you, too.
1. All White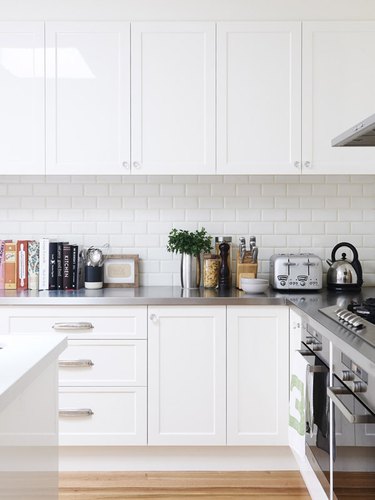 The all-white Melbourne kitchen of interior designer Suzanne Cunningham strikes a perfect balance: crisp, clean, and super functional. An ideal backdrop for snapping all of those Insta-worthy food porn shots.
2. Contemporary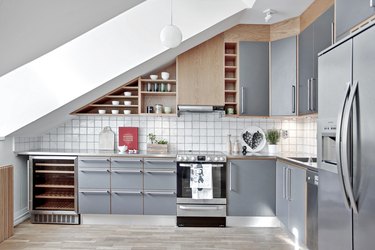 Unique architecture and stainless steel set the tone in this ultra-contemporary Scandinavian kitchen. And combined, they make this cook space an epic place to whip up some restaurant-quality meals in style.
3. Moody Disposition
White cabinets paired with white walls, a white backsplash, and a white stainless steel stove feel almost gray in this moody kitchen. Stainless steel countertops, black accents, and a navy tablecloth amp up the drama.
4. Light Wood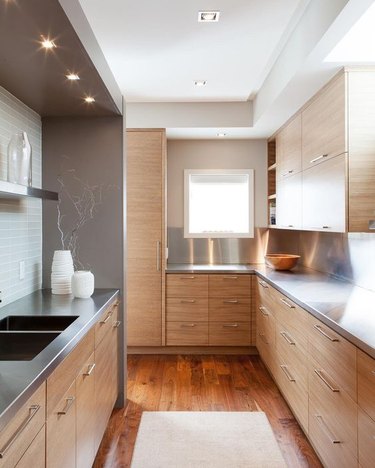 Striking in its simplicity, this Kate Zeidler-designed kitchen showcases just a few elements, but does so in a way that reads as luxe and elevated. Light wood is grounding, while the stainless steel countertops and backsplash enhance the metallic allure.
5. Modern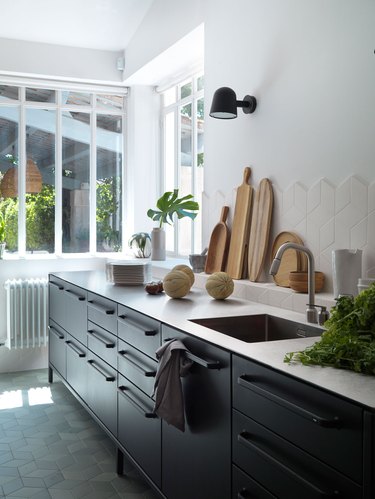 The open floor plan of this modern French farmhouse kitchen is downright dreamy. The geometric-pattern tile backsplash — which continues down the wall to the floor — makes a simple yet interesting feature that's complemented by the same pattern on the floor, black cabinets, and stainless steel countertops.
6. Industrial Minimalism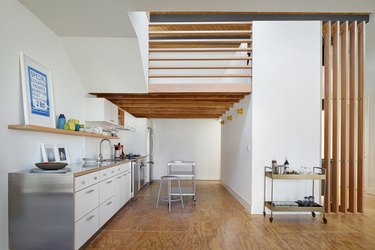 Designed by Oonagh Ryan, this Santa Monica, California loft is an inspired spot to whip up creative confections. Softened by white cabinet fronts and warm wood accents throughout, this kitchen's industrial yet minimalist edge, open floor plan, and unique architecture make it one of a kind. We especially love the countertop's waterfall edge.
7. Charming Farmhouse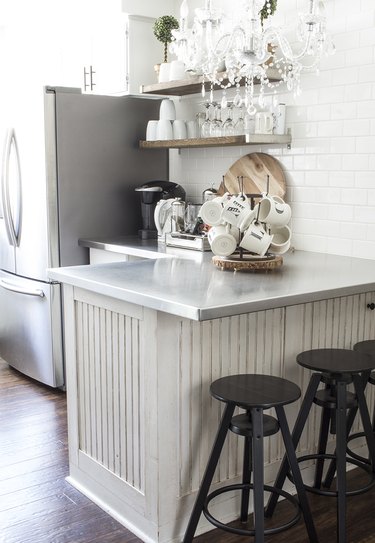 Weathered white cabinets, stainless steel counters and floating shelves, and a crystal chandelier are modern yet still have that farmhouse charm. Three black counter stools are the perfect finishing touch.
8. Scandi Cool
9. Small Space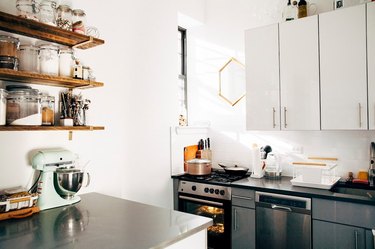 The small kitchen of food blogger Michelle over at Hummingbird High is proof that you don't need a large space to make culinary magic. Despite the spatial challenges of her Brooklyn pad, the stunning end result shines.