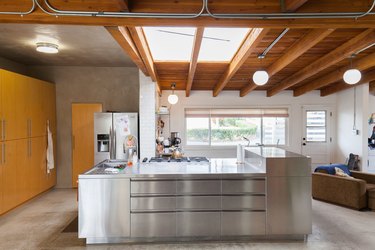 The good news about stainless steel countertops and appliances is that they're easy to clean and sanitize. That's why commercial kitchens rely on stainless. But clean is not the same as pristine, and smudges and fingerprints that would be a non-issue in a restaurant kitchen can prove to be a source of perpetual upkeep if pristine is your personal standard.
It's important that you treat your stainless steel gently. For all its durability and stain resistance, stainless steel is nevertheless prone to scratching from scouring pads and abrasive cleansers. Steel wool pads can leave behind bits of metal that rust and discolor the surface. Your choice of cleaning products and disinfectants is important as well. In addition to avoiding abrasive products, stay away from household bleach or any bleach-containing cleaners or anything with chlorine as an ingredient. Chlorine attacks the natural protective chromium oxide layer on the surface of stainless steel and leaves it vulnerable to rust.
Commercial Stainless Steel Cleaners
There are numerous commercial cleaning products available for stainless steel. They can be tricky to use and tend to leave behind a streaky finish. Many of them also deposit an oily film that makes the stainless steel even more receptive to fingerprints. If you do decide to try a store-bought stainless steel cleaner and polish, look for one not based on petroleum distillates and keep in mind that some of these products are not for use on surfaces that come in direct contact with food. That might mean you would need one cleaner for your refrigerator door and another for your countertops. Here are some stainless steel cleaners that enjoy a measure of customer approval:
Weiman Stainless Steel Wipes. These come in a canister of 30 wipes. By eliminating the need for a microfiber cloth, this is one of the most convenient of the stainless steel cleaners. The Weiman website claims the wipes are kosher and gluten free but doesn't say if they are food safe.

Simple Green Stainless Steel Cleaner. Sold in a spray bottle. Spray it on, then wipe and polish with your own soft microfiber cloth. The ingredients are rated to be non-toxic.

Therapy Stainless Steel Cleaner and Polish Kit. This cleaner is made from plant-derived ingredients. It comes with a microfiber cleaning cloth to complete the kit.

Do-It-Yourself Stainless Steel Cleaners
Natural, home-based ways of cleaning stainless steel may be a better, more sustainable choice. Several combinations of products you probably already have in your home have proven effective. Keep a soft microfiber cloth on hand for wiping and polishing, and remember to always work in the direction of the stainless steel "grain". For everyday cleaning, use a damp cloth and a little ordinary dish soap. For a more vigorous clean, mix baking soda and water to make a thin paste. Scrub with the paste, using your soft cloth. Rinse with water and buff dry.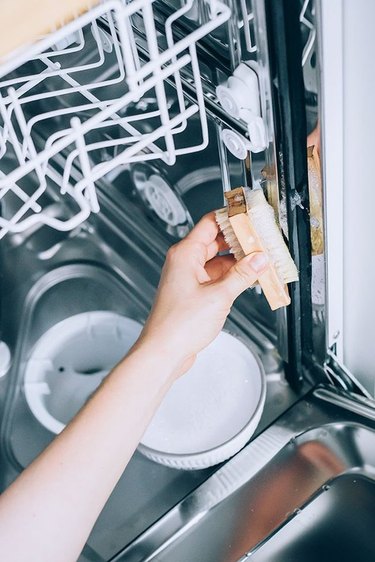 When merely cleaning your stainless steel surfaces isn't enough and you want to bring back the shine as well, these combinations of common household products have proved popular. You may find you have a definite favorite.
Dish Soap and Mineral Oil or Baby Oil
Clean the stainless steel surface with dish soap. Rinse and pat dry.

Put a little mineral oil or baby oil on a microfiber cloth. Rub in the oil, working in the direction of the grain.

Buff with the cloth to polish the stainless surface.

Vinegar and Olive Oil or Mineral Oil
For this method, put ordinary white vinegar in a clean spray bottle. Spray the stainless steel surface with vinegar.
Wipe the surface clean with a soft microfiber cloth
Apply a small amount of olive oil or mineral oil to the cloth. Polish the surface, working with the grain until the stainless steel has a uniform sheen.
Club Soda (Carbonated Water)
For routine cleaning and a quick polish of your stainless steel, ordinary club soda can be used. Be aware, though, that the cleaning properties of club soda aren't much different than ordinary tap water.
Put the club soda in a clean spray bottle. Spray the stainless steel surface.

Buff to a shine with a soft cloth.
To find the stainless steel cleaning and polishing strategy that works best for you, try several methods, including a commercial product or two. The most successful method will be determined by the activity in your household and exactly what you expect from your stainless steel.