In the wrong context, white stainless steel appliances could be misconstrued as 'dated,' but in truth they're making a comeback in many stylish, modern homes. Much like their black stainless steel counterparts, the decorative challenge lies in finding the right context; namely, cultivating fantastic modern decor to complement them. Whatever look you're going for — Scandinavian, midcentury, or even industrial — white stainless steel appliances can be a beautiful accompaniment to your elegant design. We've put together a list of seven tips to show you how easy it is to incorporate this white-hot trend into your state-of-the-art kitchen.
1. Incorporate natural materials.
Natural materials are always a timeless option. One of the biggest deterrents to picking white stainless steel appliances (or keeping the ones you inherit) is their susceptibility to making a space feel sterile. Nobody wants a kitchen that feels clinical or cold, but luckily, there are plenty of ways for you to warm things up. Our favorite cozy design solution by far: Integrate natural elements and materials. Add variety, not only in terms of color, but texture as well — use natural stone for your backsplash, countertops, or floors; use unfinished wood for a shiplap accent wall; install wood flooring, shelving, or cabinets. In addition, you can bring the outdoors in by incorporating a few potted plants or a vase with some fresh blooms.
2. Accessorize with small appliances in contrasting hues.
If your white stainless steel appliances feel too stark, try adding a few brightly colored decorative accents and smaller appliances to add some visual contrast. You'd be surprised at the difference a little sea foam green utensil holder, or a mint-colored food processor can make on the aesthetic of a kitchen. It's also an incredibly versatile and understated way to switch up the color palette in a space without having to make any major changes. Go through your closets and cabinets and look for metal tins, ceramic jars, vases — even casserole dishes — in vivid hues that you can repurpose, or you can always find a few budget friendly options at your local thrift store or flea market.
3. Add variety to your monochromatic color palette with different shades of white.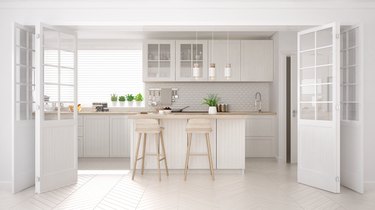 At first blush the idea might seem simultaneously redundant and incongruous, but using a color scheme comprised of multiple shades of white to complement your white stainless steel appliances is actually very clever. The internationally recognized color authority Pantone defines countless white hues from which to choose to help solve your chromatic conundrum (or complicate it, depending on your perspective). Among them are tones of white specifically crafted for home and interior design that will inspire you to paint, or indulge in a little dessert, with names such as 'Cannoli Cream,' 'Coconut Milk,' and 'Sugar Swizzle.'
4. Upgrade your hardware.
Shake things up by incorporating contrasting finishes to your appliances. Shop around for handles and hardware, that are compatible with your appliances, but are designed with different colors and finishes. Try a bright, polished metal finish (like copper or brass) to give your white stainless steel appliances a modern makeover. Or if you've been looking for a new DIY project to undertake, use kitchen safe metallic paint to create a similar look.
5. Create visual contrast by painting your cabinets.
The big advantage of white stainless steel appliances is that they're visually simplistic, which means you don't have to be afraid to get creative with the other elements in your kitchen, such as your cabinets. This presents a unique opportunity for you to have a little fun and let your vibrant personality shine through, without your appliances stealing the show. So let the DIY paint project commence!
6. Use bold accent walls to break up the white.
White stainless steel appliances afford you the creative license to make brave choices with your flooring or walls. Accent walls are a fun way to break up the visual uniformity that sometimes comes from placing multiple white stainless steel appliances in one room. Make your mark with a rich paint color, some dynamic wallcovering, or a bold and beautiful backsplash, as seen in this charming kitchen.
7. Supersize your wall art.
Sure, art of all sizes can grab one's attention, but oversized art demands it. Consider filling your bare kitchen walls with an extra large piece of art to go alongside your white appliances. Their neutral hue provides the perfect backdrop, giving your masterpiece center stage. For a really cohesive look, try color coordinating the work of art with the rest of your kitchen decor.