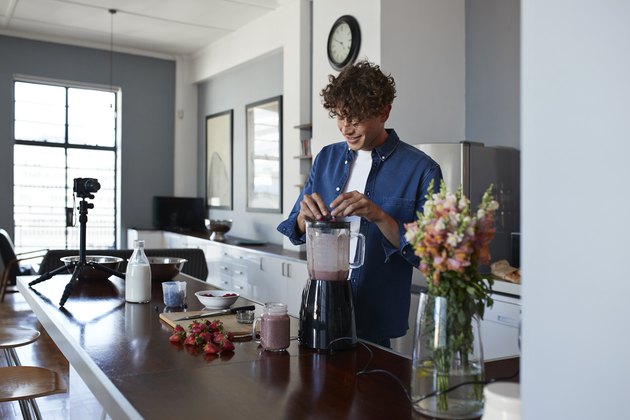 Maybe you've found yourself staring at the kitchen during commercials late at night, wondering whether you can mix and match your appliances and finally get rid of that loud, inefficient dishwasher. Well, of course you can mix and match. Mixing appliance colors won't have your turkey come out dry or stop your beer from chilling sufficiently, but clashing hues may not look so great. Still, when it comes to aesthetics versus function, the kitchen is one room where function wins all.
The World of Appliance Finishes
Those old enough to have survived the garish colors of the 1970s know the buyer's remorse of investing in trendy colors. The so-called golds and avocados of that era looked great for a few years, but had soon blown way past their best-before date. Of late, trends towards colors have resurged with dynamite shades of cobalt blue, vivid red and other classics like mint. Sometimes, it's just about what you love versus what's right, wrong or will stand the test of time.
Stainless steel has swept the appliance world in the last decade, so it's something many people wrestle with – they may have a white fridge and dishwasher but dream of a new gas range in stainless. There's nothing wrong with introducing different stainless steel finishes on appliances in an otherwise painted kitchen. White is a neutral, but so is silver. Again, it's down to the function: will that "mismatched" (think "complementing_"_ or "contrasting_"_ and put a new spin on your point-of-view) appliance add more function and joy to your kitchen?
Kitchen Appliance Trends
In an energy-conscious world, where people are also becoming more invested in diversifying their cooking abilities, appliance function tends to be the biggest factor. So, blending brand names and going big on quality and function are wise plans for those looking to build a new kitchen, as opposed to sticking to one appliance suite.
As for appliance color trends, 2019 has seen an explosion of retro colors in the kitchen. Stainless steel, of course, is going nowhere and classics like white and black appliances will never go out of style. But what's best for resale value? It doesn't matter, because appliances only add value if they are true luxury, state-of-the-art units. Otherwise, get appliances you love with similar finishes. But if you can't, stick to two colors that work together. Don't try to temper things by pairing beige and white. Instead, double down on contrast like white with silver or black, or red or blue with white or silver.
Embrace Design Solutions
Even designers will shrug off contrasting or mismatched appliances, saying there's a lot you can accomplish through design to offset the effect. Popular designer Genevieve Gorder, host of Netflix's "Stay Here," said exactly that to Digital Trends in May 2019. Imagine a funky backsplash that somehow ties in all the colors. Pick a wall paint that perfectly complements the other colors.
One solution people sometimes gravitate to is trying to paint the appliance with a resin paint so their kitchen can be matchy-matchy. You can do this, yes, but keep in mind how hard-working your appliances are, and how often you need to clean them. Do you trust the resin to stand the test of time, or could it be an expensive and costly temporary solution that looks tired before long?
The 2020s are all about technology and smart solutions. Instead of worrying about how your appliances look, worry about how well they perform and how smart their energy consumption is. The rest is all just details.
---
Steffani Cameron is the daughter of a realtor and interior decorator mother and a home contractor father. Steffani is a professional writer with over five years' experience writing about the home for BuildDirect and Bob Vila. Raised with a mad love for decorating, Steffani gave up her Art Deco apartment to travel and work remotely for five years. She's in love with experiencing traditional decor around the world, including stays in Thai teak plantations on the Mekong River and cave homes in Turkey.
View Work