What makes a smart stove so smart? Well, in the 21st century Internet of Things, "smart" just means "connected." These appliances can communicate to an app on your phone — as well as an Alexa, Google Home, or other smart home speakers — and you can dictate commands like, "preheat to 425 degrees Farenheit" or "braise for three hours." Plus, with the ability to turn them on and off right from a cell, smart stoves also nip that whole, "Oh my God did I leave the oven on?" fear right in the bud, which we think might justify the high price points.
Here are six WiFi-enabled smart stoves, ranges, and ovens that will make your kitchen feel cutting edge (even if you're just reheating last night's pizza).
This LG option has a pizza mode! And if that doesn't sell you on the WiFi-enabled 30-inch slide-in induction range, it also has infrared heat for indoor grilling and gets water boiling in a snap. If you choose this cooktop, know that induction versions heat up faster than both gas and electric and won't scorch your pans from too-high temperatures. Just make sure you have the right kinds of pans. And added bonus: Cleaning the glass top is a cinch.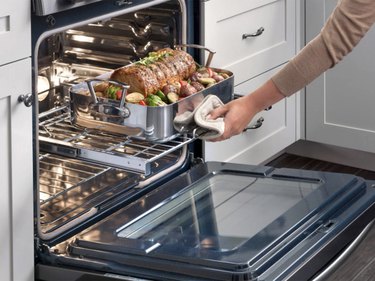 This 30-inch smart stove is on the more affordable side of the spectrum, but you can still power it up from anywhere. Plus, it has Samsung's signature dual-door oven which means you can bake two dishes at different temperatures. You can even remove the divider and roast all the things at once. The five-burner gas range has two heat options — one boils water lighting fast. The only drawbackaccording reviews? It can be hard to clean this gas stove.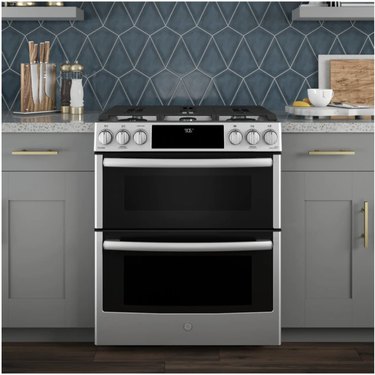 People love the edge-to-edge cooktop on this 30-inch smart stove almost as much as they love the double oven. Plus, it integrates seamlessly with GE's Kitchen Hub which lets you control appliances throughout your home — plus video chat and watch Netflix — from the comfort of your food prep area. This is the ultimate smart home solution.
Colorful stoves are all the rage, and this WiFi-equipped commercial-style gas range from KitchenAid is right on trend with shades like Avocado Cream, Scorched Orange, and Milkshake. One of our fave hues, Yellow Pepper, would look chic in a kitchen that's painted in a matching sunny tone.
For larger kitchens, consider this smart combination oven and a separate cooktop by Bosch (the 36-inch induction cooktop gets top marks from Consumer Reports). The top Bosch Speed Oven is a built-in microwave, and below it is a European convection oven. They're part of a suite of products for Bosch's smart kitchen and can be controlled with the Home Connect app.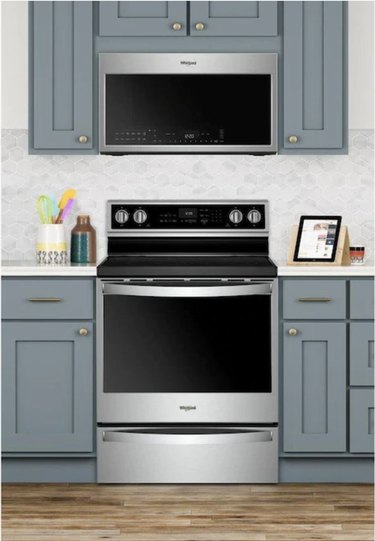 One of the most affordable smart stoves out there, this Whirlpool Smart Electric Range has a ceramic cooktop and fingerprint-resistant stainless steel. Its Scan-to-Cook Technology lets you send multi-step instructions straight to the stove, so you don't have to fuss over when to bring the heat down or bump it up. Plus, you can cook frozen pizza without preheating. That's a win in our book.