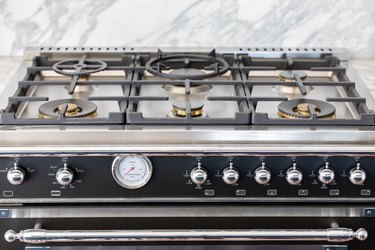 Squeaky is all about the borderline genius hacks and ideas that keep literally every inch of your space pristine.
The key is to cleaning a gas stove? For best results, we recommend that you clean the different parts of the stove separately. This simple tutorial will show you how to clean each section, plus we've even included a non-toxic degreaser spray that you can DIY instead of buy.
The key to getting your gas stove really clean is using a degreaser. It helps to lift and loosen cooked-on grease and food with ease. This DIY degreaser recipe is non-toxic and smells great as well.
Mix the water, Castile soap, and orange essential oil together in a clean spray bottle. Shake well before each use. In addition to your stove and oven, this amazing DIY degreaser can also be used on countertops and sinks, too.
How to Clean Gas Stove Grates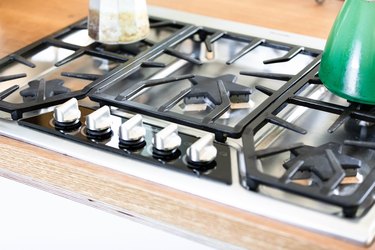 One very important note before you start: Make sure the stove, grates, and burners are all completely cool before cleaning.
Step 1
Remove the grates from the stove. To minimize the mess, it's best to place the grates on a towel for cleaning.
Step 2
Spray the grates liberally with the degreaser.
Step 3
Allow to sit for five to 10 minutes.
Step 4
Scrub any loosened grease and debris with a scrub sponge.
Step 6
Wipe dry using a clean cloth.
Step 7
Set aside until you are ready to place them back on the stove.
How to Clean Gas Stove Burners
Step 1
Spray the degreaser spray onto each burner cap.
Step 2
Allow to sit for five to 10 minutes.
Step 3
Scrub the burner cap using a scrub sponge. If there are tough, burned on stains, repeat steps one through three.
Step 4
Wipe clean with a damp cloth.
How to Clean a Gas Stove Top
Step 1
Spray the gas stove top liberally with the degreaser spray. This spray is great to use in between deep cleanings as well!
Step 2
Allow to sit for a few seconds. If the stove is really greasy and dirty, allow the degreaser to sit for five minutes.