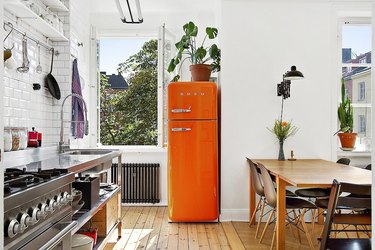 How to Find the Perfect Kitchen Color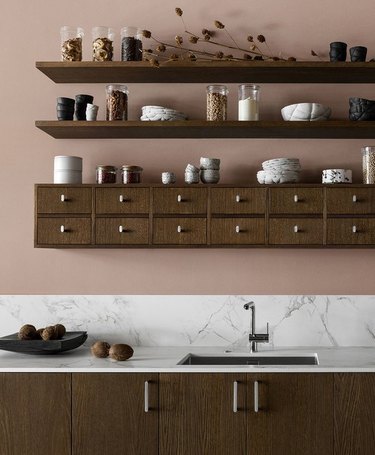 Most color schemes can be applied to any kitchen but there are some basic rules to bear in mind when selecting a hue. You need to consider the size, shape, layout, and natural light before you commit. A white kitchen color idea isn't for everyone. Not sure which color palette would suit your space best? Read our handy cheat sheet below to determine what shade works best for you.
Neutral kitchen color ideas create a timeless and long-lasting look, which is perfect for smaller spaces. If you have a narrow or awkward layout to work with, lighter shades such as white, gray, greige, and beige will help make your space feel larger and brighter.
Bold kitchen color ideas don't necessarily mean bright pink or mustard yellow. We're talking rich colors with warmth such as emerald green and dark red. Still bold enough to make a statement but not enough to make you want to shield your eyes at every meal. See our top nine green kitchens if you need some convincing (not that you should). Try pairing a bold color with a neutral or lighter shade to create contrast without taking away the limelight.
Depending on the other elements in your kitchen, a bright kitchen color idea could be perfect for you. If you like to live on the colorful side of life, go all out and pair two bright shades for oohs and ahhs all around, or use one color, like yellow, as the basis for your entire color scheme.
If you're lucky enough to have a large kitchen with lots of natural light, a dark kitchen color idea will work well to maintain a dramatic and luxe feeling. Dark cabinetry against light walls will create balanced contrast, or you could just go all out with those moody hues such as dark blue or black.
Once you've decided which of the above color categories you fit into, now it's time to start thinking about the overall look of your space. Kitchen color trends are most certainly a thing, and just in case you haven't already seen our predictions for 2020, here are a few tips for how to use them in your own home.
1. Keep it simple with a monochrome kitchen.
2. Try two-tone cabinetry.
We know that two-tone cabinetry is going to be BIG in 2020, so don't conform with the norm. Instead, paint your upper cabinetry in a contrasting shade to your lower cabinetry ... the possibilities are endless.
3. Give your kitchen a pop of color.
Bring a bright pop of feel-good color to your kitchen, specifically in a primary hue, and you'll have an instant modernist hit. We all need some good vibes in our life and this is the way to create an ultra-airy and playful design.
How to Add Color to Your Kitchen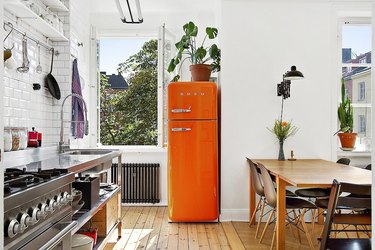 Once you've chosen the color that's perfect for you and your kitchen, it's important to think about where you're going to apply the dream shade. Yes, the wall just might be too obvious in this instance. Perhaps you'd rather make a feature out of the cabinetry? Or the backsplash? Or both? Whatever your fancy, we've got plenty of creative kitchen color ideas for you.