Let's be honest: The kitchen is the heart and stomach of any home. It's where you catch up with friends over a glass (or two) of wine, swap stories during your nightly family dinner, and unwind with a heaping plate of spaghetti carbonara. Um, yes please.
A kitchen is one of the most trafficked rooms of any house, so it should be styled to the nines. As far as we're concerned, the best way to make your cook space pop is with great cabinetry. Sure, you can wow the crowd with a beautiful backsplash or chic countertops, but your kitchen cabinet design will tie the whole room together and be the first thing most people will see when they enter your space.
The Best Kitchen Cabinet Materials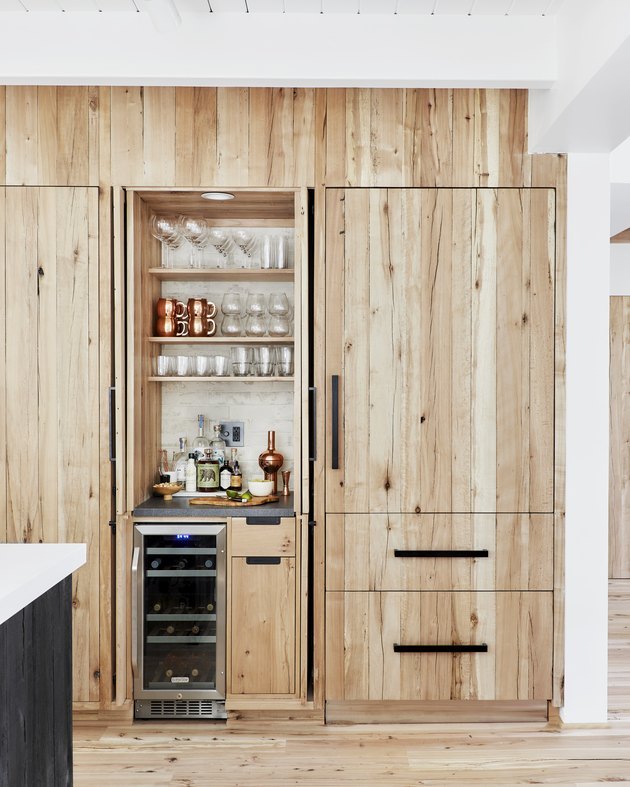 For example, laminate and thermofoil kitchen cabinet designs are great options if you're looking for an easy (and affordable!) way to spruce up your space. Not only are they pretty affordable, but it's also possible to install them without ripping apart your culinary headquarters. The only catch? Unless you prioritize the condition of your built-ins, less expensive materials such as these are more susceptible to wear and tear.
If you're looking for a kitchen cabinet material that can withstand the test of time — and are willing to drop some extra cash — opt for a sturdier option like wood or stainless steel.
The Best Kitchen Cabinet Styles
We're going to let you in on a little secret: The cabinet door style you ultimately choose can transform the entire kitchen. If you ask us, there's no wrong cabinet style out there. Instead, it's all about figuring out the overall vibe you want for your space.
For example, craftsman-style cabinets — you know, complete with a raised panel — will be the perfect finishing touch for a traditional or country kitchen. But if you want to give your space some modern flair, a simple slab style will make your wildest midcentury dreams come true. On the other hand, if you want something a little more versatile that will last for years to come, opt for shaker cabinets. Trust us, they won't let you down.
The Best Kitchen Cabinet Colors
If you want to inject a pop of color, your kitchen cabinet design is definitely the easiest way to accomplish that goal. But with so many options to choose from, finding the right shade can be easier said than done. We're taking you around the color wheel with some of our favorite hues below:
Where to Buy Affordable Kitchen Cabinets
Dream all you want, but most of us don't have the money for classy, custom-made kitchen cabinet design. If you want to give your kitchen some stylish flair on a budget, give these three stores a try.
Leave it to IKEA to bring a sleek sensibility to every inch of your home — yes, including your kitchen cabinets. Thanks to its flat-front and Shaker-styled options — in an abundance of dreamy, neutral colors — building the Scandinavian kitchen of your dreams will be a breeze.
The Home Depot has been your one-stop renovation shop for years, so you know it will serve up some seriously good kitchen cabinets. With three different services to choose from — In-Stock, Cabinet Makeover, and Custom — this big box brand makes it easy to find a style within your budget.
In the market for flat-front cabinets? A versatile Shaker style? Lowe's has a breadth of different colors, materials, and forms to choose from — and for a fair, reasonable price, no less. Go ahead and get your shopping on!