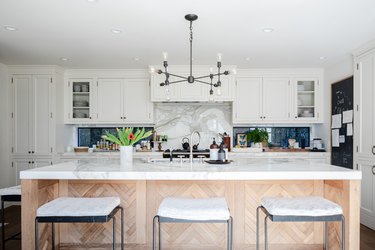 Hunker may earn compensation through affiliate links in this story. Learn more about our affiliate and product review process
here
.
A kitchen is one of the most trafficked rooms of any house, so it should be styled to the nines. As far as we're concerned, the best way to make your cook space pop is with great cabinetry. Sure, you can wow the crowd with a beautiful backsplash or chic countertops, but your cabinetry will tie the whole room together and be the first thing most people will see when they enter the space. There are three major things to consider as you browse: material, style, and color.
This guide is meant to provide design ideas and inspiration via our galleries to help you pick the perfect cabinets for your dream kitchen. If you want more in-depth advice on different types of cabinets, hardware, and installation, don't miss our Homeowner's Guide to Kitchen Cabinets. It covers everything from new kitchen cabinets to remodel advice and help.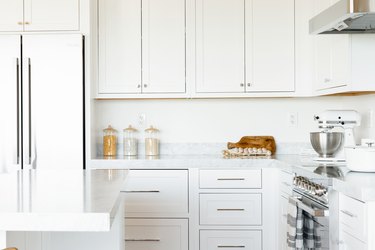 We're going to let you in on a little secret: The cabinet door style you ultimately choose can completely transform your overall kitchen design. If you ask us, there's no ​wrong​ cabinet style out there. Instead, it's all about figuring out the overall vibe you want for your kitchen look. Here's a few styles to consider when selecting your kitchen cabinetry.
This timeless kitchen cabinet style features a four-sided frame with a panel in the middle. What separates these from shaker style is that the middle panel is raised as opposed to being flat. These are a very traditional cabinet choice and can be integrated into a wide range of looks, but are perhaps most common in a country or farmhouse style.
These heavy wood cabinets are directly tied to the Arts and Crafts movement. Utilize these if you're a fan of straight lines and minimal hardware. Because of their material, these cabinets are known for their quality and durability.
Shaker cabinets have become an extremely popular choice in recent years. Comprised simply of four pieces of wood and a recessed center, they allow for a ton of variety through different colors and hardware. Similar to raised-panel, they're a flexible choice that work across multiple styles.
Beadboard cabinets are made up narrow, vertically aligned wood planks. This style has become especially popular in recent years. They work great if you're going for a country or rustic vibe. And, depending on the wood selection you go with, they can make a statement by skipping a coat of paint and keeping them all natural.
Louvered cabinets consist of a flat front with slots. This look creates some texture to your cabinetry but also has the added benefit of allowing for some air flow, which can keep your cabinets from being stuffy. These work particularly well as upper cabinets paired with flat panel lower cabinets — the contrast creates a real wow factor.
Glass front cabinets are great for showing off the dinnerware that's traditionally hidden in your storage space. Glass doors are the primary feature, creating a window into what's behind. These are typically reserved for the upper cabinets.
Perhaps the simplest and cleanest option, slab cabinets have a flat surface. These are the go-to choice for a modern kitchen. Keep your hardware sleek and simple to maintain a contemporary feel. And don't be afraid to take advantage of the flat surfaces by being bold in your choice of paint color.
Open shelving is definitely in. Buck tradition by storing your cookware on flat upper shelves. Or, if you're looking for a quick and easy DIY way to incorporate this style, remove the doors from your current cabinetry.
Best Kitchen Cabinet Colors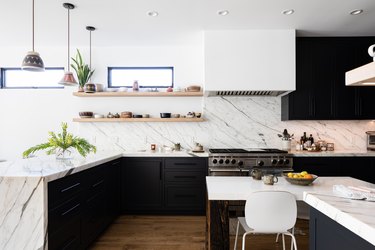 Your cabinetry is one of the easiest way to inject a pop of color into your kitchen. But with so many options to choose from, finding the right shade can be easier said than done. We're taking you around the color wheel with some of our favorite hues below:
Kitchen Cabinet Materials
Wood provides an instant rustic feel, especially if unpainted and treated with a polyurethane finish. It can also be great for creating some additional texture. Prices vary with the quality of the wood, but overall this is a very durable choice.
Going steel is perfect for creating an industrial feel in your cook space. Just know that they'll cost a little more and will require more frequent cleaning. Stainless steel can really shine, but it's easily susceptible to smudges and fingerprints.
These are typically constructed with fiberboard panels and coated with a high-gloss finish. Because of that, muted colors are probably the way to go, unless you're feeling extra bold.
This is one of the most popular choices today and for good reason: It's lighter on the budget, durable, and easy to clean. They also come ready-made in a wide assortment of colors making them a great low-hassle option.
Typically confused with laminate, thermofoil cabinets use a special type of PVC vinyl coating generally reserved only for doors and cabinets.
Although generally considered the same as a laminate, these are worth mentioning separately because they're easier to produce and thus cheaper. Although more affordable, the downside is that they won't last as long.
Where to Buy Affordable Kitchen Cabinets
Dream all you want, but most of us don't have the money for classy, custom-made kitchen cabinet design. If you want to give your kitchen some stylish flair on a budget, give these three stores a try.
Leave it to IKEA to bring a sleek sensibility to every inch of your home — yes, including your kitchen cabinets. Thanks to its flat-front and shaker-styled options — in an abundance of dreamy, neutral colors — building the Scandinavian kitchens of your dreams will be a breeze.
The Home Depot has been your one-stop renovation shop for ​years​, so you know it will serve up some seriously good cabinets. With three different services to choose from — In-Stock, Cabinet Makeover, and Custom — this big box brand makes it easy to find a style within your budget.
Lowe's has a breadth of different colors, materials, and forms to choose from — and for a fair, reasonable price, no less. Go ahead and get your shopping on!