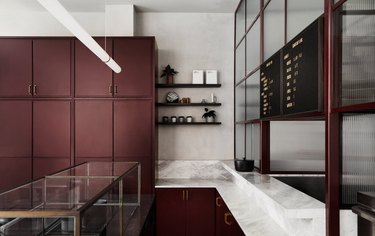 Who says kitchens have to be bright and white? We've collectively embraced the toned-down, neutral trend — but it's time to reconsider. Insert a bold contender for your consideration: red. Not only is it bold (red is a universal favorite shade for statement lipstick), but also stylish (hello, Louboutin). When used in your kitchen, you can guarantee guests won't think red is a safe or, dare we say, boring choice. Whether you opt to slather your cabinets in a sophisticated shade of deep oxblood or go full-on '50s retro with a candy-apple red, we can guarantee one thing: You won't miss white one bit.
Scroll on for seven red kitchen cabinet ideas that make a strong case for switching to the bold hue.
1. Bold Cardinal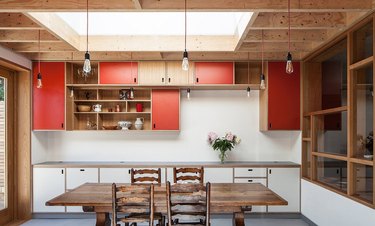 We love the way the team over at Burns Architects used color blocking to add a pop of color and balance the warm wood throughout.
2. Candy-Apple Red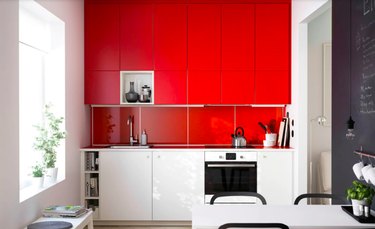 Go ultra-glossy for a '50s-inspired interior. In this kitchen, an old-school shade of candy-apple red juxtaposes with white lower cabinets and modern fixtures in a way that's simultaneously fresh and retro.
3. Moody Merlot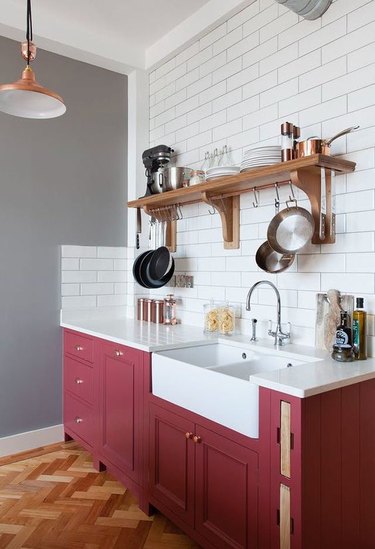 This hot color pairs well with trendy gray. Match white subway tile with matte merlot cabinetry, add a few rustic accents and keep the rest simple — Voilà it's modern farmhouse.
4. Bright Ruby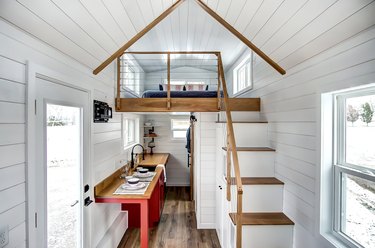 5. Cheery Cherry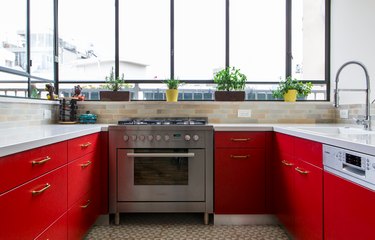 Don't stop at red cabinetry — choose your appliances courageously, too. This kitchen designed by Liat Evron showcases a red dishwasher front which extends the cheery theme throughout this loft-style space.
6. Sanguine Salmon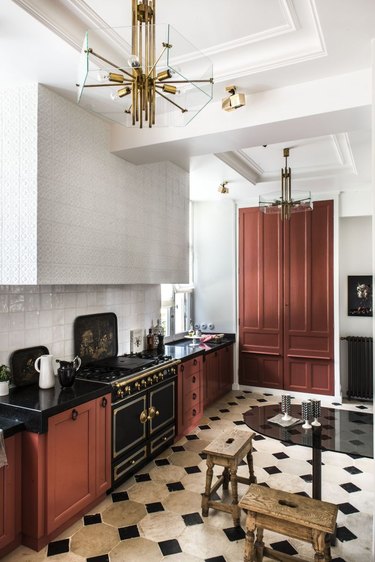 Contrary to popular belief, not all shades of red are in-your-face. This toned-down chateau kitchen designed by D.Mesure lands somewhere between pink, red, and coral depending on the light — and plays beautifully with complementary black and brass accents.
7. Dramatic Burgundy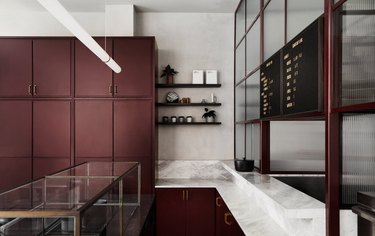 Not all red cabinets have to exude retro vibes. Instead, opt for a sophisticated take with a dramatic shade of burgundy like this space designed by Studio Esteta. When paired with gray walls and a marble countertop, the hue can make a kitchen feel rich and luxe.
---
Jamie is a freelance writer based in Denver, Colorado, who writes about real estate and interior design.
View Work