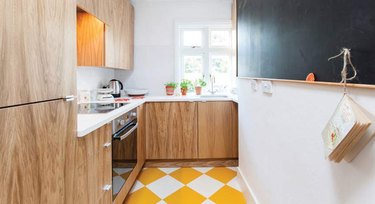 Have you heard? Checkerboard kitchen floors are back! But this time, you don't need to have a rambling farmhouse or a mansion in the south of France to try the look. In fact, it's even better if you don't: We're currently obsessing over checkerboard floors in seaside cottages, tiny city apartments, and everywhere in between. Checkered kitchen floors can look super-modern or charming, graphic or retro. They come in all kinds of colors and hues, so there's something for every style. And there are so many ways to get the look, from real tile to easy, affordable stick-on vinyl to just straight up painting some squares on an existing floor (here's how).
1. Paint the room white.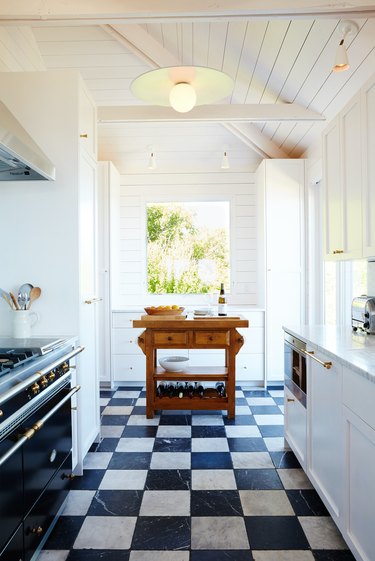 The key to making a checkerboard kitchen floor the centerpiece (and keep it from overwhelming the room)? Keep everything else super simple. In this Montauk house by Studio Robert McKinley, the walls, high ceilings, and cabinetry are all painted bright white to highlight the floor.
2. Add bold black.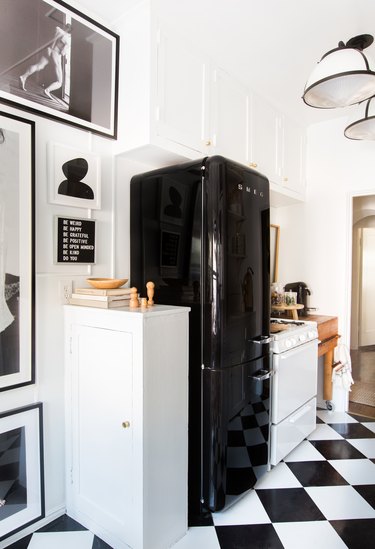 To make a black-and-white checkerboard kitchen floor look bold and modern, not dated, paint walls white and add swaths of black. We like the glossy black fridge and graphic gallery wall in this petite galley kitchen belonging to Brady Tolbert.
3. Go bright.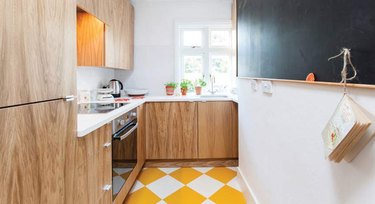 Who says checkerboard kitchen floors have to be black and white? They don't! For something more unexpected, opt for cheery yellow instead (the sunny color is having a moment in the kitchen). Make cabinetry and counters neutral and modern to keep the overall design from looking too kitschy.
4. Try buffalo checks.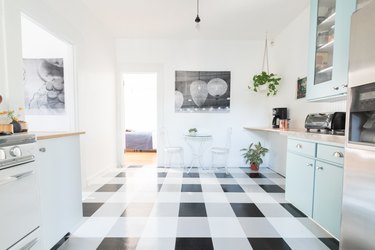 Here's a particularly trendy twist on checkerboard floors from The Gold Hive: Three shades of vinyl tile combine to look just like buffalo plaid. The best part? It's peel-and-stick (and very DIY friendly).
5. Opt for two-tone.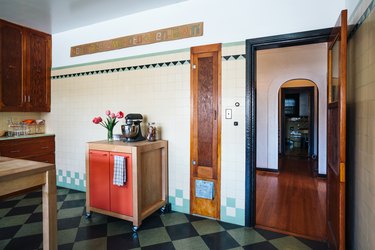 6. Run lengthwise.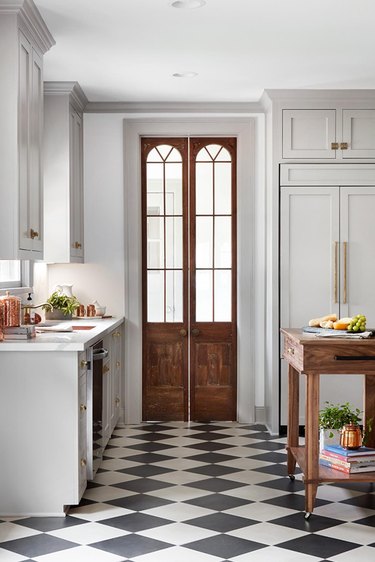 Align your flooring so the squares look more like diamonds through the kitchen (not parallel with the walls). It'll carry the eye through the space and make it seem bigger. Follow the lead of Joanna Gaines and include brass hardware for a bit of glam.
7. Add vintage details.
Lean into the vintage aesthetic of checkered kitchen floors by accenting with old-school furnishings: Think a retro-style banquette, breakfast table, and thrifted art like in this nook from Treasures and Travels.
8. Keep everything else simple.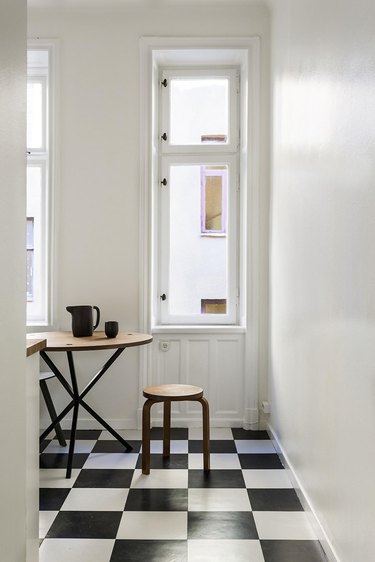 Stick to Scandi-style details to keep a checkerboard kitchen floor looking charming, but not too rustic, as seen in this simply fitted Stockholm apartment styled by Fantastic Frank.