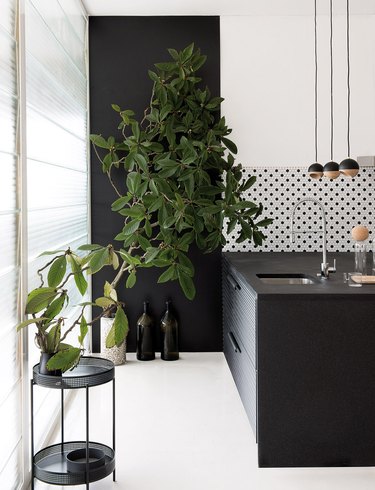 Is there anything that exudes classic more than a black-and-white kitchen? Something about that monochrome lifestyle just oozes sophistication, whether you favor a boho retreat or a minimalist haven. From a white grid tile with black grout to two-tone cabinetry, there are countless ways to work a high-contrast color palette while staying true to any style. Looking for a few ideas? Scroll on for some of our favorite black-and-white kitchen suggestions.
1. Pick the right cabinetry.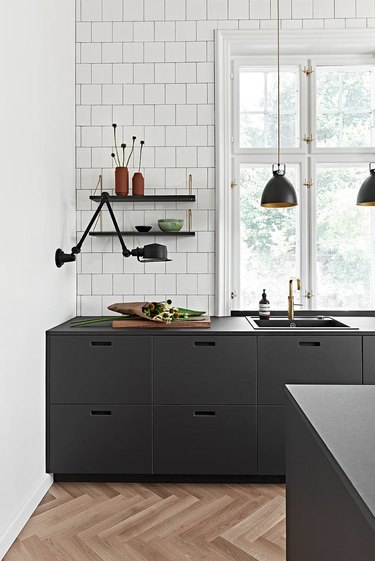 One of the easiest ways to get started creating a chic black-and-white kitchen is to simply opt for white walls and black cabinetry. Bonus points for a black countertop, too. Take inspiration from the &SHUFL linoleum cabinet fronts featured here in charcoal that are seamless in style, and when paired with a white subway tile backsplash and gorg herringbone wood flooring the result is graphic and contemporary.
2. Make a splash with your backsplash.
Nina from Stylizimo successfully pulls off the black-and-white kitchen look by going tone on tone. The backsplash, countertops, and cabinets are all finished in the same ebony shade, but she didn't stop there. Follow her lead and take it to the next level by investing in a matte black sink and a few dark accents to up the drama.
3. Consider the details.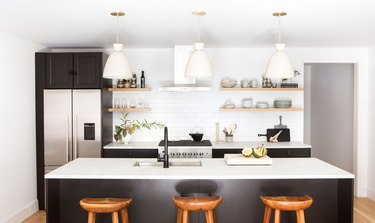 A black-and-white color scheme has the ability to make a space look bigger than it is, especially if you're clever about the way you use it. To create the appearance of a higher ceiling, paint the lower cabinets black and use open white or light-colored shelving on top. This will allow natural light to flow through the kitchen uninterrupted, making the overall space feel grander.
4. Introduce pattern.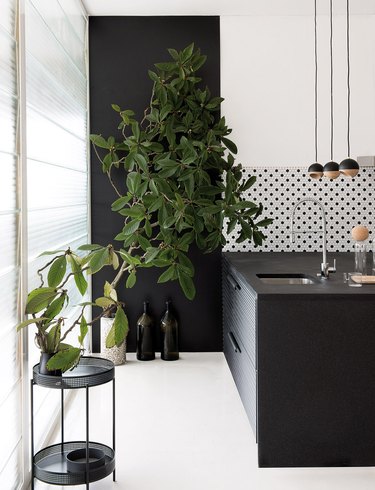 If there's one thing that a black-and-white color combo will take to, like a duck to water, it's pattern. If you're craving a bohemian vibe, use monochrome patterned tile to break up the space and bring in a well-travelled look. And keep the rest of the space pattern-free using blocks of black and white throughout.
5. Go big with lighting.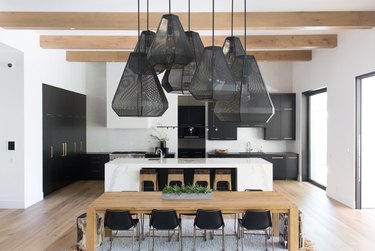 Challenge yourself to make an impact with your lighting like the team over at RailiCA Design did with this incredible black-and-white kitchen. Interspersed with wood details (hello exposed ceiling beams!), this culinary space features charcoal cabinetry, fresh white walls, and the most enviable grouping of black mesh pendant lights.
6. Embrace the contrast.
If you're going to go for a black-and-white kitchen, you may as well really go for it. High contrast palettes will trick you (and guests) into feeling like the room is bigger, especially if you contain the black to a specific area. This cook space designed by Biasol shows us how it's done by limiting the dark hue to the island, drawing the gaze in from the bright white floor-to-ceiling cabinetry.
7. Try the two-tone look.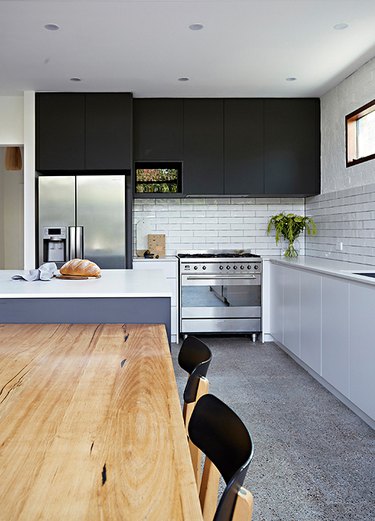 We've bookmarked two-tone cabinetry as a kitchen trend and we're certain that you're going to see much more of this in 2020. So why not incorporate the best of both worlds into your cook space? Follow the lead of smarterBATHROOMS+ and opt for black upper cabinets and white lower cabinets á la this contemporary design, and set yourself apart from the masses.
8. Say it with tile.
In love with the black walls but unsure how to bring them into your kitchen without looking like a vampire? Take a cue from this cook space captured by photographer Jonas Berg and opt for a tall black tile backsplash paired with white cabinetry. The black tile background adds a sense of drama and will be a nice change of pace from the more commonly used white subway tile. Plus, black tile won't show as much dirt and will look fabulous with wood details.
9. Use brass accents.
Speaking of details, if you're looking for something to match your black-and-white kitchen, we recommend the brass life. Brass cabinet hardware and light fixtures will really complement the high contrast color scheme. Jenni from I Spy DIY completed the timeless look with a hint of greenery and a patterned area rug.
10. Be brave with paneling.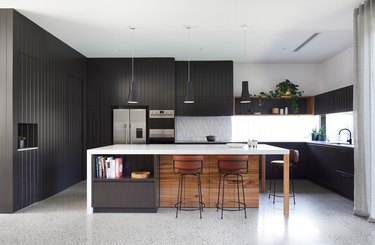 Wondering how to take your black-and-white kitchen to the next level? Think beyond paint colors and countertop materials. A black paneled wall of cabinetry will add further interest to a monochrome space and bring an almost industrial quality. Soften the look with leather and foliage like this dreamy setup by Austin Design.
---
Emma Jane Palin is a multi-award-winning blogger and freelance writer with a penchant for design and interiors.
View Work