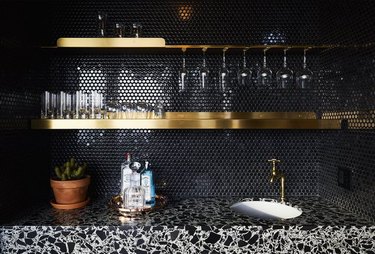 When it comes to fashion, black is always an elegant go-to, right? So why not make like your wardrobe and put the classic hue to work in your kitchen, too? From countertops to cabinets, it's a bold choice yet not overbearing, and it's eye-catching while still managing to be timeless. Which is why it would also make a striking backsplash. But we don't expect you to take our word for it; scroll on for six of our favorite designs featuring a black kitchen backsplash to help prove our case.
1. Make It Unique
Black is often associated with dark and moody design schemes, but this kitchen begs to disagree. This custom space by Gisbert Poeppler combines a black mosaic tile backsplash and black countertops with rosy pink walls and green cabinets, resulting in a bright and airy cook space.
2. Commit to Black on Black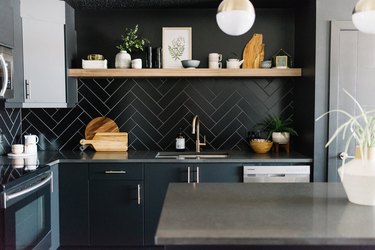 There's nothing more sultry than a kitchen showcasing dark walls, counters, and cabinetry — talk about a match made in heaven. In this cook space designed by Kresswell Interiors, the black herringbone tile backsplash paired with gray countertops, and a winning combination of black and blue cabinets amps up the drama beautifully.
3. Merge Your Counters With Your Backsplash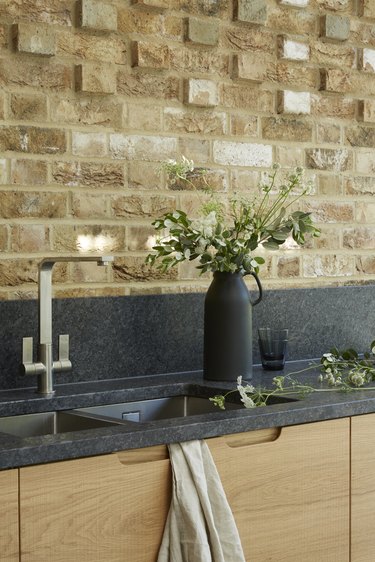 This rustic space by British kitchen designer HØLTE is all about celebrating materiality. The black granite countertops seamlessly merge into a low-height backsplash, perfectly coordinating with the exposed brick wall and oak cabinet fronts.
4. Introduce Pattern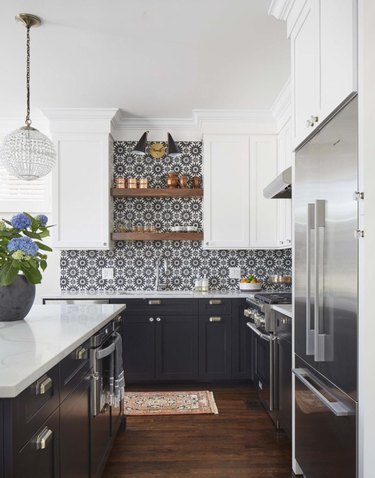 Black interiors can be a little bit harsh for some us, so if in doubt, take baby steps with the help of a patterned tile. Opt for a graphic print or a large pattern to liven up your space but be careful not to overwhelm your kitchen. The team over at Danrak Design nailed the look with this contemporary design featuring navy lower cabinet and white upper cabinets, complemented by marble countertops.
5. Keep It Simple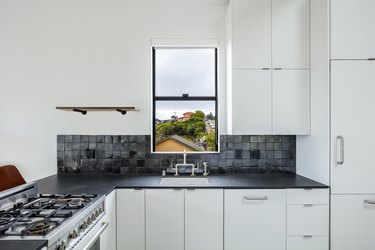 We're major fans of keeping things simple, so remember that you don't need to go overboard. The simple black kitchen backsplash in this space by Dream Life Design hits just the right note. Thanks to white walls and white cabinets, the ebony wall tile adds a subtle pop of color to break up the space, without taking away from the overall bright and airy aesthetic.
6. Luxe It Up With Black Penny Tile Mosaic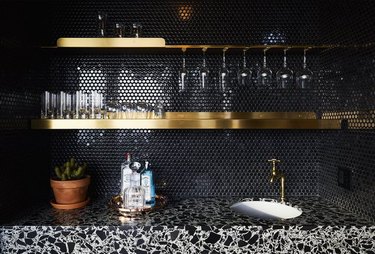 A splash of black can go a long way in the kitchen, especially if you go for a material that's a little bit extra. Both elegant and stylish, the glossy black penny tile mosaic in this kitchen captured by photographer Nicole Franzen makes all of the difference. Brass open shelving and a thick terrazzo worktop complete the swanky look.
Get the Look:
Johnson Tiles is the U.K.'s leading manufacturer of ceramic tile, and their products are available internationally, too. Their handy search feature allows you to shop black backsplash tiles, and you can browse comfortably knowing that they are one of the greenest companies in the U.K.
Milestone Tiles are made in the U.S. but utilize a unique Italian style. Shop everything from marble to wood-inspired options.
Nemo Tile + Stone offers porcelain, ceramic, metal, glass, stone, and mosaics — perfect for any modern backsplash. Headquartered in New York City, the company offers its customers both heritage and knowledge. Win-win!
---
Emma Jane Palin is a multi-award-winning blogger and freelance writer with a penchant for design and interiors.
View Work