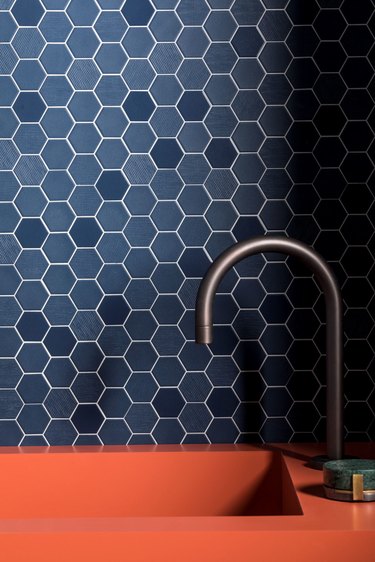 When you think of a mosaic, you probably imagine artistic masterpieces created with miniature pieces of stone or glass that have been painstakingly assembled like the pieces of an oversize puzzle. However, mosaics can be made up of a wide range of shapes, colors, sizes, and materials, which means that you can get really creative. We especially love seeing them on bathroom walls and kitchen backsplashes, too.
If you're thinking that installing a mosaic kitchen backsplash is hard, we have good news: It can actually be quite easy. Since the material is usually sold in sheets, you don't have to go blind (or crazy!) trying to install your own backsplash piece by tiny piece. And remember, the look is meant to be organic and slightly abstract so imperfections are welcome.
Need a little extra convincing? Scroll on for eight ways to flaunt a mosaic kitchen backsplash in your very own culinary quarters.
1. Keep it simple.
2. Make it custom.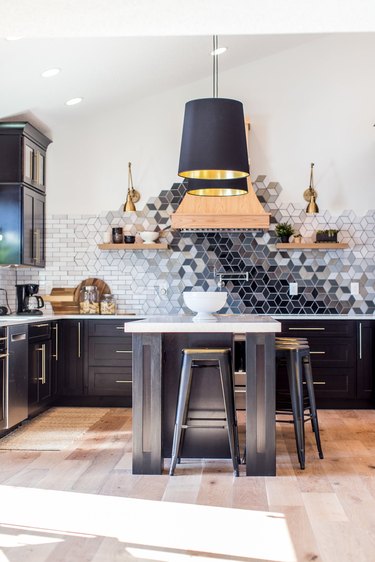 If you want to take the idea of a mosaic kitchen backsplash quite literally, this kitchen design by Jamie and Morgan of Construction 2 Style is really quite something. Using subway- and diamond-shaped tile, the duo set to work creating hex and star shapes. Every tile used in the custom project was hand-cut and hand-painted, which means that no two tiles are the same. And can we talk about the unfinished top edge that's oh-so-on-trend right now?
3. Do it yourself!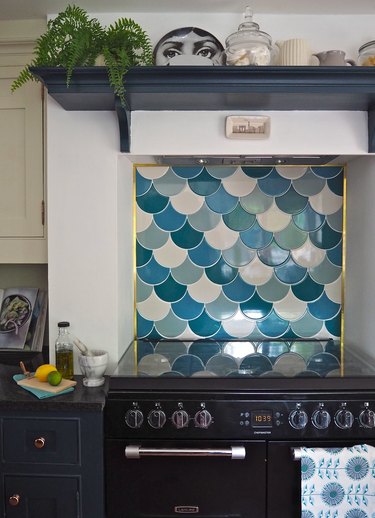 British blogger Melanie Lissack thought her dream kitchen backsplash would cost well above what she could afford before coming across this collection of fish scale tile. Melanie arranged the scalloped pieces, alternating between shades of sage, blue, and white to create her own mosaic backsplash worthy of any shelter mag.
4. Go geometric.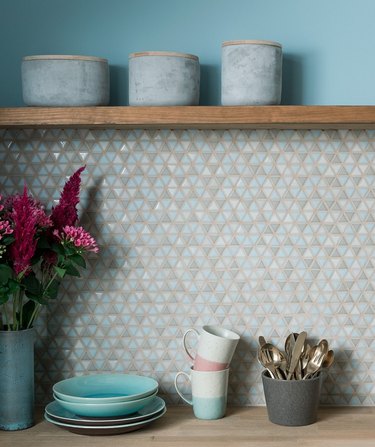 Fans of structured pattern can rejoice, because when it comes to mosaic kitchen backsplashes, geometric options are very easy to come by. Inspired by soft furnishings and Aztec textiles, this pastel design from Topps Tiles are made of recycled glass that have been ground, moulded, and pigmented to provide a myriad of matte and gloss pieces.
5. Consider your material choice.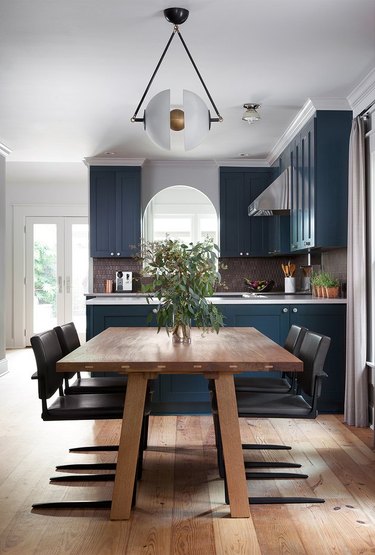 One of the great things about opting to go with a mosaic kitchen backsplash is the multitude of material options that you have to choose from. Think ceramic, porcelain, glass, natural stone, metal, or wood — the possibilities are pretty much endless. The team over at Cravotta Interiors went with a bronze mosaic tile that is both sleek and stylish in this masculine cook space.
6. Shimmer with metallics.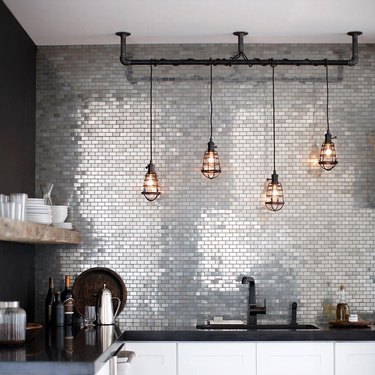 One way to keep the party going in the kitchen? Install a shimmery and reflective metal tile backsplash. This counter-to-ceiling look is a great way to add depth and dimension to your space, not to mention the wow factor. Swoon!
7. Clash colors.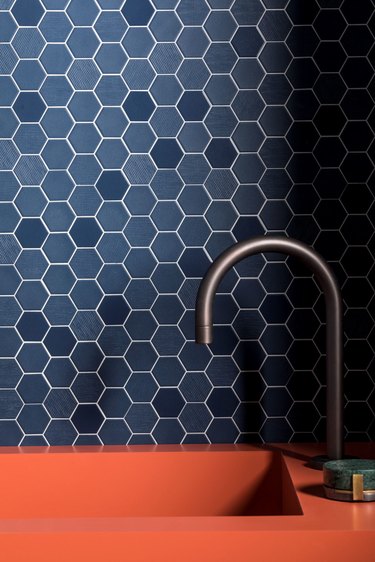 For an edgy look, opt for a mosaic kitchen backsplash that contrasts with the rest of your space. Not sure about you, but we think blue and orange might be our new favorite color combination. And we love the way the Hexa Mosaics range from Mandarin Stone combines simplistic shades and subtle texture in the same colorway to create a super cool monochromatic look.
8. Diamonds are your best friend.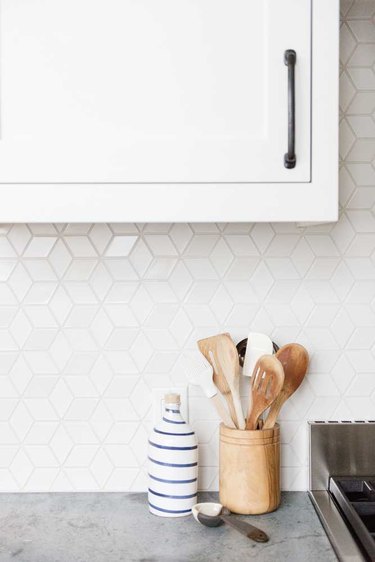 If your life is lacking lustre, add a little extra to your kitchen backsplash. Create maximum impact with a simple arrangement like Lian Eoyang from VIF Studio employed in this chic kitchen. The white diamond pattern has just the right hint of shine and we're absolutely here for it.
Where to shop for mosaic kitchen backsplash tile:
Searching for the perfect mosaic tile backsplash for your kitchen can be a tad overwhelming. Here's a few of our favorite brands to help you find an option that's worthy of your dreams.
Made in Italy, Bisazza is perfect for a luxury architect-quality mosaic tile, and it regularly collaborates with internationally well-known designers. If you're looking for shimmering designs, or printed tiles, this is the place to visit.
Minneapolis-based Mercury Mosaics creates inventive cookie cutter shapes such as diamonds and Moroccan fish scales but combines them with rich colors. If you want to see the mosaic in situ, you can order a tile sample pack for a little bit of insight into the overall effect.
Walker Zanger is good for craft tile, with a focus on artisan techniques and patterns. Its stone mosaic tile is particularly intriguing and every collection has a story behind it to tell.