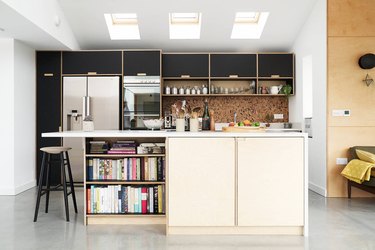 Remodeling a kitchen is no joke. It can be one of the most expensive spaces in a home to refresh — in fact, according to the website HomeAdvisor, the average kitchen renovation costs $23,002. So even if those marble countertops and swanky appliances are calling your name, there are little things like mortgage and student loans to consider, too. And remember, you can always save up for those splurges in the future.
If your budget is a little tighter, look no further than these seven clever budget kitchen ideas to achieve a gorgeous and modern cook space that feels like new without the giant price tag.
1. Put existing features to work.
In this contemporary-cool budget kitchen remodel belonging to Mandi from A Beautiful Mess, the original cabinets look better than new thanks to a fresh coat of paint. It just goes to show that pre-existing elements don't always need to be removed — they can simply be reworked and reimagined.
2. Add new or replace old light fixtures.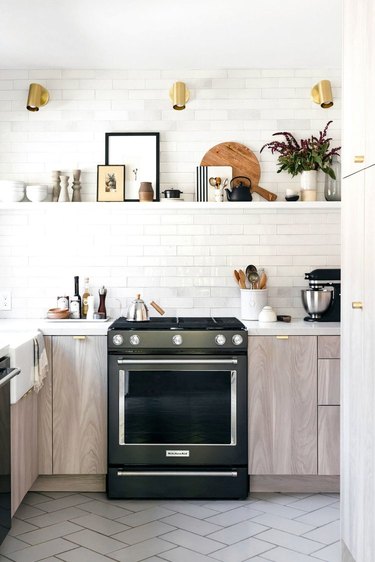 Follow the lead of Shea from Studio McGee and brighten things up with some new light fixtures. She chose these brass wall sconces for blogger Anne Sage's kitchen to light the beautiful decor on her new floating shelf and all of her culinary masterpieces.
3. Install a tile backsplash.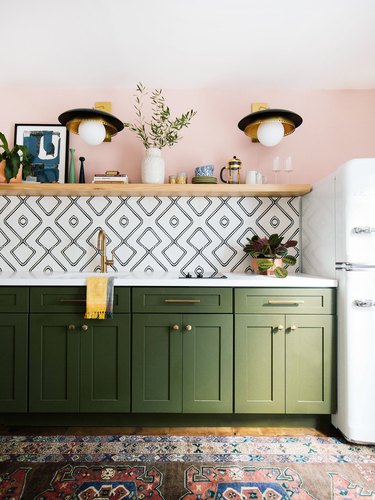 A tile backsplash is an economical and stylish idea for any budget kitchen remodel. Dabito from Old Brand New selected this gorgeous Moroccan cement tile that completely transforms the space and adds eye-catching visual interest.
4. Swap upper cabinets for open shelving.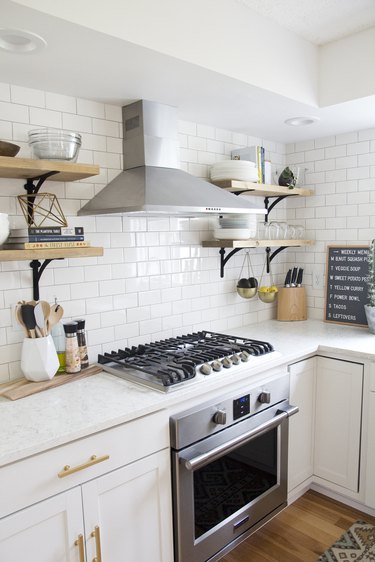 In this budget kitchen redux belonging to Jen from Jen Loves Kev, she removed her upper cabinets and replaced them with open shelving instead. The swap really helped to brighten up the space, making it feel brand new.
5. Replace cabinet door fronts.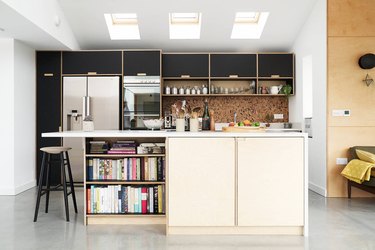 6. Choose a bold, anchoring color.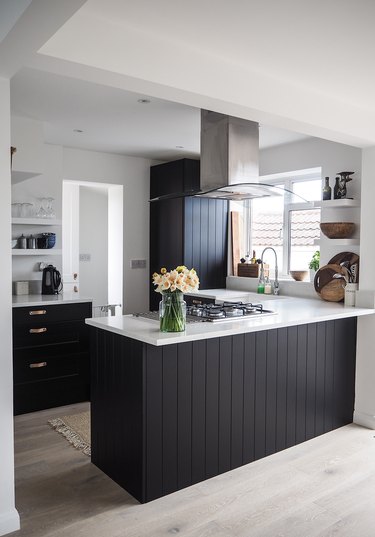 If you have existing cabinetry in your kitchen that you don't love, the fastest (and cheapest) way to refresh them is with a simple coat of paint. Anna from This Place I Call Home added drama and high contrast to her cook space (which was previously all-white) with black cabinetry. And she kept it from feeling too dark and heavy by using open shelving instead of upper cabinets.
7. Swap out cabinet hardware.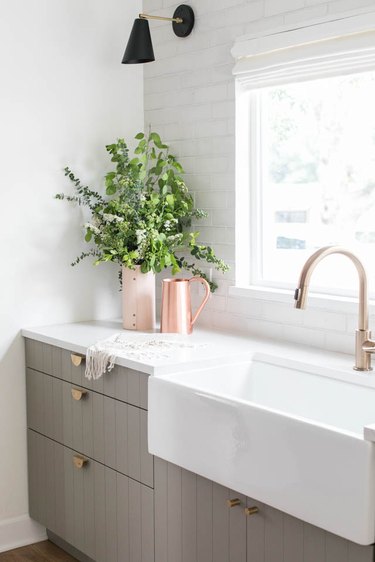 Designer Sarah Sherman Samuel added a little extra flair to this gorgeous kitchen remodel by using her line of swanky cabinet hardware. These brushed brass half-moon shape pulls and knobs are stunning, but there are tons of options out there to choose from — ranging in shape, size, finish, and price — to suit your fancy.