Marble is one of those classic materials that's always on-trend. Known for its natural beauty, the popular stone has developed a bit of a reputation for being a problem child, due to the fact that it is a porous stone, and therefore susceptible to staining. So in order to keep it looking pristine, marble requires a bit of maintenance. However, the organic character and gorgeous veining make any minimal maintenance so worth it, not to mention this material has a variety of different uses in the kitchen. We're talking countertops, backsplashes, islands, and more! So if you're in need of some inspiration, check out these 12 classy ways to incorporate the marvelous material.
1. An integrated sink creates a cohesive look.
Who wants a stainless steel sink, when you can have one made of stone? This luxurious design element blends beautifully into marble countertops without any visual interruption. The streamlined design feature gives your kitchen a seamless flow from backsplash, to countertop, to sink. And when you have marble that looks this good, you don't want anything disturbing your view.
2. Go for a marble backsplash.
If you're worried about the upkeep of your marble countertops, why not use it for your backsplash instead? It will get less wear and tear while still allowing you to enjoy that stunning marble veining.
3. You can't go wrong with marble countertops.
There's no alternative quite as beautiful as marble countertops. Whether you choose a honed finish for a more traditional look, or you go with a polished finish to add a sleek, contemporary vibe, the end result will be the same: Gorgeous, darling!
4. Try book-matching your marble slabs.
Mirror, mirror on the wall, who's the fairest marble slab of all? Book-matching marble is a designer approved technique that doubles the beauty of your stone. By placing two mirror-image slabs side by side, like the open pages of a book, you can showcase the striking natural vein of your marble like an organic work of art.
5. Deck out the entire island.
The kitchen island is the centerpiece of your culinary domaine, so it should stand out. Whether that means you install a waterfall countertop, or encase the entire island, you really can't go wrong.
6. Install marble flooring.
You may think that marble flooring is just for the bathroom, but think again. The material can work just as well in kitchens and will age gracefully, developing a beautiful patina over time.
7. Incorporate marble accents.
Not quite ready for to remodel your entire kitchen? No worries. You can still enjoy the natural beauty of marble by bringing in swanky accessories such as these from Crate & Barrel.
8. Hang marble shelves for extra storage.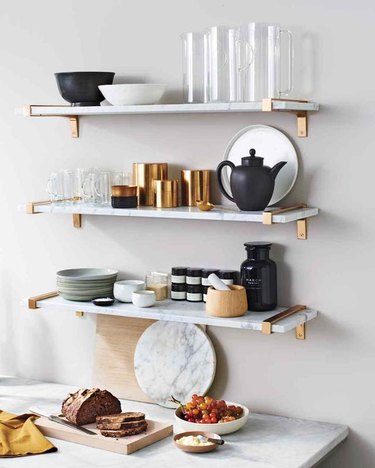 Need more storage space? Of course you do, it's a kitchen. So why not utilize some empty wall space by installing a few white Carrara marble shelves?
9. Be bold. Make a statement.
There's no need to hold back — don't be afraid to get creative! Add marble to more than a few surfaces in your kitchen for a really bold impact.
10. Try a luxurious take on subway tile.
Give this tile classic a sophisticated upgrade by opting for marble subway tile instead. We promise, you won't regret it!
11. Don't shy away from dark colors.
While white marble may be the most popular hue, there are plenty of other beautiful shades to choose from. Ranging from deep greens to dramatic black, the options are limitless, so be brave.
12. Play with geometric shapes.
It's no longer hip to be square. Non-traditional geometric shapes are hot right now, not to mention a playful way to break up the monotony of square or rectangular tiles. So have a little fun, and try something different like these hexagon mosaic tiles.