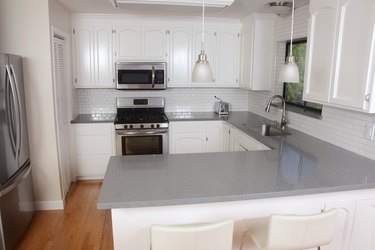 Subway tiles are the wide horizontal white tiles that are most commonly associated with the New York City subway system. But in recent years, they have become a popular choice for interior decor in kitchens and bathrooms. With high shine, clean angles and a smooth finish, subway tiles look as good on the floor as they do on a backsplash. Keeping them clean means being attentive to the grout, as well as the tile surface.
Cleaning Subway Tile Shower
Bringing subway tile into your bathroom is an excellent way to give that room a look of sleek, modern industrial cleanliness. Depending on the color of tile you chose, you can either make the subway tile match your decor or use it as an accent to the rest of the colors in the bathroom. Whether you use subway tile in your shower on the walls or the floor of your bathroom, you'll find it easy to clean and maintain.
The best way to clean shower tile is to do it consistently. Too often people wait until the shower tile shows signs of dirt or wear to give it a good clean. More often than not, the signs of dirt only become visible when the tile itself has been left dirty for too long.
The challenge with subway tile is less about the surface of the tile itself than it is about the grout. The grout in between tiles can get dirty and grungy easily over time, causing it to look discolored, scummy and mildewed. This is particularly important in bathrooms, where gathering moisture and dampness can lead to mildew without proper ventilation and cleaning.
Best Cleaner for Subway Tiles
Once your tile is installed, it is a good idea to clean it every other day or so with a disinfectant agent that will kill and prevent mildew growth and keep the grout looking as good as new. If you have recently installed your subway tile, keep in mind that the best way to clean shower tile is by doing it consistently.
One of the best solutions for cleaning subway shower tile and shower tile grout is white vinegar. Unlike bleach or other commercial cleansers, white vinegar is nontoxic, will not stain or damage any adjacent textiles, prevents mildew growth, and disinfects and deodorizes the tile itself. Plus, the smell of vinegar dissipates quickly, leaving the room smelling clean but neutral.
The best cleaner for colored grout in shower is also a solution of white vinegar and warm water. Commercial cleansers are not always color safe, and stripping away the color on your subway tiles or grout may require retiling, which is a hassle and an expense.
Cleaning Tile Shower Floor
Cleaning a tile shower floor is one of the most important parts of keeping your bathroom clean and free of mildew. Be sure that your tile shower floor is on a slight angle that forces all water towards the drain. If not, water will pool in the crevices and stay there. When water pools in the grout and remains undisturbed, the grout begins to get discolored by mildew and an overgrowth of bacteria.
An overgrowth of bacteria is what can lead to mold and mildew discoloring your grout. Grout discoloration is difficult to manage because it often involves using bleach to whiten the grout in between the tiles. However, this can sometimes leach onto the nearby tiles and cause discoloration.
If you haven't been able to clean the grout in the course of cleaning tile shower floor, you may need to scrub with a paste made from baking soda and water to fully clean the grout. Follow the application of baking soda and water with a few spritzes of white vinegar.