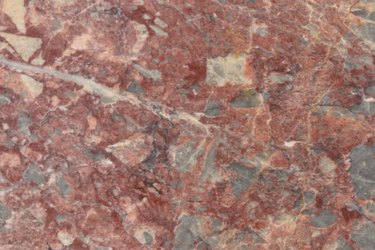 Beautiful and durable, marble rivals granite as the preferred natural stone for residential and commercial interiors. Marble comes in shades ranging from creamy neutrals and brilliant jades to earthy browns and scarlet reds. The intensity of color depends on the type of finish. Sleek, polished marble exhibits a shiny high-gloss finish and reveals the deepest color and full character of the stone. Honed marble has a matte finish, is less slippery and more suitable for casual spaces.
Process
Marble is a metamorphic rock formed from the recrystallization of limestone. Suppliers ship marble from quarry to home improvement stores already polished. The polishing process begins with grinding the stone. The stone is then sanded and buffed before being cut into tiles. This process yields a high-gloss sheen that retains its luster with proper maintenance.
Honed marble undergoes a sanding process similar to polished marble, without the buffing. Honed marble maintains a smooth, satin surface without reflection. More porous than polished marble, honed marble requires sealing more frequently. However, honed marble conceals flaws better.
Floors and Walls
Create an opulent foyer with polished marble in industrial-sized tiles of 12 inches by 24 inches. Replicate the look of luxury hotel baths with polished Italian marble on floors and walls. Because polished marble feels cool to the touch, interior designers and home builders prefer this stone for floors in warmer climates.
Honed marble's matte finish complements natural woods in kitchens or spa-like baths. Mix honed and polished marble tiles in the same color to add texture and interest to floors.
Countertops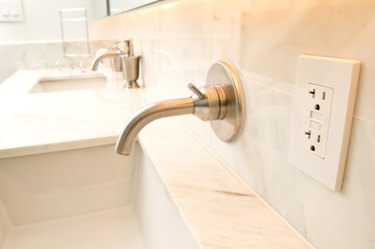 According to the National Kitchen and Bath Association, designers prefer granite over marble in kitchens. Yet the Marble Institute of America states that marble remains the number one natural stone used for bathroom countertops. Polished marble is a more expensive alternative to granite for kitchen counters. Reduce cost by using marble in designated areas, such as a kitchen island or prep area.
Dressing a kitchen island in Italian Carrara marble, the most exquisite white polished marble, costs far less than outfitting an entire kitchen.
Avoid using honed marble for kitchen counters.
Maintenance
The National Marble Institute recommends sealing marble countertops with a sealant that lasts at least 10 to 15 years. According to the Institute, marble's porosity makes it susceptible to staining. Sealed stone will be more resistant to dirt and stains. Buff marble to remove minor scratches and imperfections.
Marble breaks easier than other natural stones. Exercise caution when moving heavy furniture. Abrasive materials dull the mirror-like finish of polished marble. Use cleaners and polishes designed specifically for marble.
---
ML Corbett covers interior design, real estate and small business, among other topics. A former day spa owner and marketing manager for an international fragrance company, Corbett knows the ins and outs of the beauty industry. Her work has appeared in "Essence," "Black Enterprise" and on HGTVGardens.com.